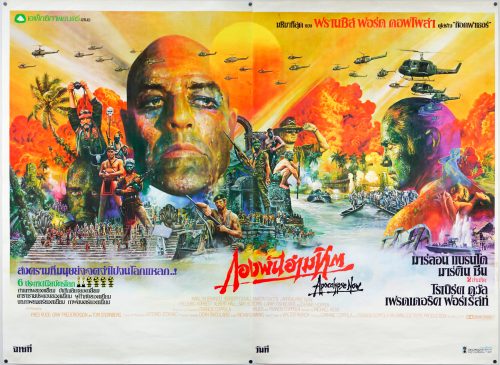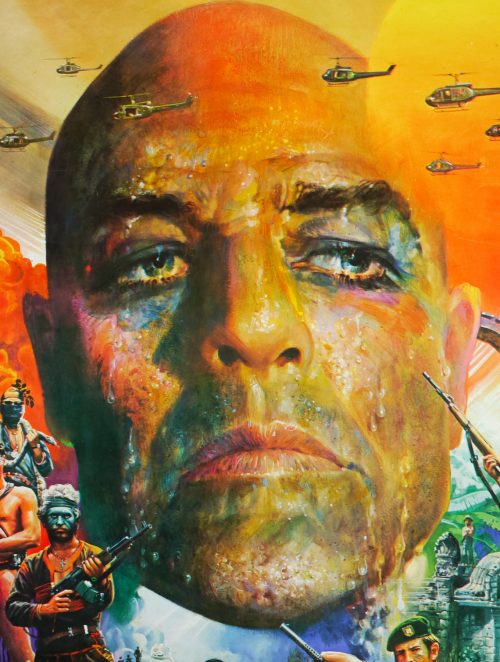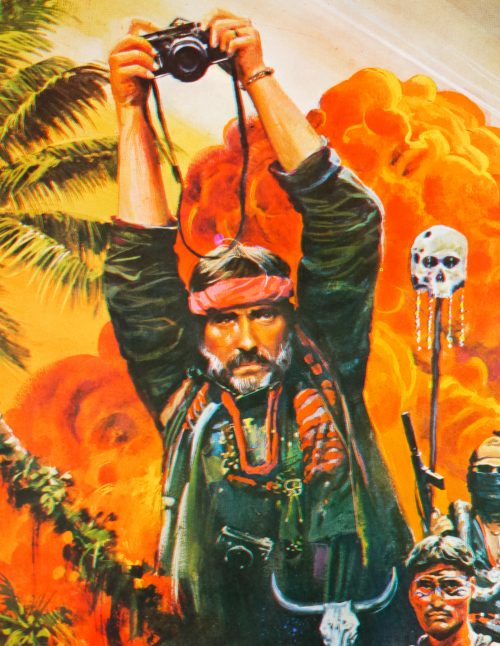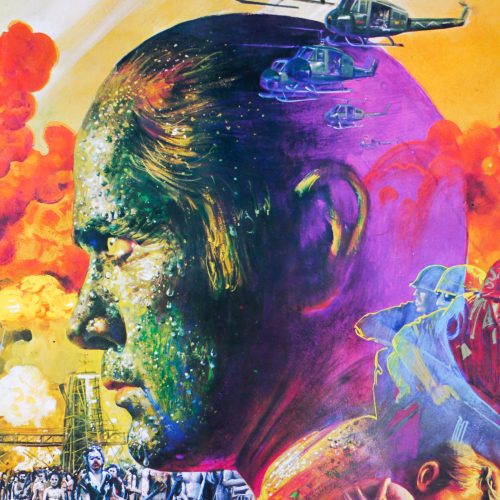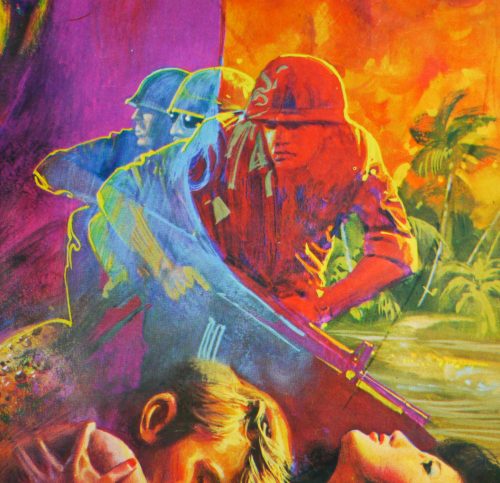 Title
AKA

--
Year of Film
Director
Starring
Origin of Film
Genre(s) of Film
Type of Poster
Style of Poster

--
Origin of Poster
Year of Poster
Designer
Artist
Size (inches)

Left sheet: 21 5/16" x 30 14/16" | Right sheet: 21 6/16" x 30 14/16"
SS or DS

SS
Tagline

--
This is the very scarce original 2-sheet poster for the Thai release of arguably the best war film ever made, Francis Ford Coppola's Apocalypse Now.  Set during America's war in Vietnam, the film follows Martin Sheen's US Army Army and special forces veteran Benjamin Willard as he journeys up the dangerous Nung River and deeper into the jungle in the search of the rogue Special Forces Colonel Walter E. Kurtz (Marlon Brando in an unforgettable role). Willard is told that an insane Kurtz has gathered together an army of indigenous fighters inside neutral Cambodia and that he must 'terminate with extreme prejudice'. After landing at the mouth of the river in a spectacular sequence in which Colonel Kilgore (Robert Duvall) first attacks an enemy village from helicopters whilst blasting Wagner's Ride of the Valkyries from loudspeakers, then orders some of his men to surf despite the fact that mortar shells continue to land all around them, Willard  joins the crew of a Navy PBR boat that transports him on his fateful journey up river.
Apocalypse Now is famous for its fraught production in which the shoot went over time and over budget, sets were destroyed by storms, Martin Sheen suffered a heart attack and other woes that caused Coppola to famously say, "We had access to too much money, too much equipment, and little by little we went insane", and "My film is not about Vietnam, it is Vietnam". The director's wife Eleanor helped to put together the acclaimed documentary of the troubled production called Hearts of Darkness: A Filmmaker's Apocalypse, which is an essential watch for fans of the film. Despite the production woes, the film was a huge critical and commercial success, with its cultural impact undeniable.
The film had several interesting posters printed for its release, including the great Bob Peak artwork used around the world, but this Thai 2-sheet is up there, in my mind, as one of the best posters ever painted, full stop. The amount of detail, use of colour and expertly arranged montage all add up to a visual feast of a design and I find some new detail every time I look at it. I've added 70 photos for you to really get a sense of the poster.
This poster was painted by the artist Tongdee Panumas (he signs his posters with just his first name) who was an incredibly prolific Thai film poster artist during the 70s, 80s and 90s but I've been unable to find out much about him, other than that he was born in 1947. If anyone has any more information please get in touch.
The two sides of the poster were printed separately and then joined together once they were displayed at cinemas. I tried my best to join them together with Photoshop but it's not that easy to get them to match. Photos 2 and 3 show the two halves separately. It's interesting to note that Tongdee actually painted the original art on two canvases as can be seen on this photograph showing him and the British collector Neil Pettigrew that was published in issue 168 of Dark Side magazine. This means that getting a totally seamless join between the two halves is impossible.
Note that there was a reprint made of this poster several years ago where someone in Thailand scanned the poster when the two halves were joined together and then printed it as a single sheet poster at the standard Thai film poster size of around 21″ x 31″. These have sometimes been sold as 'commercial posters' but are nothing more than unauthorised fakes and should be avoided at all costs. Permission was not sought from the distributor or the artist to make these copies and their sale should not be supported.