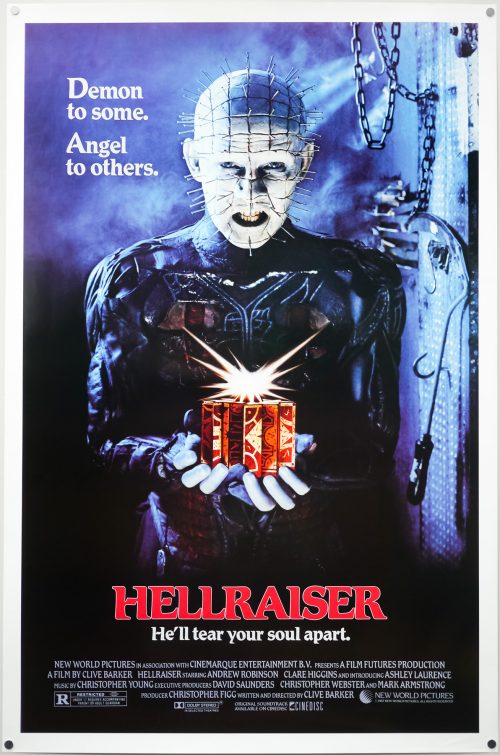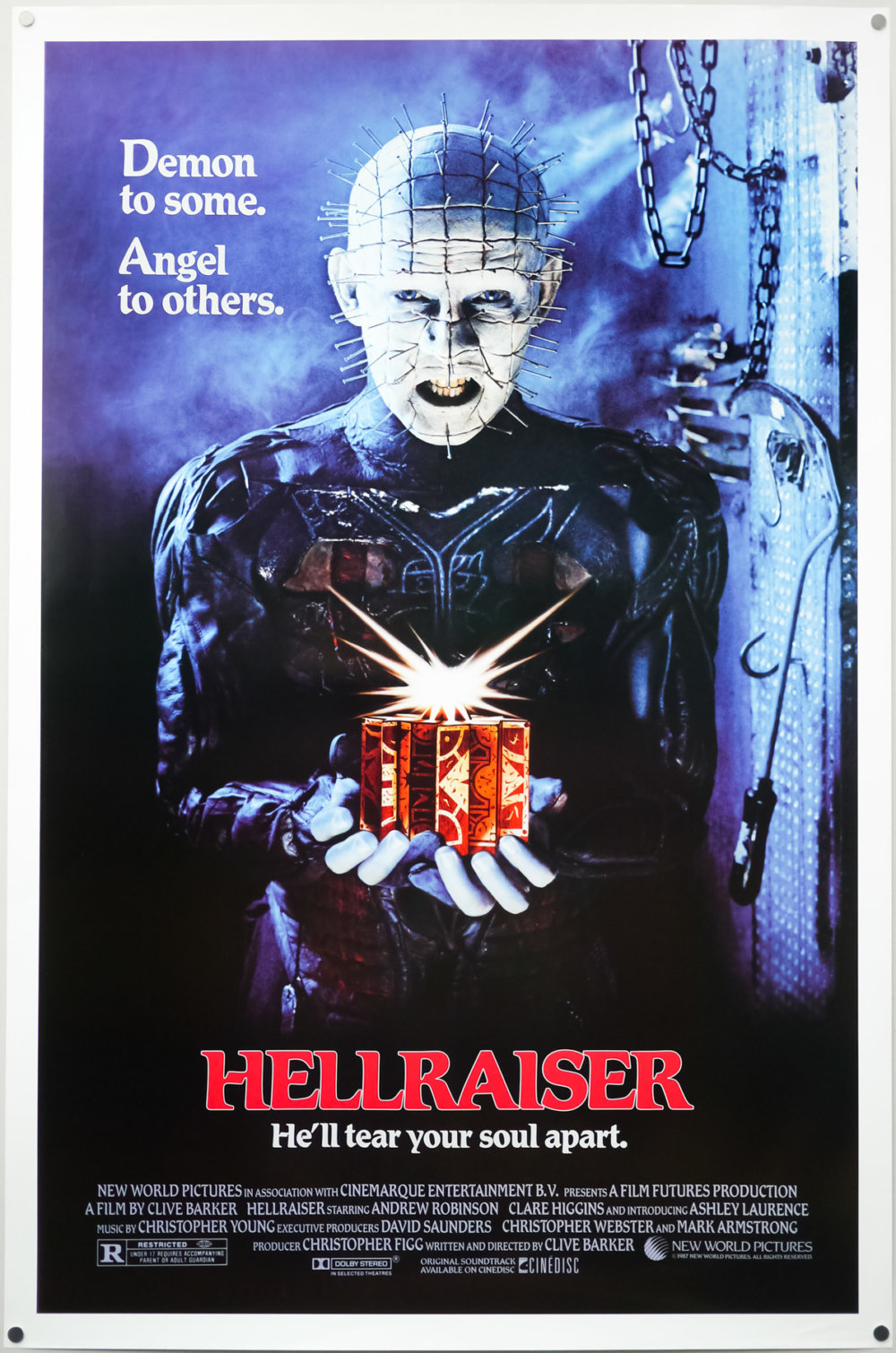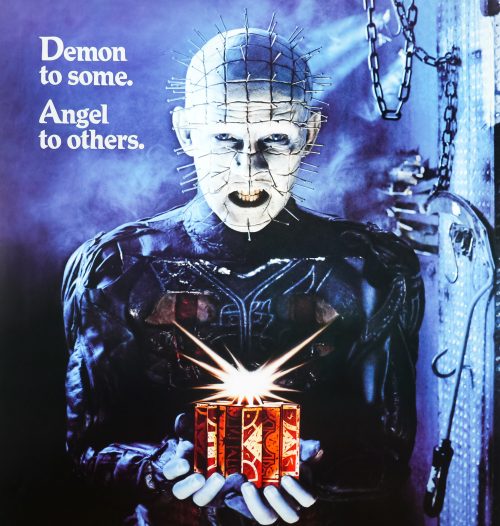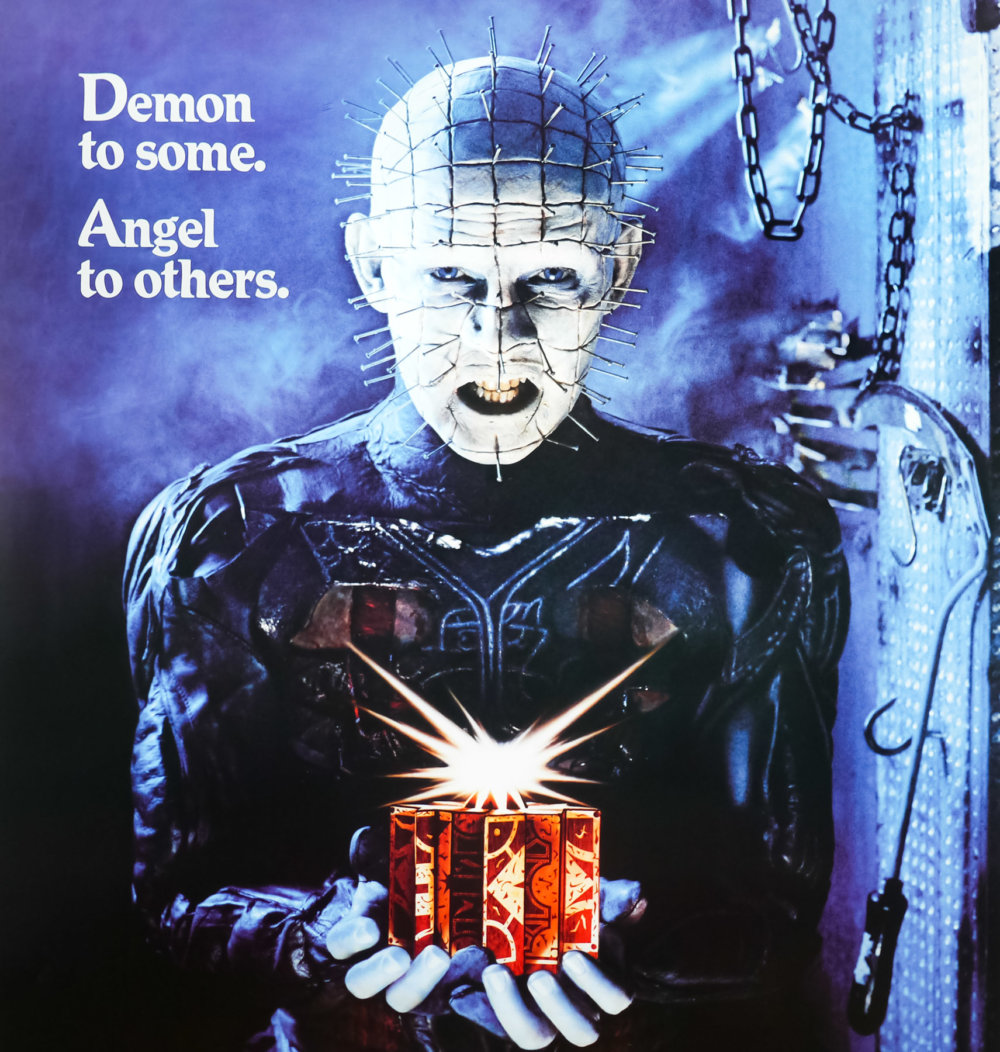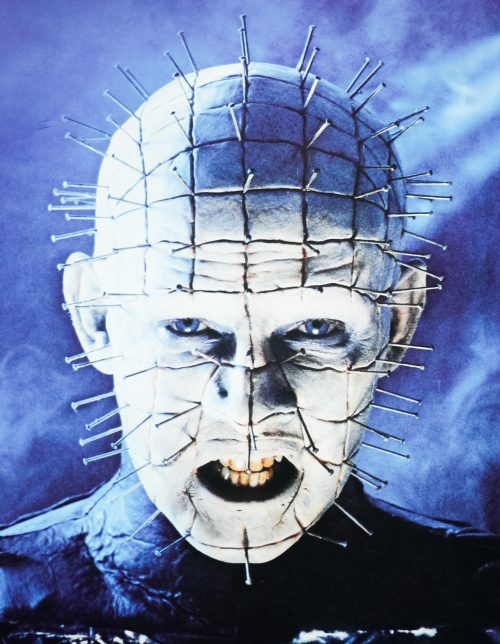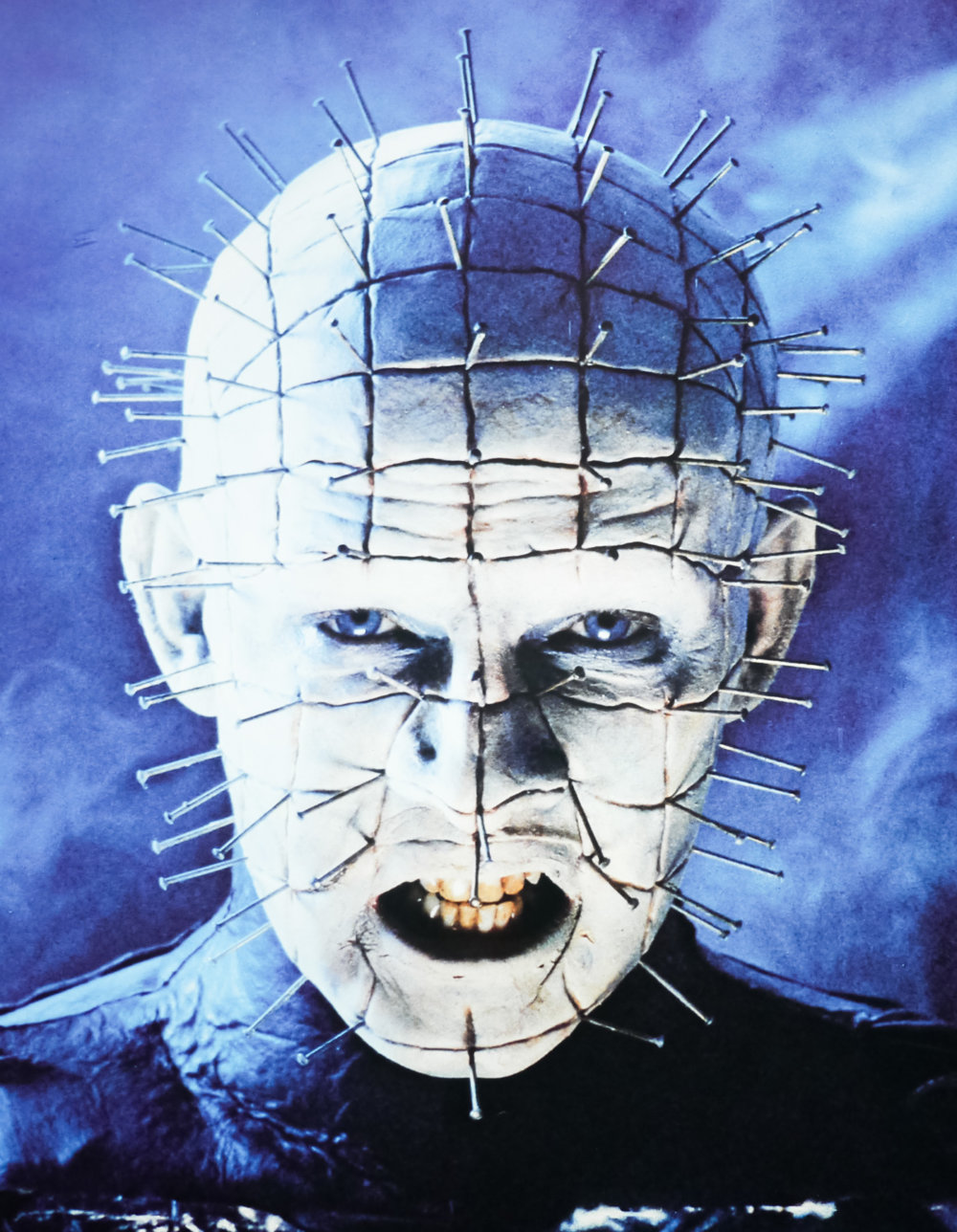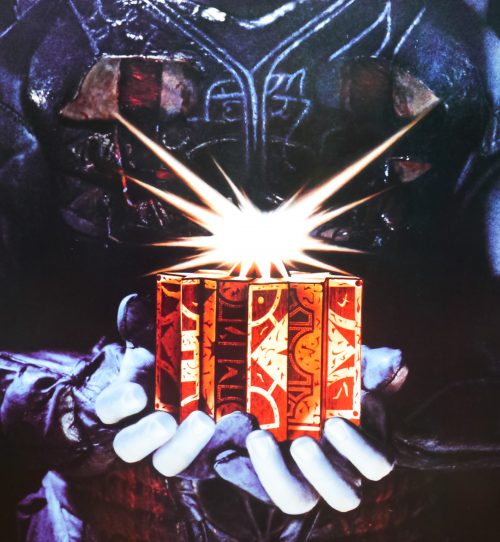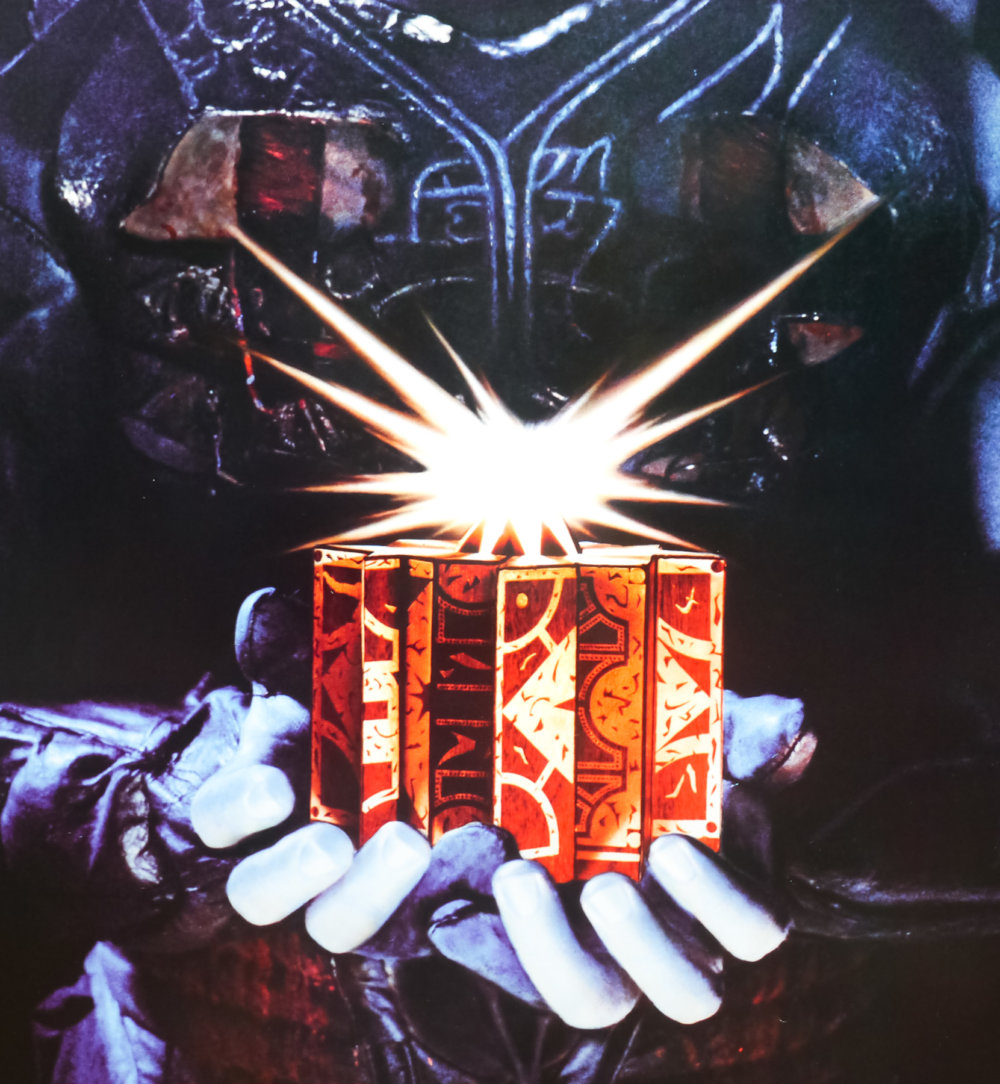 Title
AKA

Clive Barker's Hellraiser (UK - complete title)
Year of Film
Director
Origin of Film
Genre(s) of Film
Type of Poster
Style of Poster

--
Origin of Poster
Year of Poster
Designer
Artist
Size (inches)

27 2/16" x 41 1/16"
SS or DS

SS
NSS #

--
Tagline

Demon to some. Angel to others. | He'll tear your soul apart
Unquestionably one of the truly great British horror films, Clive Barker's Hellraiser launched an enduring franchise and established the character of Pinhead (or 'Priest', as Barker prefers him to be known) as one of horror's most beloved villains. Based on the 1986 novella The Hellbound Heart, Barker made the decision to both write the screenplay and direct the film after being disappointed with how two of his earlier scripts had been treated by other directors. The story begins as seedy hedonist Frank Cotton (Sean Chapman) purchases a golden puzzle box from an antiques dealer in Morocco believing it holds the key to the 'ultimate sensual experience'. On returning to his London home, Frank opens the puzzle box and is promptly torn apart by massive hooks controlled by a group of horribly scarred and mutilated humanoids known as the Cenobites. The lead Cenobite (Pinhead, played by Doug Bradley) twists the box back to its original shape and they pass back into their realm with Frank's remains with the room returning to normal.
Sometime later, Frank's brother Larry (Andrew Robinson) and his second wife Julia (Clare Higgins) move into the same house assuming that Frank is in jail in some exotic location. Larry's daughter Kirsty (Ashley Laurence) declines the offer to move in with her stepmother and chooses to find her own place. When Larry accidentally cuts his hand and drips blood onto the attic floor it somehow reaches Frank in his prison in the other realm and starts to resurrect his body (in a stunning special effects sequence). Later that day Julia finds Frank in the attic and the pair rekindle an affair they had started some years before. Julia agrees to help Frank to fully resurrect himself, which can only happen through blood sacrifices so she begins to seduce and bring back random men to the house before bludgeoning them to death for Frank to consume. Kirsty begins to suspect something is afoot and soon she is having her own encounter with the Cenobites who are displeased to learn that one of their prisoners has escaped and is on a murder spree.
What makes the film stand out is the excellent script by Barker which prevents the characters from being the usual one-dimensional death fodder usually seen in horror films, particularly those being released towards the end of the 1980s. The production, costume and makeup design are all excellent, with all of the Cenobite designs being particularly memorable. There's only one stop-motion animation sequence at the end of the film that belies the productions low budget and the film stands up extremely well today. Although the series is up to its ninth film instalment, Barker never directed another and was only producer on the first two sequels. After the fourth film (1996's Bloodline) the series became a straight-to-video enterprise and quality dropped significantly from then onwards.
This US one sheet, designed by Pulse Advertising, features a great image of Pinhead holding the puzzlebox, alongside a very memorable tagline. The lead Cenobite would be front and centre on posters for the film used around the world, as well as all theatrically-released sequels. To see more posters designed by Pulse, check out this page on IMPAwards and the posters I've collected that were designed by them can be seen here.