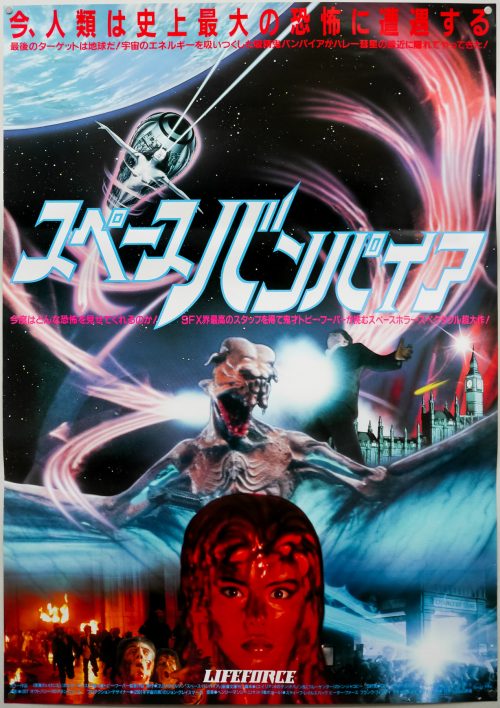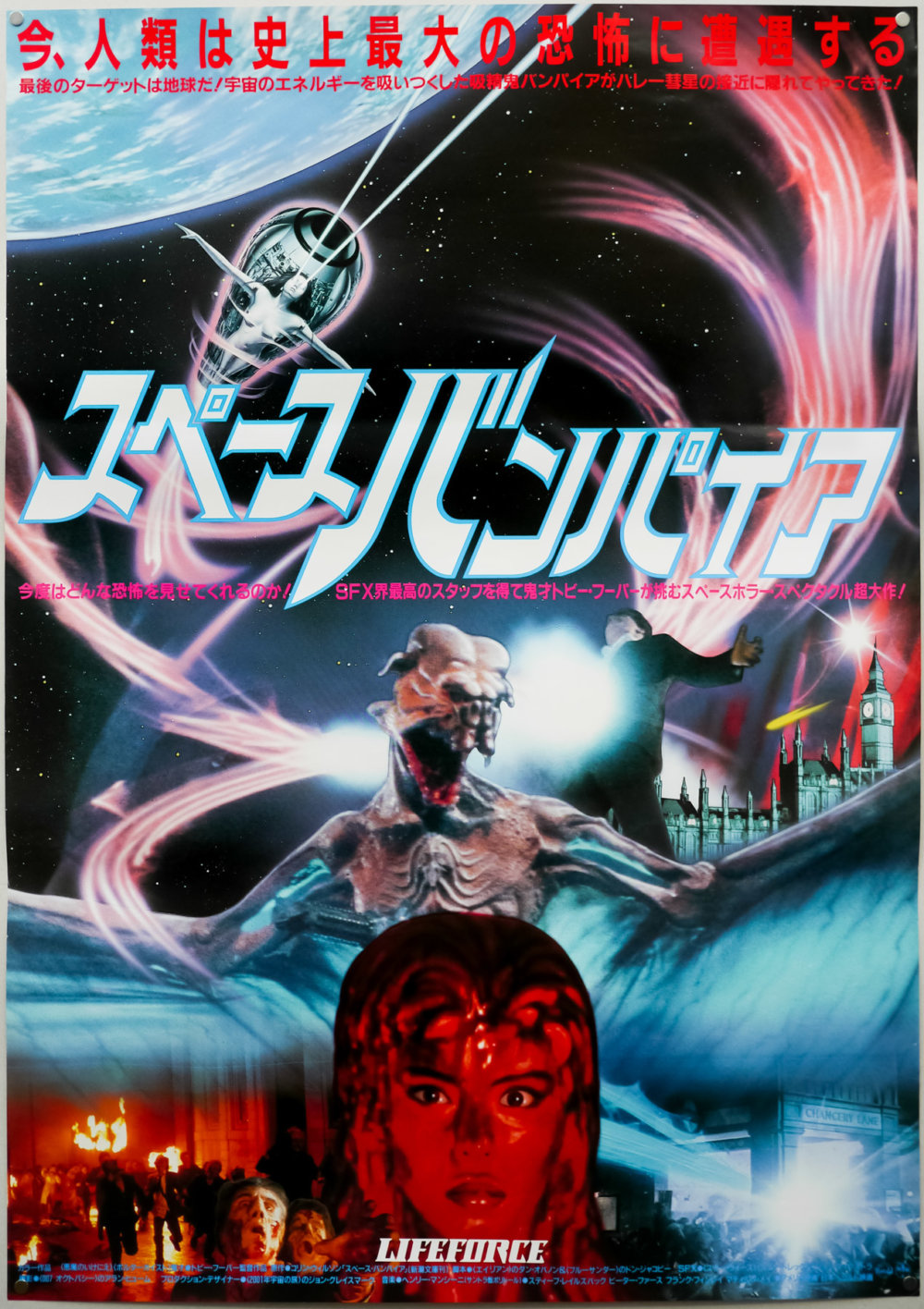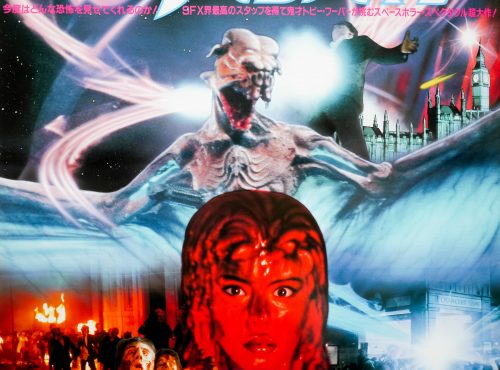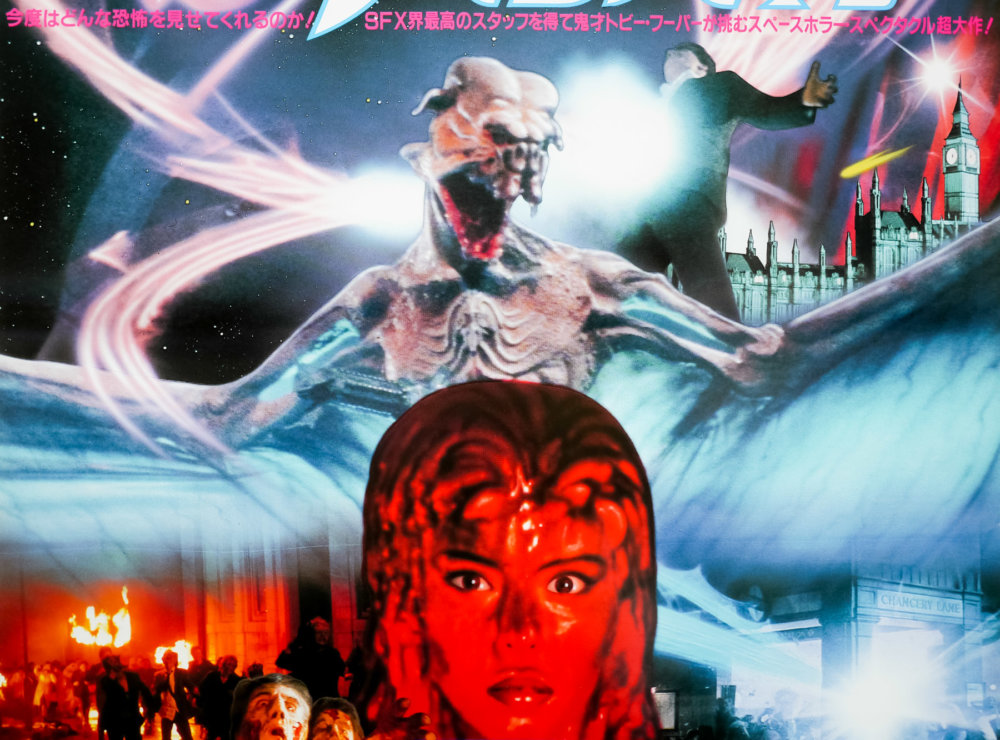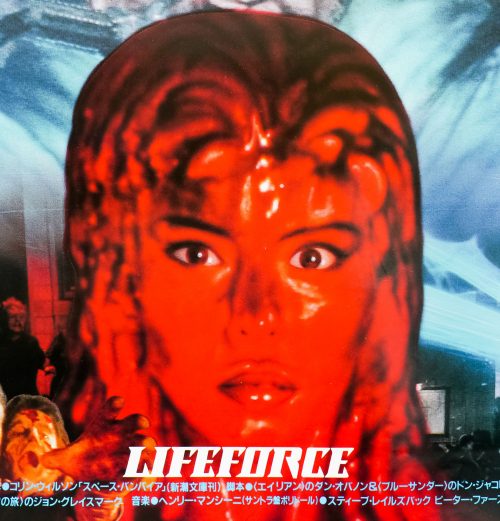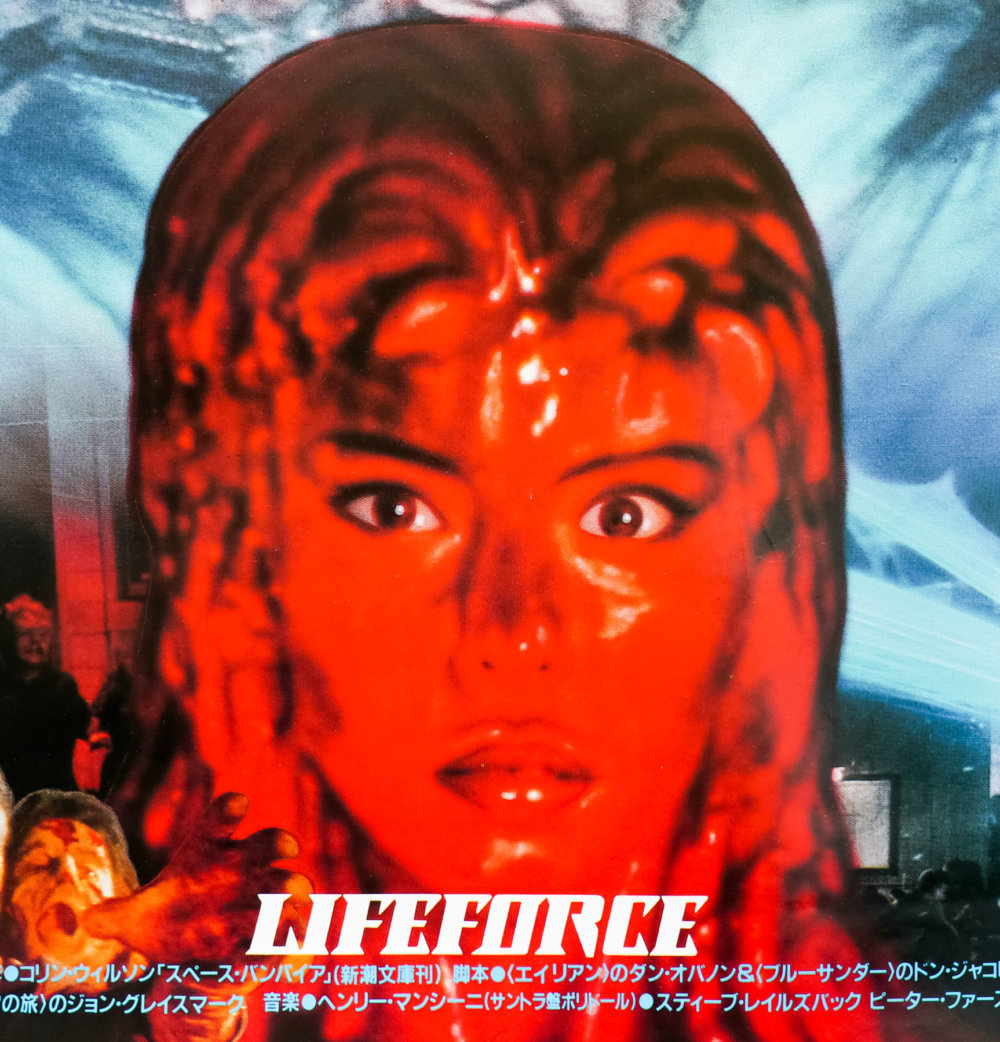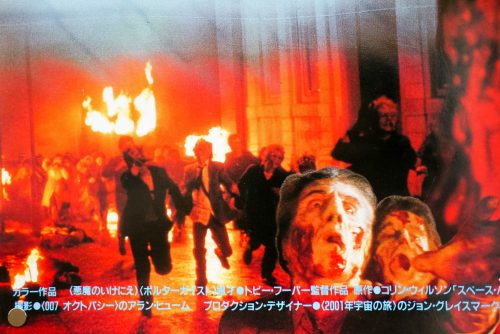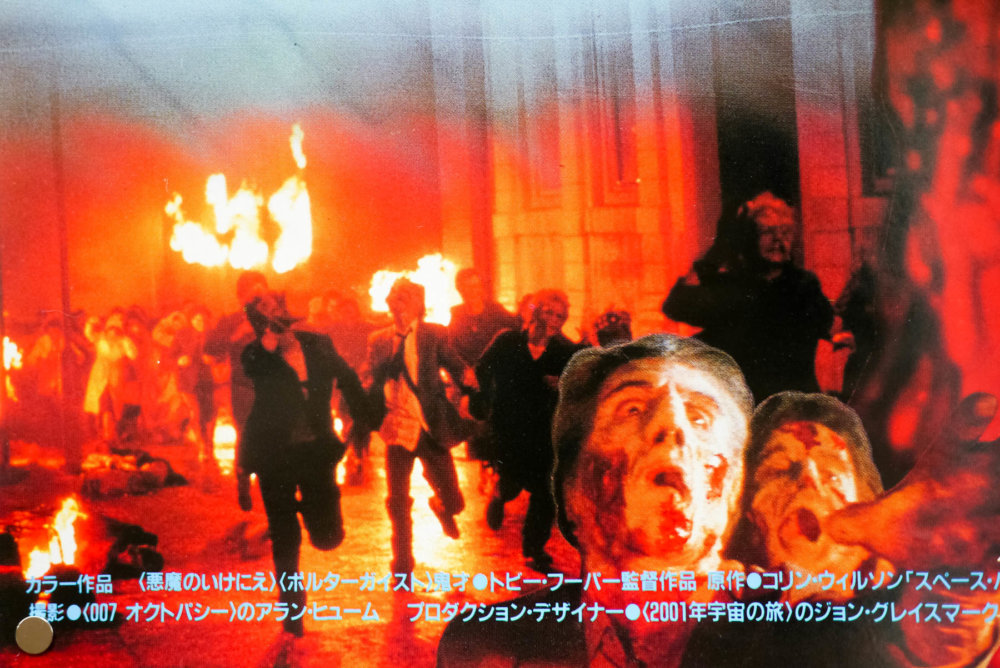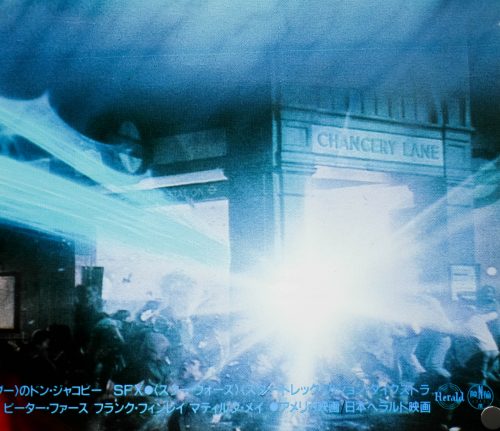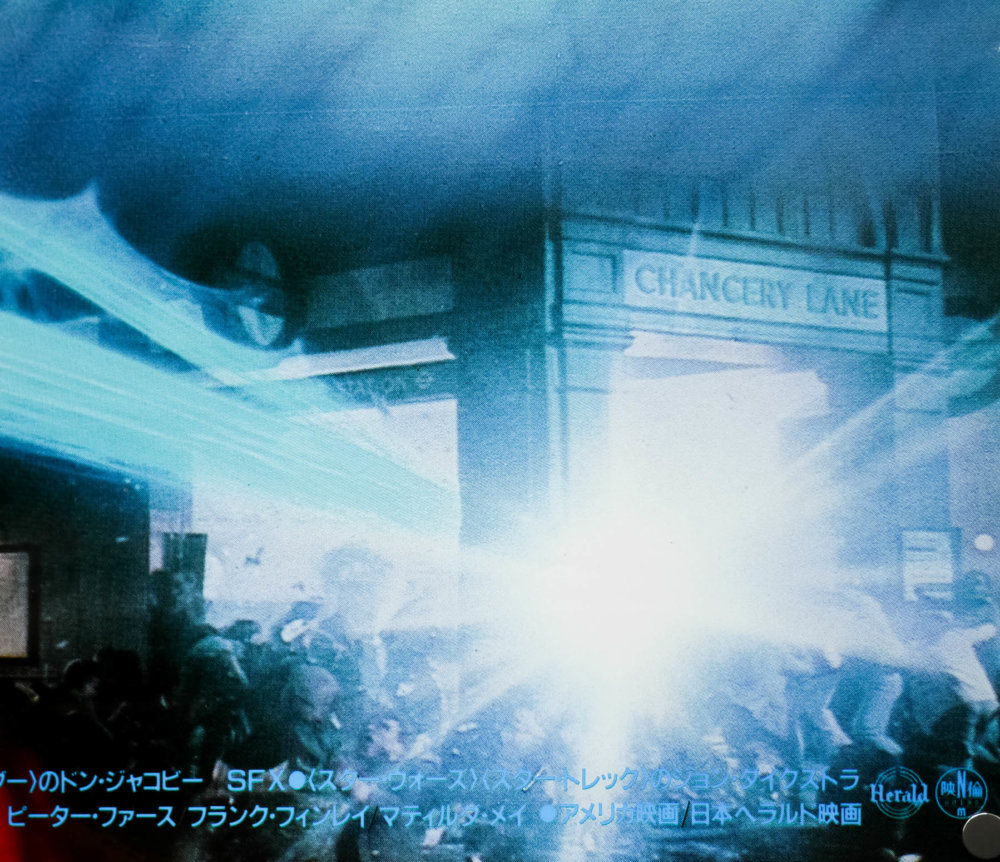 Title
AKA

Vampires from Outer Space (working title)
Year of Film
Director
Origin of Film
Type of Poster
Style of Poster

Photo style
Origin of Poster
Year of Poster
Designer
Artist
Size (inches)

20 6/16" x 28 14/16"
SS or DS

SS
Tagline

--
A suitably outlandish design on this Japanese B2 (style B) for the release of Tobe Hooper's sci-fi curio Lifeforce. Based on the 1976 novel The Space Vampires by Colin Wilson, the film's screenplay was written by Dan O'Bannon (Alien, Total Recall) and Don Jakoby and was the first in a three film deal that Hooper had agreed with notorious production and distribution company Cannon Films (the others were Invaders from Mars and The Texas Chainsaw Massacre 2). The film begins as the joint US-UK space shuttle Churchill heads towards Halley's Comet on a research mission. After discovering a large dormant alien ship in the comet's tail, a small team sets out to investigate and discovers a trio of naked humanoids in transparent stasis pods surrounded by the dried husks of hundreds of bat-like creatures.
The pods, which contain two males and a female (the stunning Mathilda May) are brought onboard the spaceship. Several weeks later, after losing contact with Churchill's crew, a rescue team is sent out and finds the shuttle drifting in space having been crippled by a catastrophic fire with all crew presumed dead. The pods are discovered in the hold completely untouched and are returned to earth to the European Space Research Centre in London where Dr. Leonard Bukovsky (the late Michael Gothard) and Dr. Hans Fallada (Frank Finlay) oversee a planned autopsy on the humanoid figures. The female awakens during the procedure and attacks one of the doctors, draining the 'lifeforce' from him, leaving just a desiccated husk. She then escapes from the facility and sets in motion a chain of events that eventually sees the city of London besieged by hundreds of newly created space vampires.
The film gets increasingly bonkers as it continues and the acting from Steve Railsback (shuttle captain Carlsen) is absolutely bizarre, ranging from barely audible mumbles to wild-eyed shouting. Frank Finlay is also good value and appears to think he's starring in a 1960s Hammer horror film. The special effects are notably good and were headed up by award-winning artist John Dykstra. The alien ship scenes are very well done, as are several of the scenes where lifeforce is extracted from victims.
The film rattles from one scene to another and barely manages to stay comprehensible, despite being undeniably enjoyable. Apparently budgetary issues meant several scenes were never shot and production had to be shut down at one point after financing had dried up. All of this clearly had an impact on the final cut and things were made worse for the US release when distributor Tristar decided to trim 12 minutes from the film. Lifeforce was a box-office failure and was unable to recoup its original bloated budget. The UK and other countries at least received the full uncut version and it's now available for all on blu-ray.