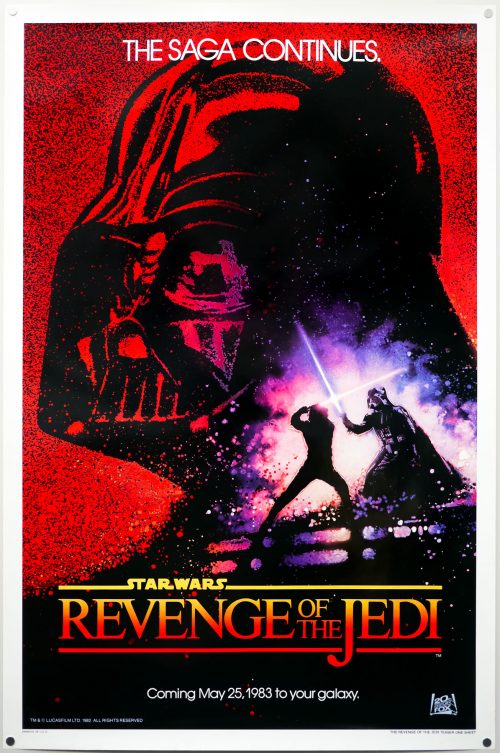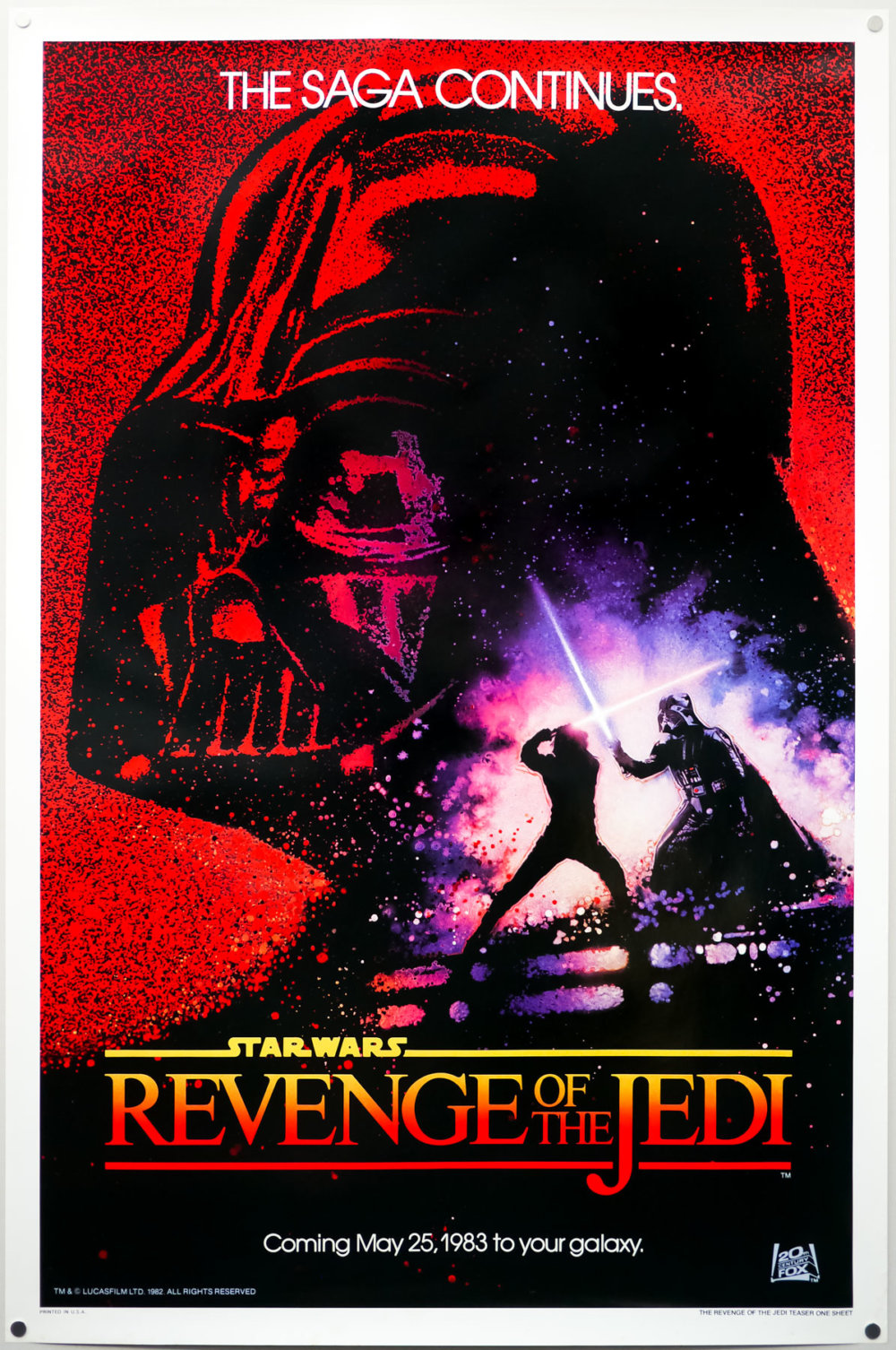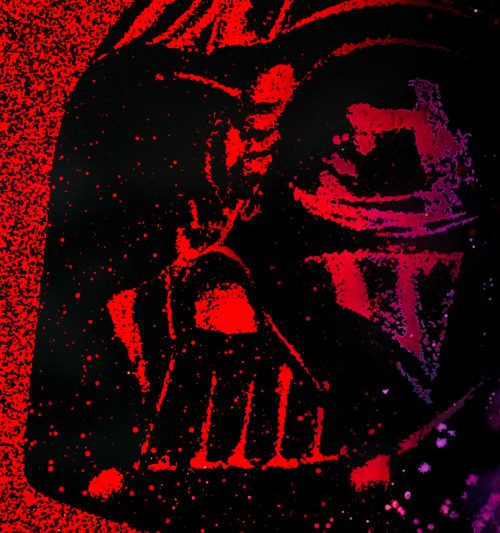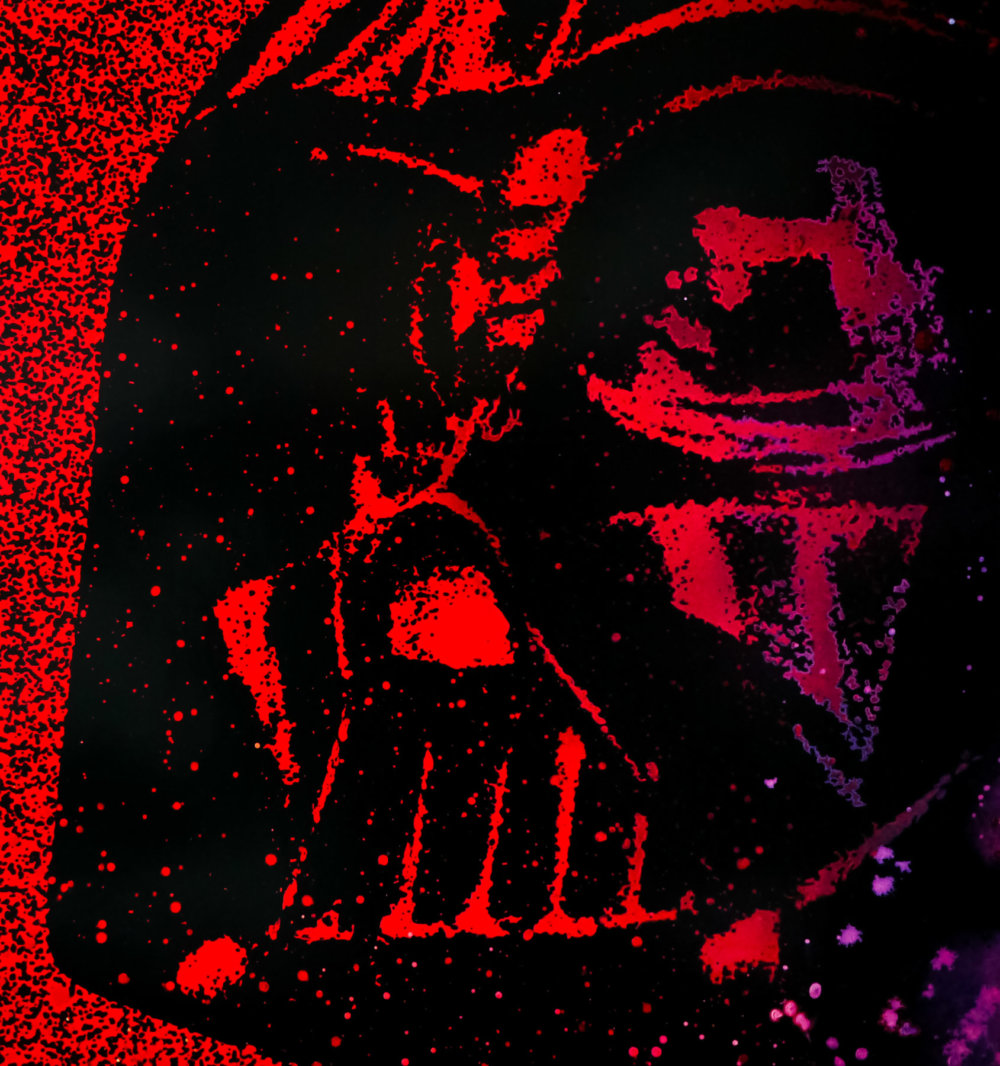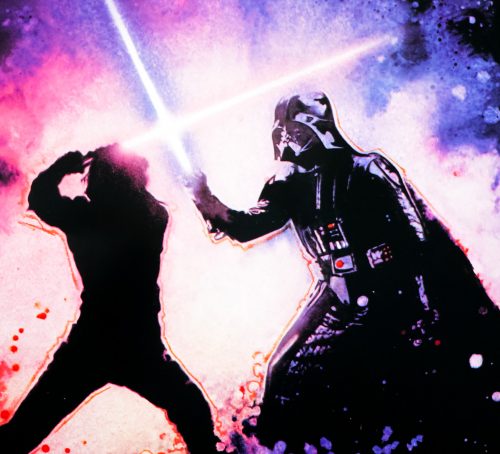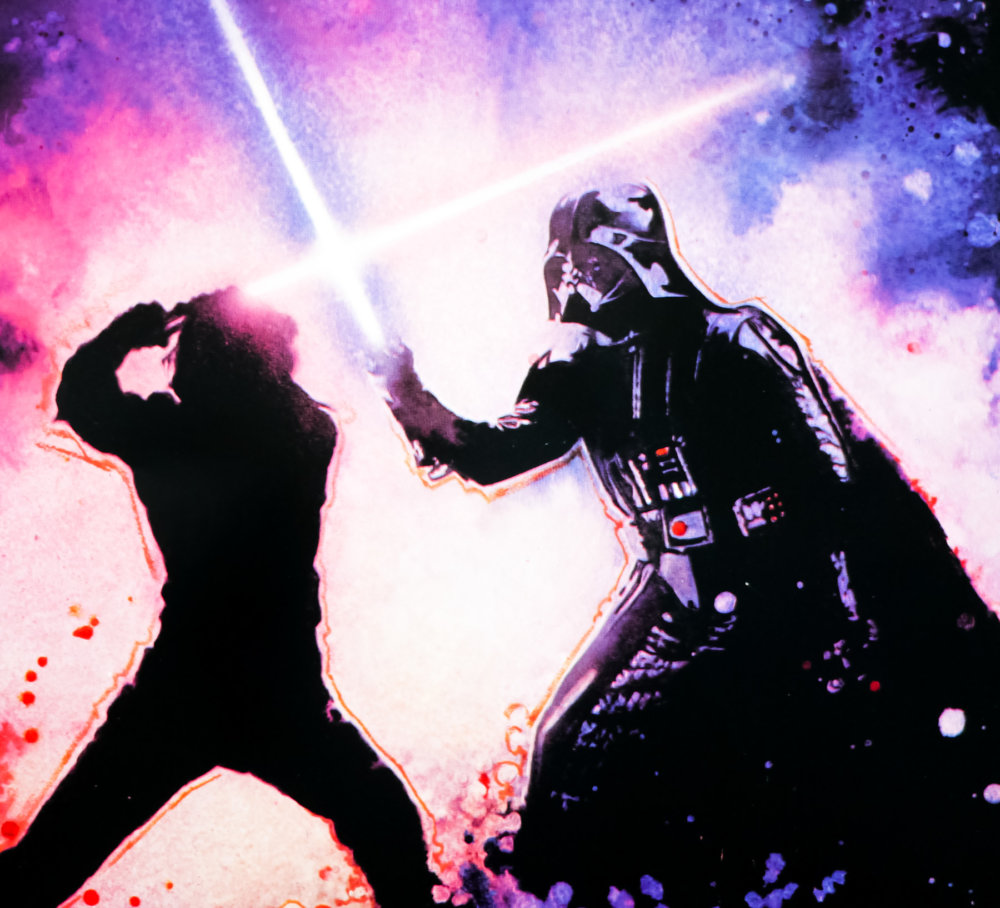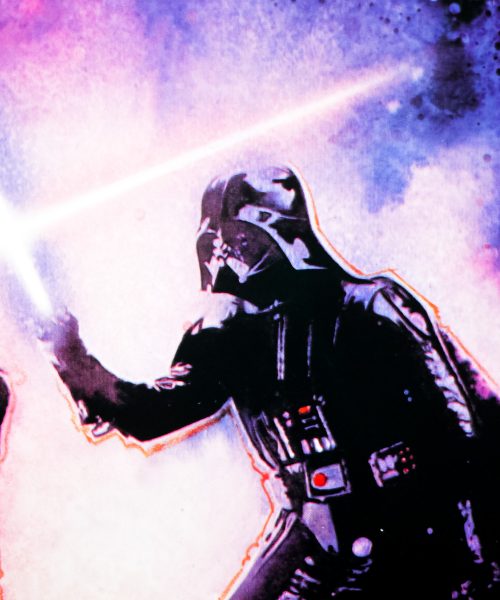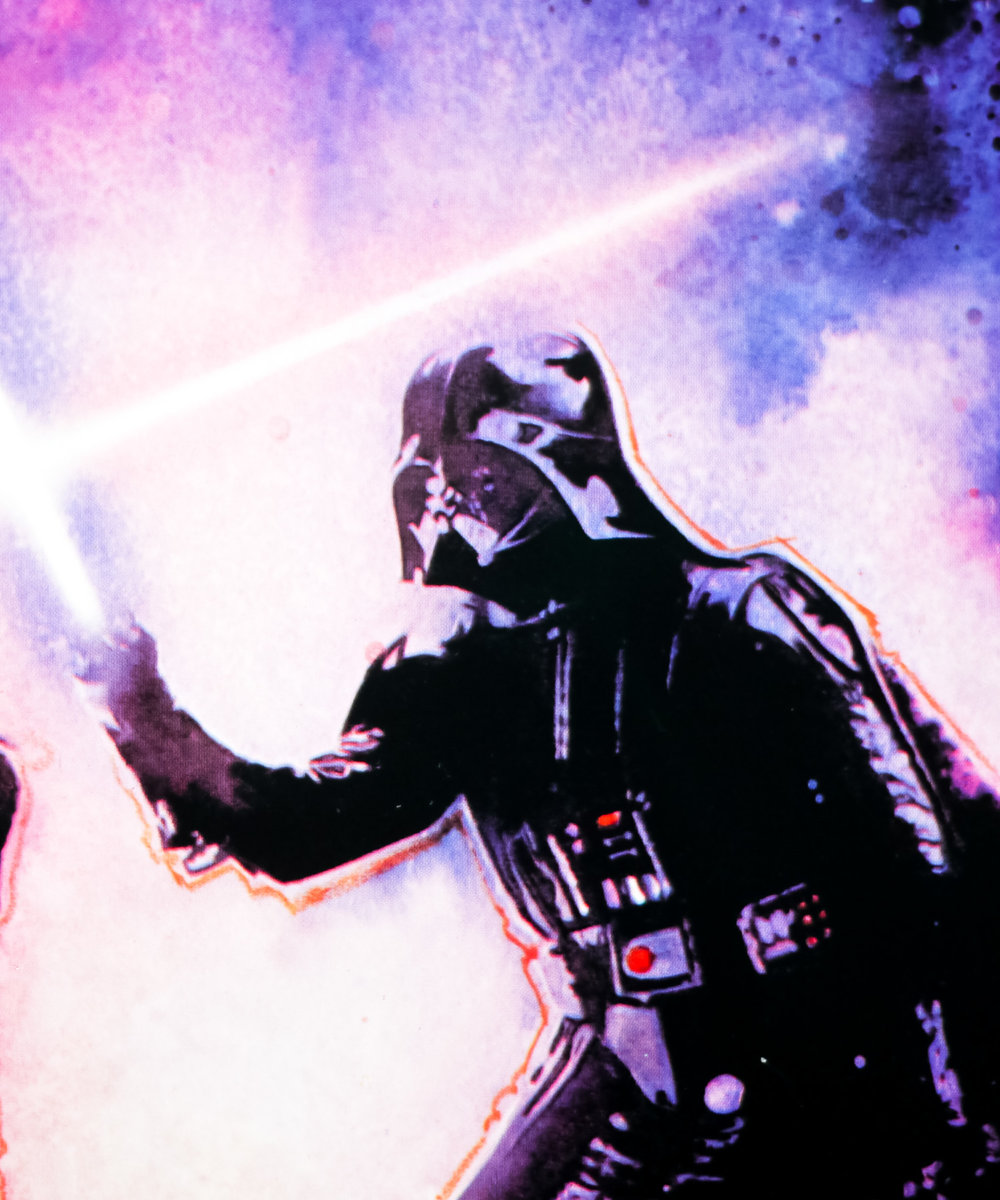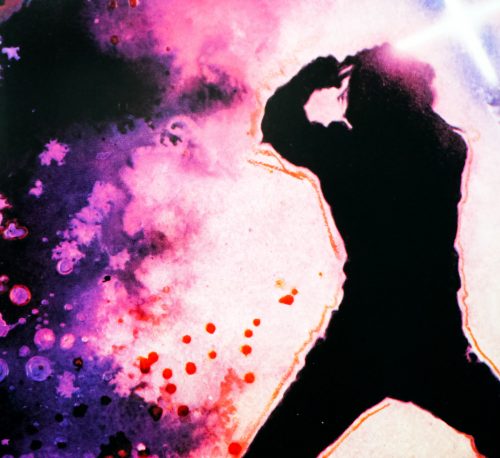 Title
AKA

Return Of The Jedi (release title) | Star Wars Episode VI: Return of the Jedi (full title) | Blue Harvest (USA - fake working title)
Year of Film
Director
Starring
Origin of Film
Type of Poster
Style of Poster

Dated version
Origin of Poster
Year of Poster
Designer
Artist
Size (inches)

27 1/8" x 41 1/16"
SS or DS

SS
NSS #

--
Tagline

The Saga Continues
The third film in the much-loved original trilogy of Star Wars films was written by Lawrence Kasdan and, in a recently produced documentary, he claims to have suggested that the initially planned title of 'Return of the Jedi' was too weak and that 'Revenge' would be a better option. A teaser trailer for the film featured the Revenge title and legendary poster artist Drew Struzan, who had worked on the style D one sheet for the first film, was hired to paint this teaser poster.
Lucas eventually decided that revenge was not a Jedi concept so the film was changed back to the original 'Return' title and all subsequent posters were renamed too. According to the Star Wars poster book, by the time the title had been changed thousands of Revenge posters had been printed and hundreds had been distributed to theaters. Lucasfilm stopped the shipping of the posters and destroyed all but 6,800 posters, which were sold in three days to Star Wars fan club members for $9.50. (Source: The Star Wars Poster Book).
The excellent resource site Movie Poster Collectors has a page on the poster that confirms:
The vast majority of posters that escaped destruction have the tagline "Coming May 25, 1983 to your galaxy" at the bottom.  According to reports, a very few – perhaps 100 – omit that tag line. The posters without the release date command somewhat higher prices than the "Coming May 25" posters.
Unfortunately because of its collectable nature there have been several fakes printed over the years and the MPC page features details on what to look for if you want to make sure you purchase an original.
The poster is one of Struzan's most iconic designs and brilliantly depicts a moment from what would eventually be revealed as a fight between Darth Vader and Luke Skywalker. The colours and use of painting techniques are fantastic and you should check out the detailed images to see these up close. The poster features on his own website. The design was later adapted for a British advance quad featuring the Return title.
This teaser one sheet was officially reprinted by Kilian Enterprises on the film's tenth anniversary but with the Return title instead. This page on Learn About Movie Posters details the various versions that were released.
The other posters I've collected by Struzan can be viewed here.