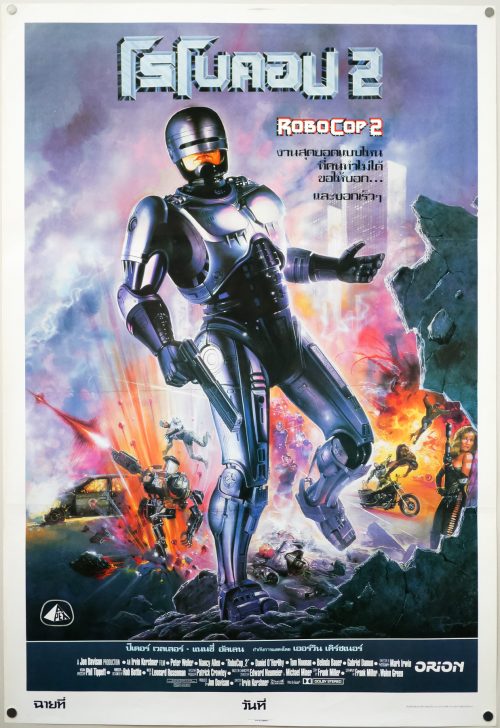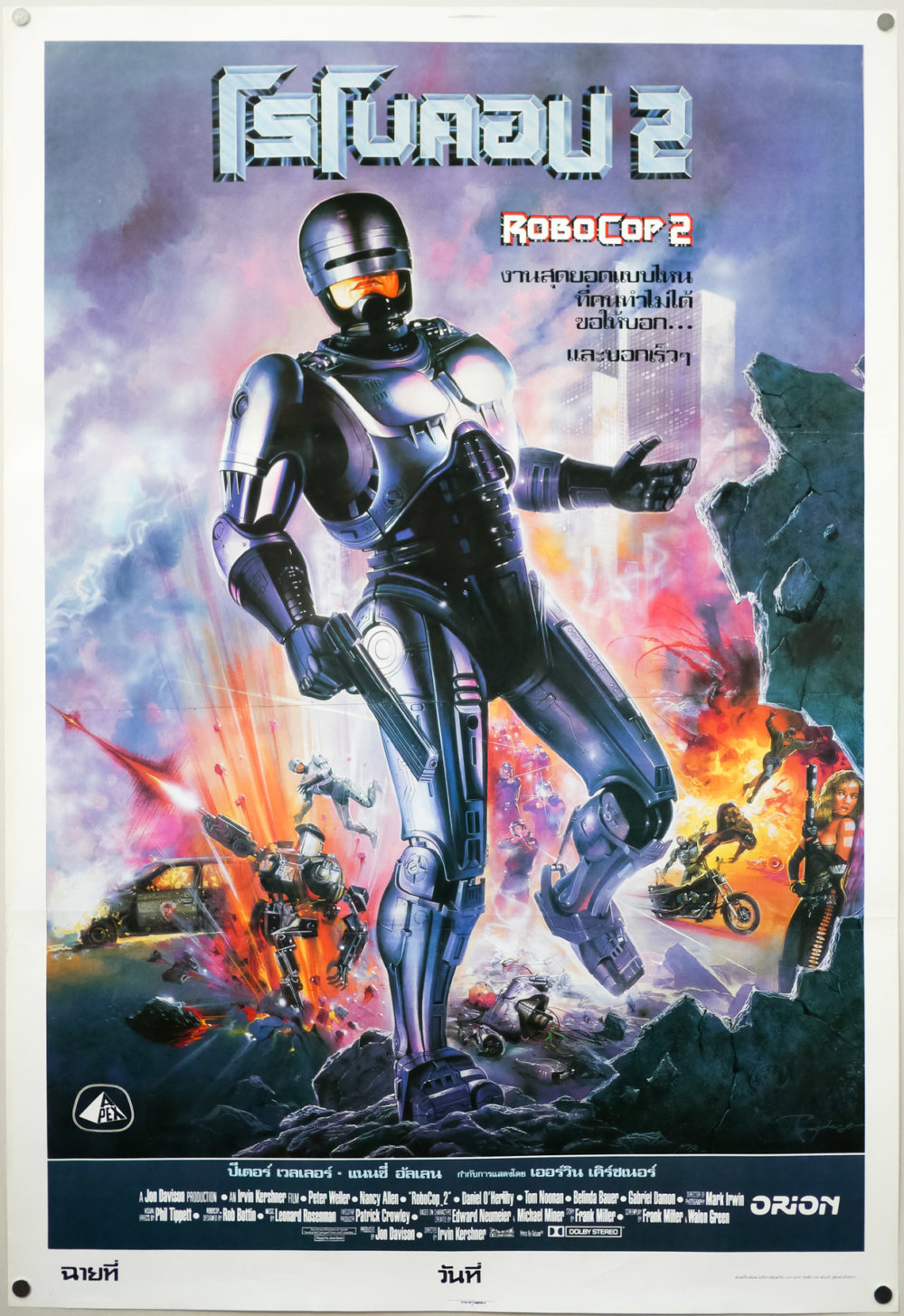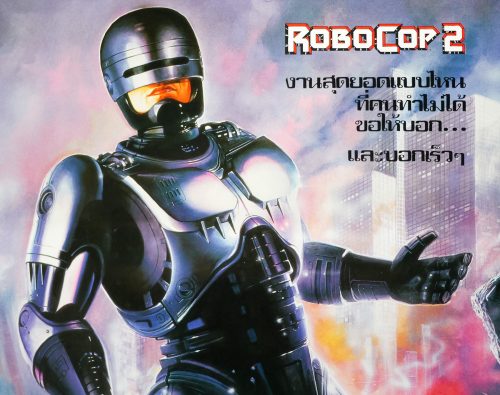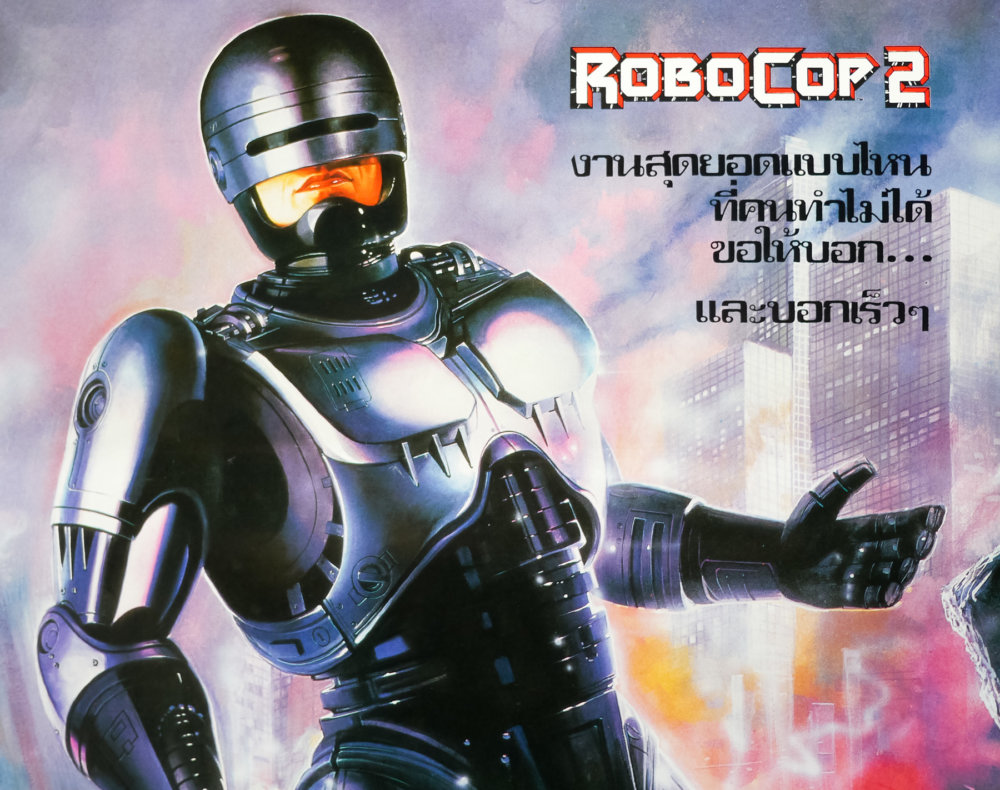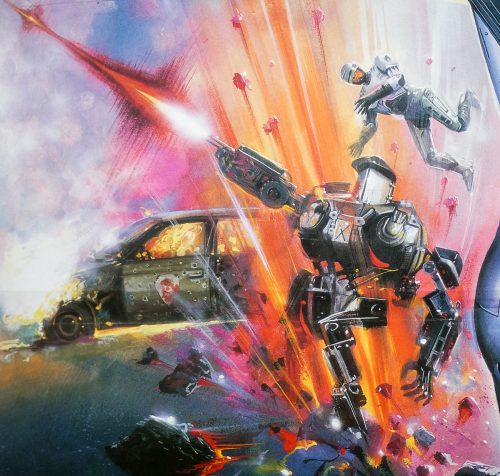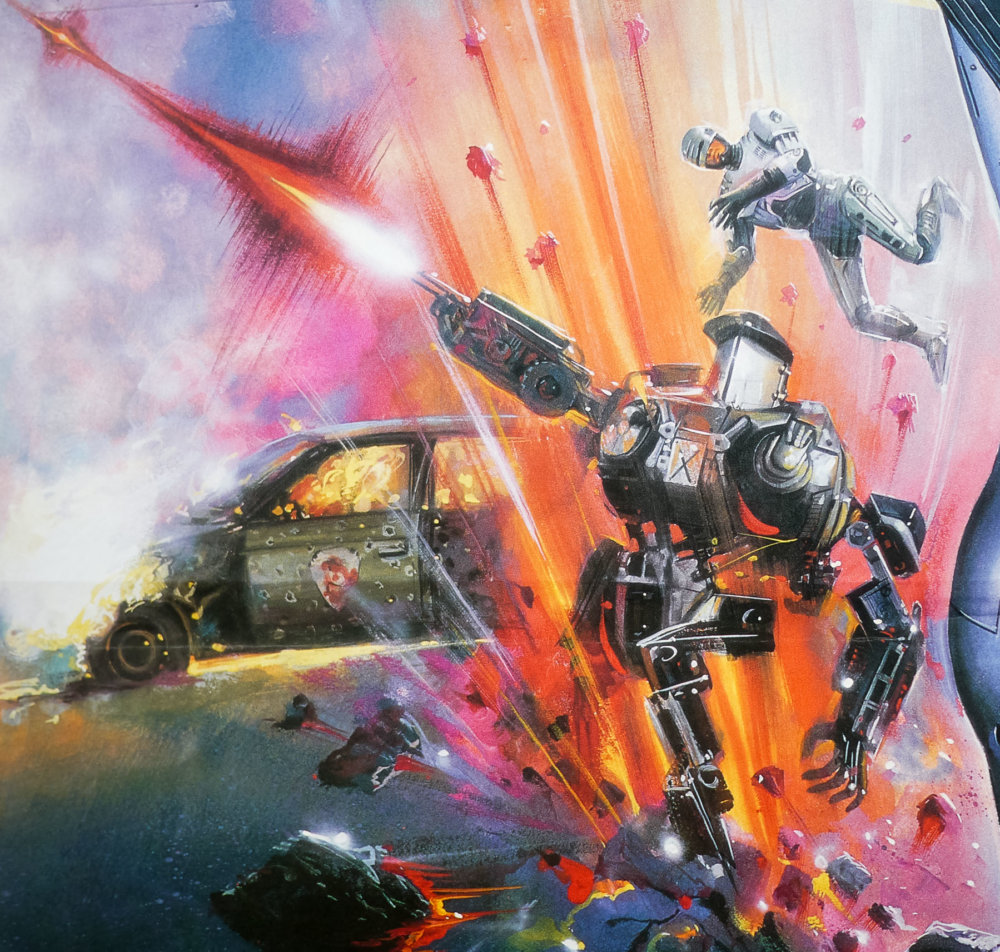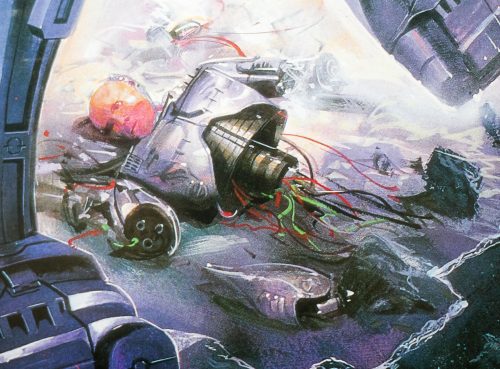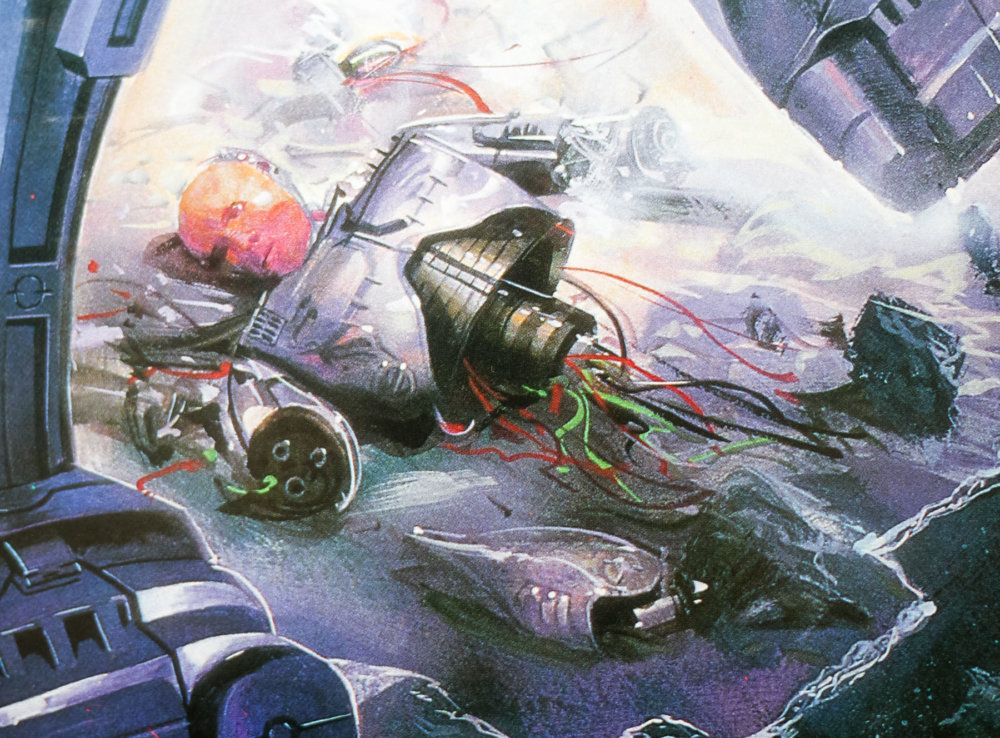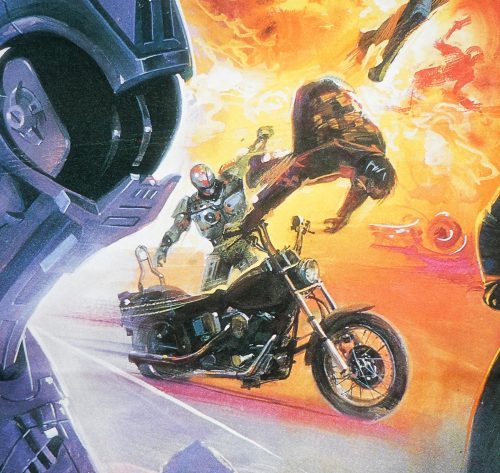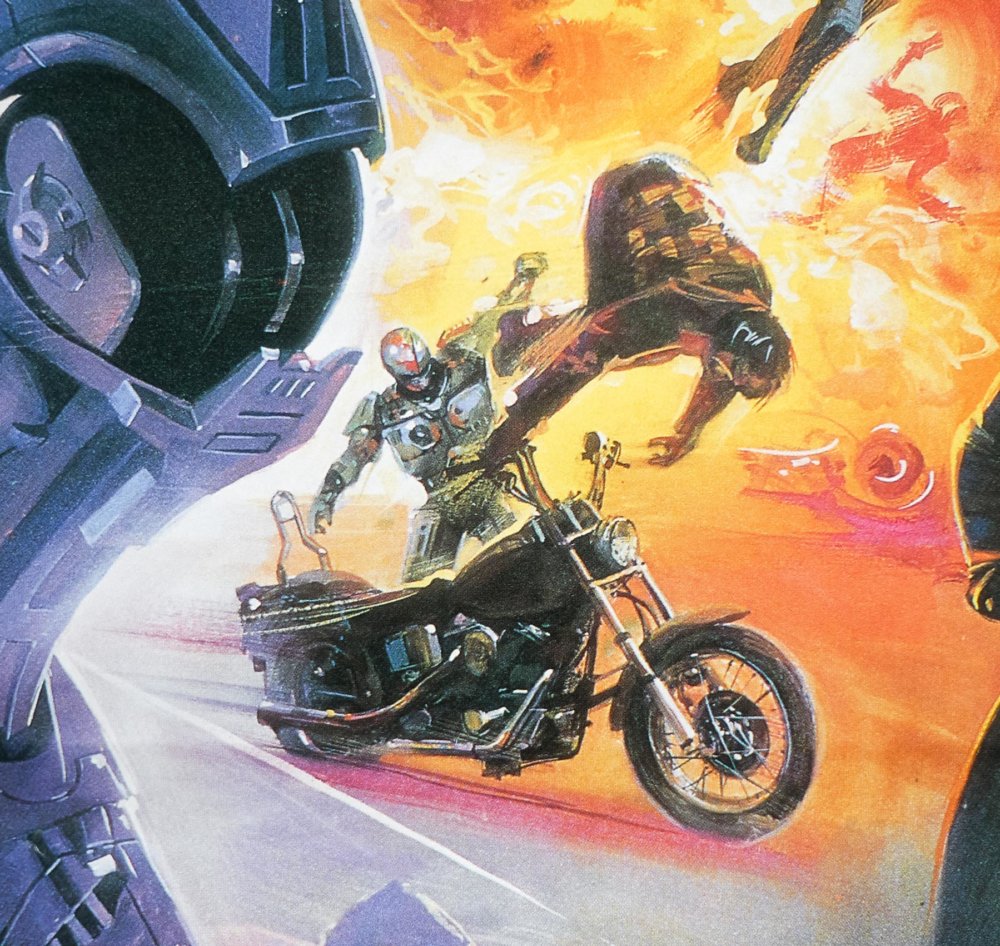 Title
AKA

--
Year of Film
Director
Starring
Origin of Film
Type of Poster
Style of Poster

--
Origin of Poster
Year of Poster
Designer
Artist
Size (inches)

23 15/16" x 34 14/16"
SS or DS

SS
Tagline

--
Excellent artwork by Tongdee Panumas features on this Thai poster for the release of the 1990 sequel, Robocop 2. The film is definitely not a patch on the classic original, although it does have a few redeeming qualities. Paul Verhoeven decided to pass on directing the sequel as he wasn't happy with the direction the studio wanted to take the story. He was then offered the job on Total Recall which ended up being released the same year as Robocop 2. The original screenwriters also failed to return and the script was penned by Frank Miller (best known for Sin City and his work as a comic book writer) and Walon Green (The Wild Bunch). Irvin Kershner (The Empire Strikes Back) signed on as director and it would turn out to be the final film he would helm.
The film is notably dark and possibly even more violent than the original. Peter Weller returns as the eponymous cyborg who continues to police the streets of an increasingly out of control Detroit. The city is dealing with an epidemic surrounding a new drug called Nuke, pushed by the psychotic Cain (Tom Noonan) and his gang of miscreants. The nefarious corporation OCP is also moving ahead with secret plans to bankrupt the city and turn it into their own Delta City, independent of the US government.
As part of the plan they have been increasing the amount of crime in the city by causing police strikes. They also intend to expand the Robocop program by using dead criminals, and not police officers, as the basis for their next cyborgs. When Cain is mortally wounded during a confrontation with Robocop, the unscrupulous scientist Faxx (Belinda Bauer) seizes the opportunity to implant his brain in her new robotic creation. Unfortunately for her and OCP Cain's addiction to Nuke, which they initially think they can use to control him, turns out to be their undoing. Only Robocop can stop the new cyborg's rampage and end the Delta City dream once and for all.
Tongdee Panumas (he signs his posters with just his first name) was an incredibly prolific Thai film poster artist during the 70s, 80s and 90s. I've been unable to find out much about him, other than that he was born in 1947, so if anyone has any more details please get in touch.
Note that the line across the centre of the poster is where the original artboards onto which Tongdee paints were joined. Thai artists apparently often struggled to find large enough canvases to paint on. There are also some other marks where the original canvases were damaged before printing – see the close up of the female figure on the right as an example. The main figure on this poster is repainted from the photographic international one sheet which can be seen here.