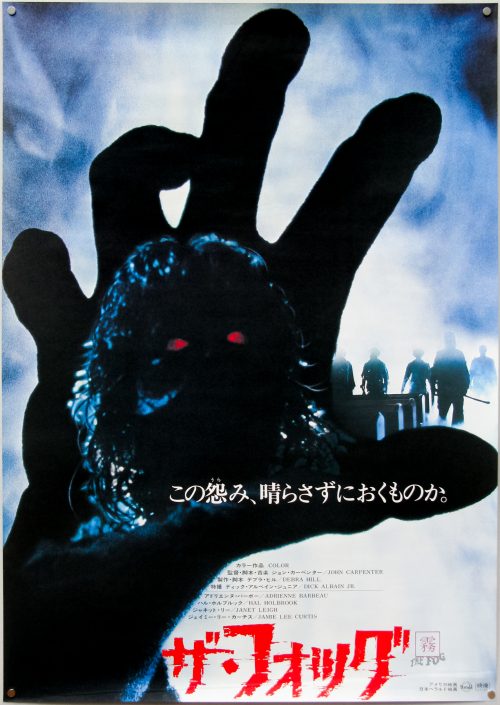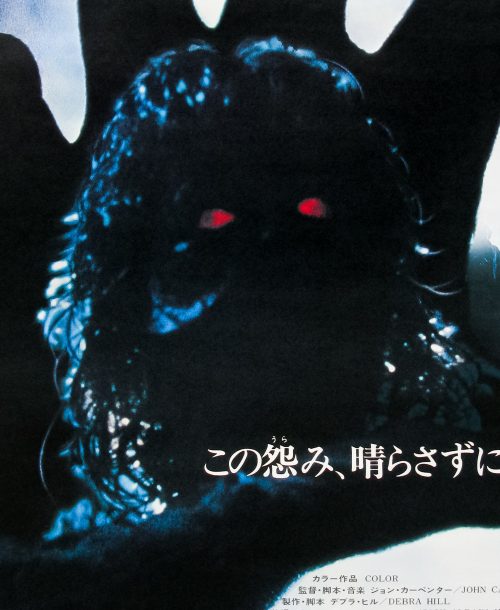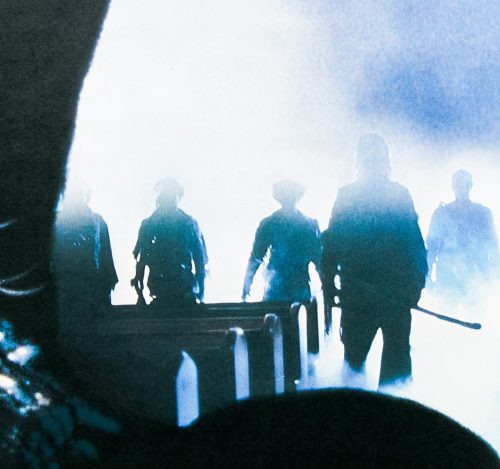 Title
AKA

Tåken (Norway)
Year of Film
Director
Starring
Origin of Film
Genre(s) of Film
Type of Poster
Style of Poster

--
Origin of Poster
Year of Poster
Designer
Artist
Size (inches)

20 6/16" x 28 13/16"
SS or DS

SS
Tagline

--
This is the Japanese B2 poster for John Carpenter's excellent supernatural horror The Fog, the next cinema release following the directors' 1978 horror masterpiece Halloween. The film is set in the fictional Californian fishing town of Antonio Bay which is about to celebrate its centennial. What the current residents don't know is that the town holds a terrible secret; the six original founders deliberately wrecked the Elizabeth Dane, a ship containing a wealthy man named Blake and his five companions who were all suffering from leprosy and wanted to establish a colony nearby. After plundering the wreck and stealing the gold onboard, the conspirators went on to establish Antonio Bay and deliberately covered up their actions.
As the celebrations are being prepared, a mysterious fog bank rolls off the sea which enshrouds the town and surrounding area. Off the coast, a local trawler is also enveloped and the crew subjected to an attack by mysterious glowing-eyed apparitions. Around the same time a young hitchhiker named Elizabeth Solley (Halloween star Jamie Lee Curtis) is picked up on the outskirts of the town by local resident Nick Castle (genre stalwart Tom Atkins). As the pair are driving through the fog into town Nick's vehicle mysteriously cuts out and all the windows shatter without warning. Local radio DJ Stevie Wayne (played by gorgeous 'scream queen' Adrienne Barbeau), who broadcasts from a lighthouse on a cliff above the town, is handed a piece of driftwood with 'Dane' inscribed on it. She takes it back to her studio only for the wood to trigger a strange sequence of events that culminates with a mysterious voice intoning that 'six must die'. Over the next few hours the town is subjected to a series of terrifying attacks as Blake and his crew return from their watery graves to claim six souls in revenge for their treatment at the hands of the town's founders.
The lighthouse featured in the film is actually the Point Reyes lighthouse which is situated to the north of San Francisco in California. In 2010 I visited the lighthouse and it's an incredibly spooky place, even in bright sunshine. There is a constantly sounding foghorn which is used to warn ships away from a series of underwater rocks just off the coast. I spotted a series of whales moving past the point whilst I was there too. It's well worth the trip if you're ever in that area of the world.
I also have the Japanese B1 poster that can be viewed here.