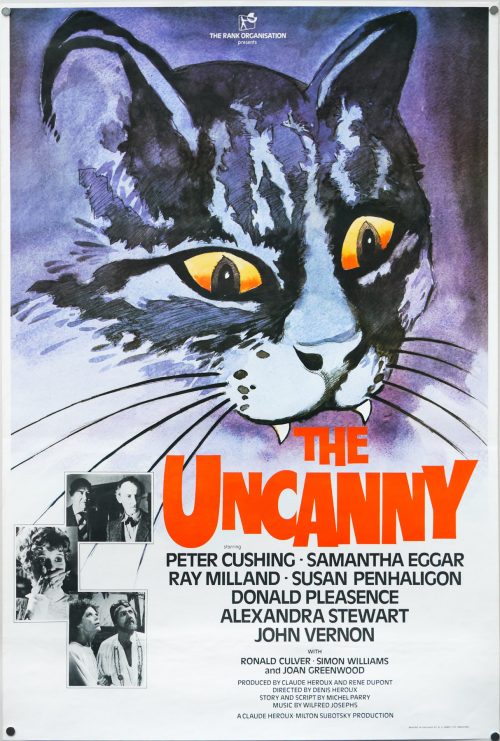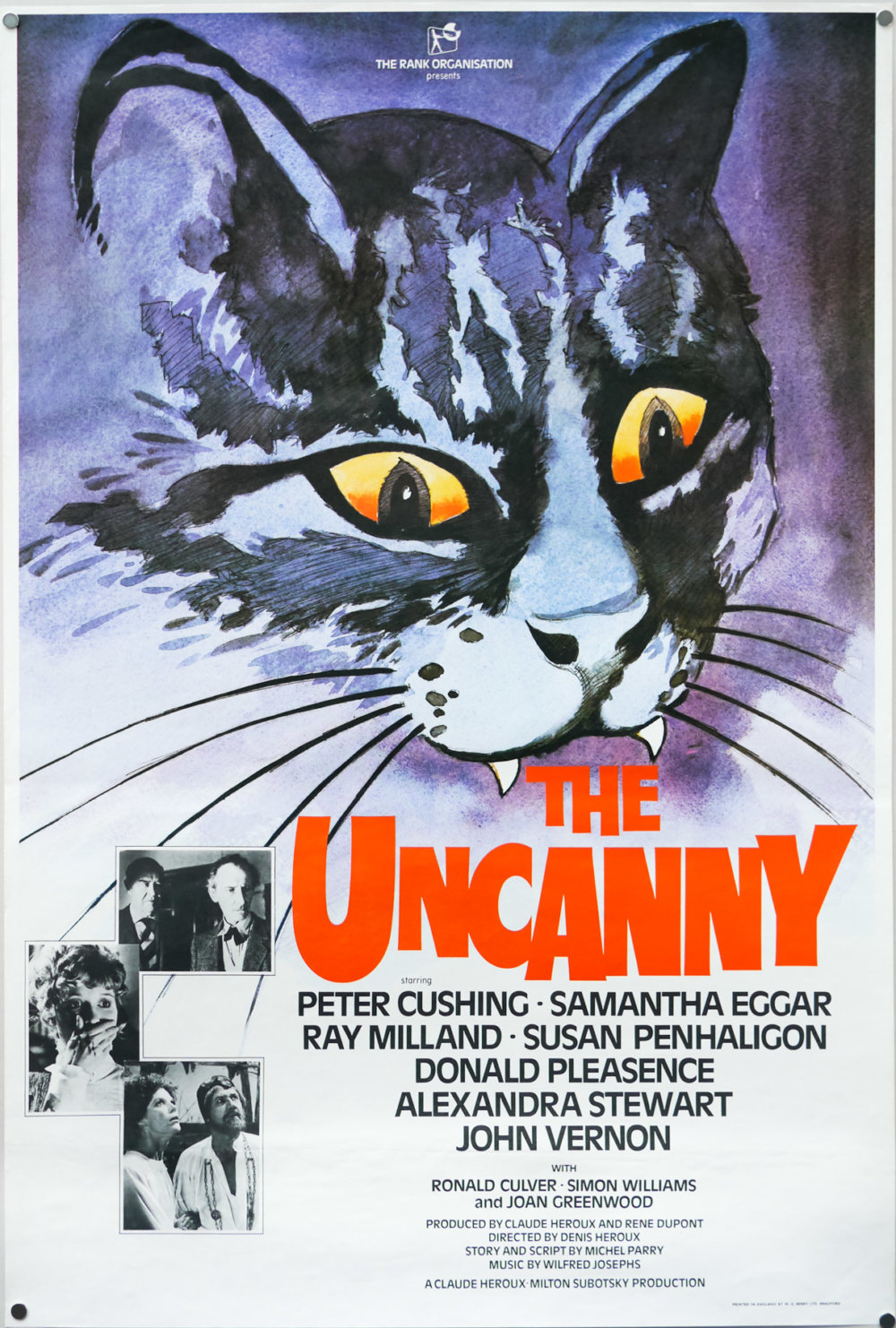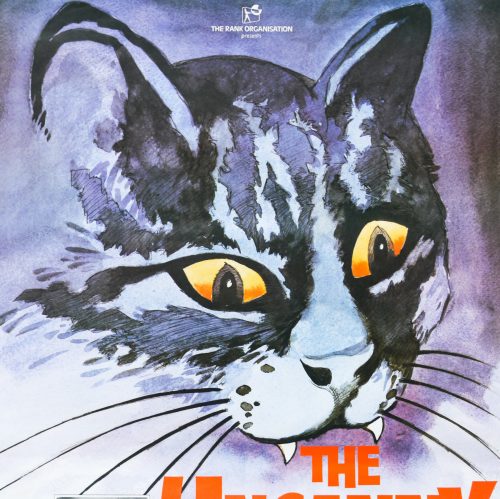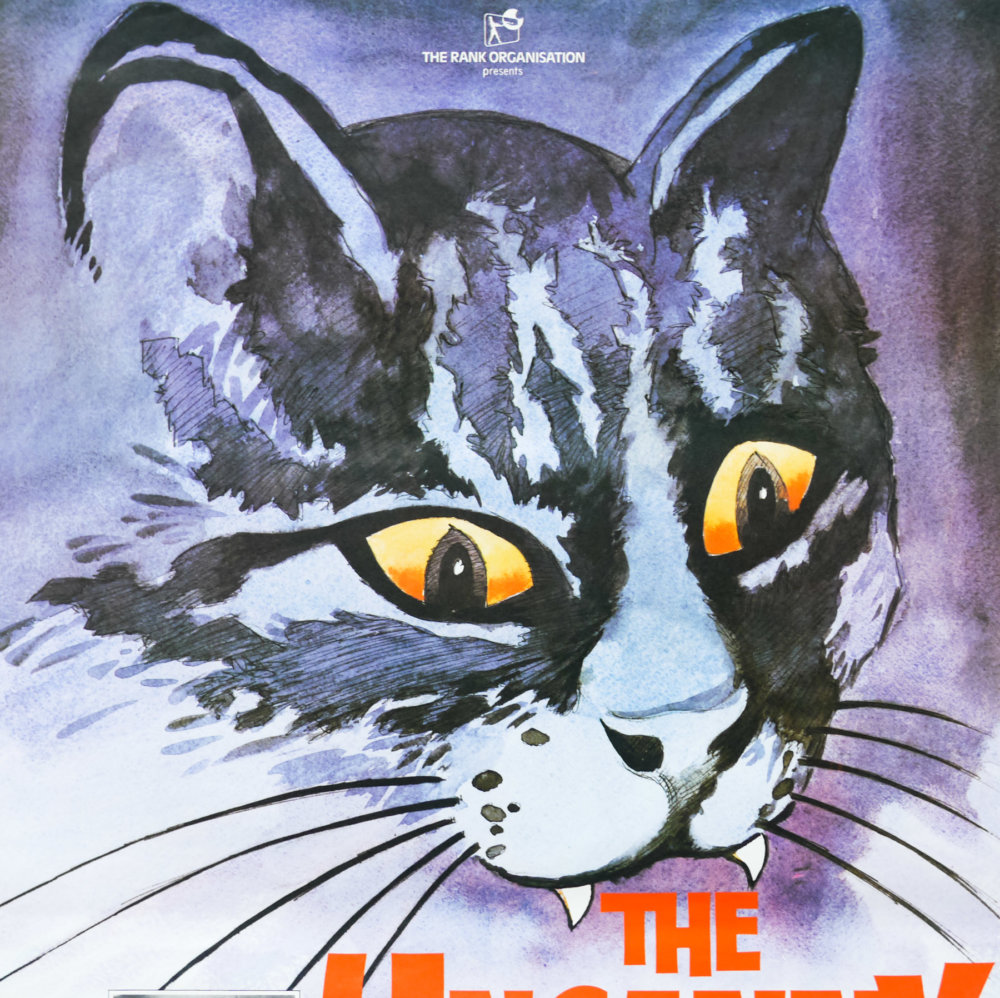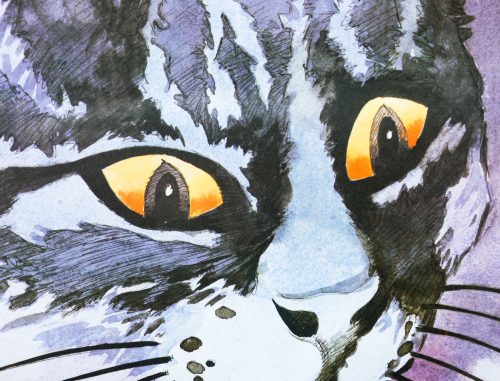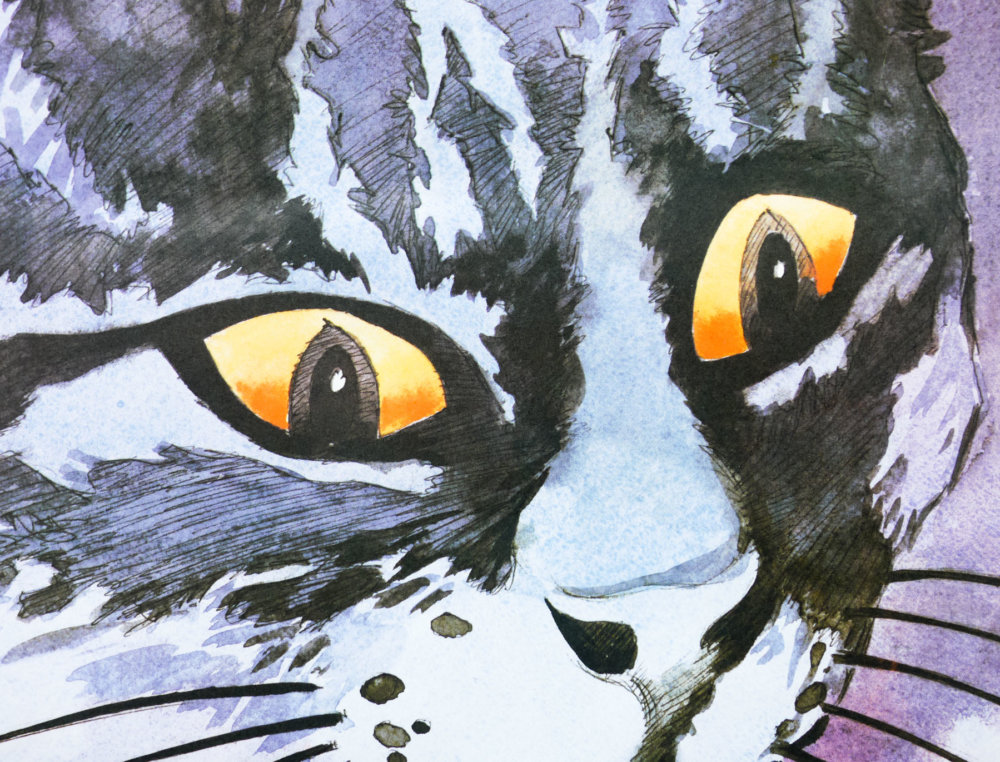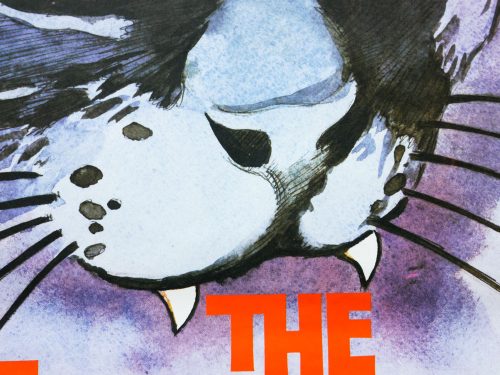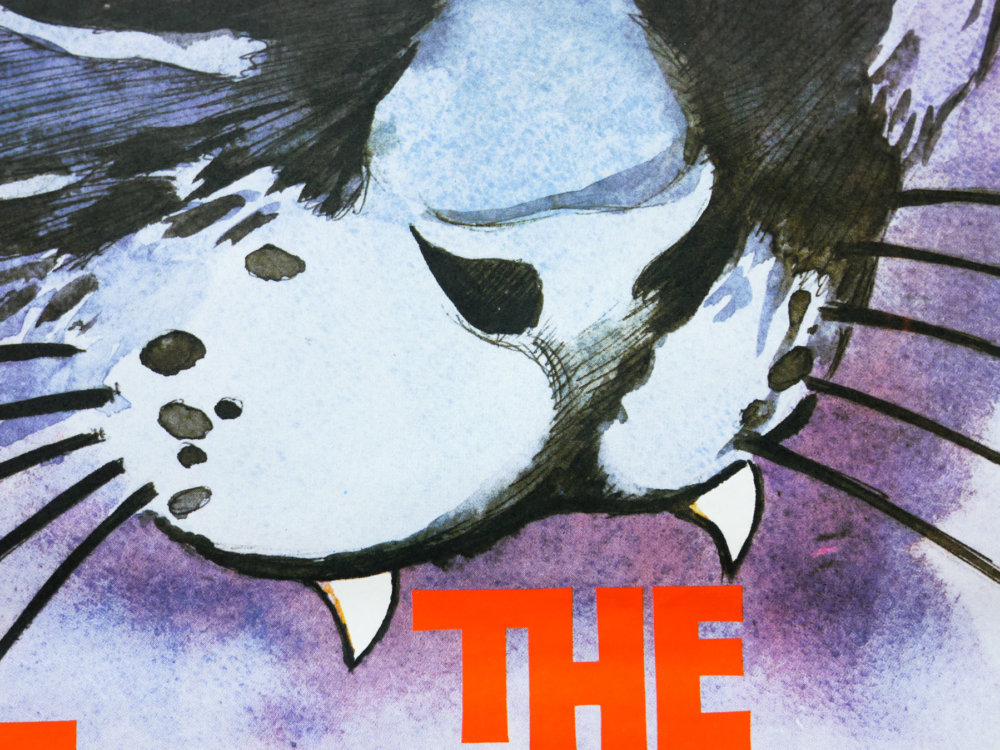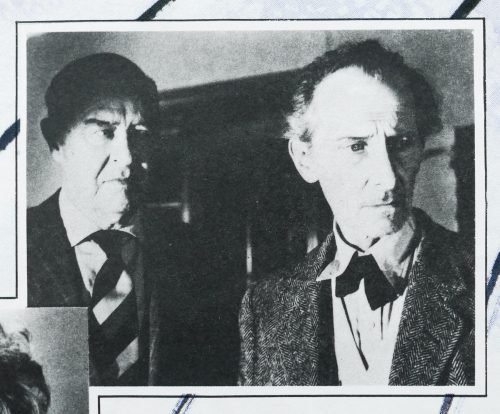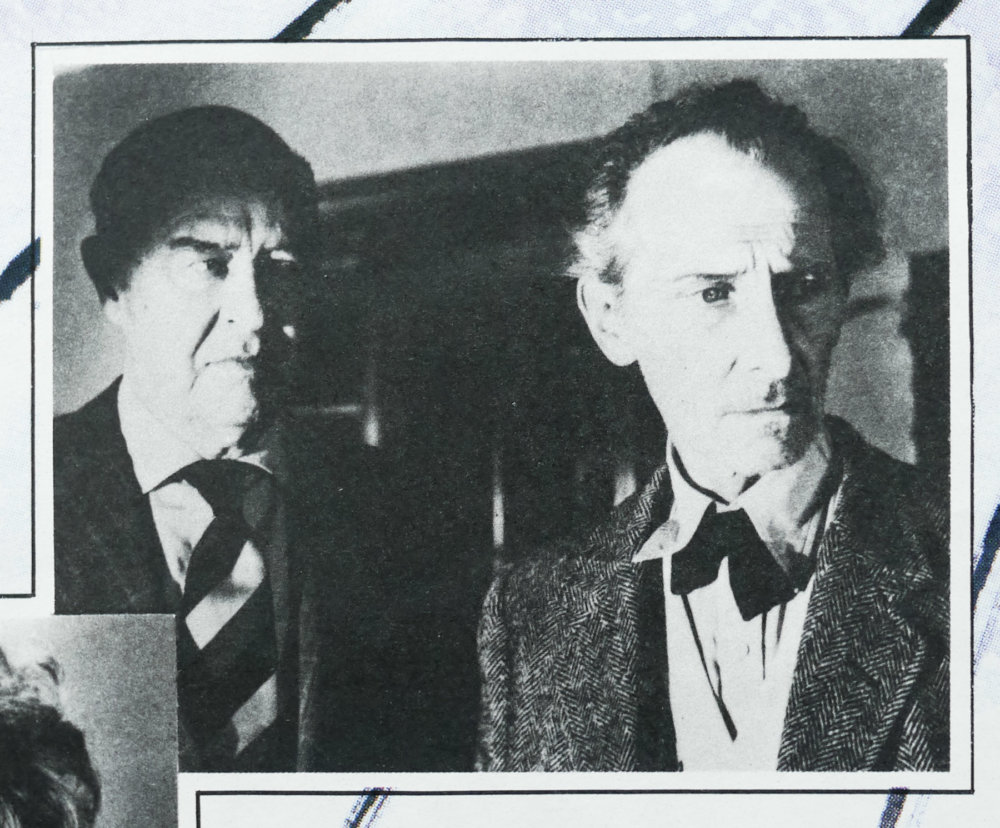 Title
AKA

--
Year of Film
Director
Starring
Origin of Film
Genre(s) of Film
Type of Poster
Style of Poster

--
Origin of Poster
Year of Poster
Designer
Artist
Size (inches)

26 15/16" x 39 15/16"
SS or DS

SS
Tagline

--
A striking design on this poster for the 1977 British-Canadian horror anthology The Uncanny, which is based around the unlikely theme of malevolent cats. The film is often mistakenly credited as being an Amicus Productions anthology (like Tales from the Crypt and The Vault of Horror) but it was in fact a Rank release with the involvement of Milton Subotsky, one half of the Amicus team, which had disbanded in 1975.
The film features three stories told as part of an overarching framing tale that sees Peter Cushing as a British author visiting his agent in Montreal to present the idea for his next book, which is that all cats are inherently evil, supernatural creatures. To illustrate his reasoning he tells three separate tales, each from different eras and locations. The first is set in London and sees Miss Malkin (Joan Greenwood) a sick, wealthy widower leave her fortune to her houseful of cats, which angers her only nephew. He enlists the help of the housemaid Janet (Susan Penhaligon) who attempts to steal the copies of the will but disturbs the elderly woman as she's doing so and kills her in the struggle that follows. Much to Janet's surprise, the moggies then take their revenge on her and the nephew.
The second story is based in Quebec and sees Lucy (Katrina Holden Bronson) an orphaned girl, going to live with her Aunt and bringing her beloved cat Wellington with her. After being mistreated by the family who decide to try and dispose of Wellington, Lucy seeks help from her collection of witchcraft books and takes out her anger on her malicious cousin Angela. The final story is set in Hollywood during the 1930s and features Donald Pleasence giving it his all as an actor who rigs an onset accident that kills his wife so he can shack up with his mistress, a younger actress. Unfortunately, his wife's cat is none too pleased with its owner being offed and sets out to get its revenge, which it does in a ridiculous finale.
The film features very little in the way of horror, with only some very fake looking blood in a few scenes and absolutely nothing in the way of suspense. The special effects are mostly awful and in the scenes where cats are supposedly attacking people you can practically see the hands of the animal handlers who've just thrown them at the victim. The middle story set in Canada is particularly poor, thanks to a woeful performance by the actress playing Lucy. The simple fact is that cats are not particularly scary and anyone who owns a cat knows that the worst that might happen is a bit of scratched skin. Apparently the film flopped at the box office and was never even given a release in American cinemas.
This poster was designed and illustrated by Vic Fair, who is one the most important designer/artists ever to work on British film marketing. He is responsible for several iconic posters, including The Man Who Fell To Earth, posters for Hammer horrors like Vampire Circus, and the withdrawn advance one sheet for A View to a Kill. I interviewed Vic for this site and that article can be viewed by clicking here.
To see the other posters I've collected by him click here.