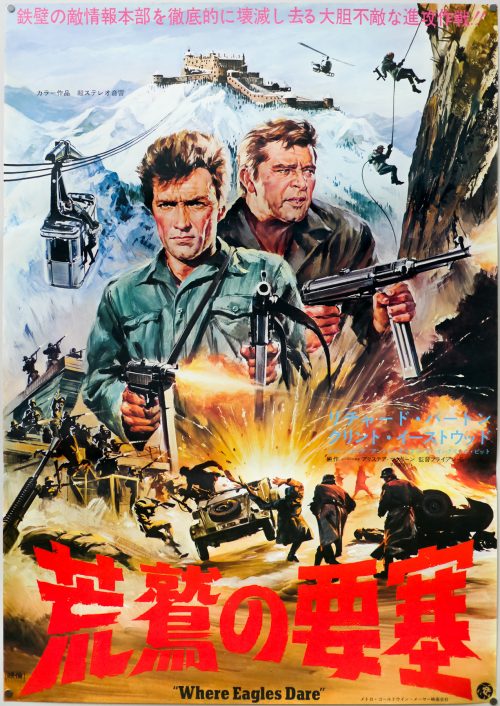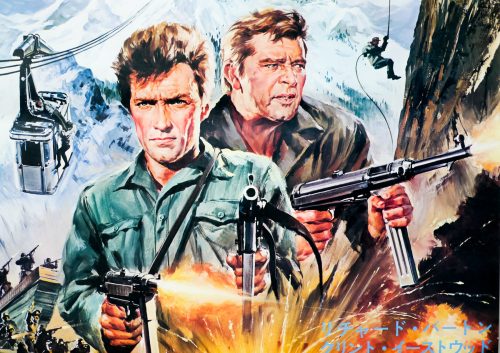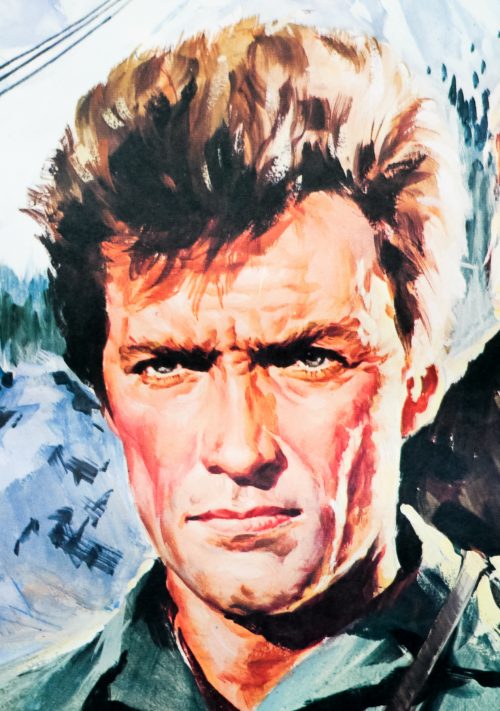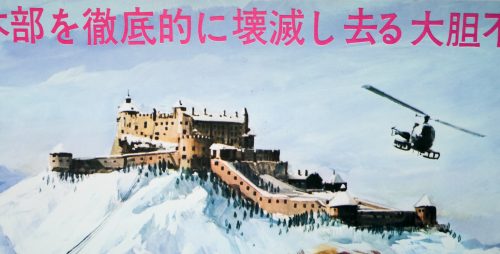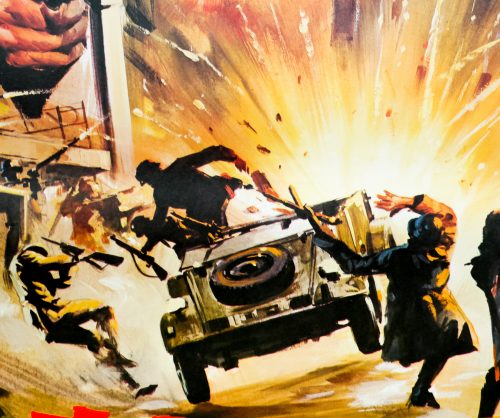 Title
AKA

--
Year of Film
Director
Starring
Origin of Film
Type of Poster
Style of Poster

--
Origin of Poster
Year of Poster
Designer
Artist
Size (inches)

20 5/16" x 28 13/16"
SS or DS

SS
Tagline

--
Great artwork by the Italian/French artist Jean Mascii on this Japanese B2 for the 1968 WWII action-adventure Where Eagles Dare, starring Richard Burton and Clint Eastwood. Scottish novelist Alistair MacLean was apparently commissioned by Burton to write a 'boys-own' action thriller that the actor could take his son to see. MacLean, who was already responsible for several successful novels-turned-films, including Guns of Navarone and Ice Station Zebra, wrote the book for Where Eagles Dare at the same time as the screenplay. The film would end up differing from the book, with the screenplay featuring significantly more violence – the film is often thought to feature Eastwood's highest on-screen bodycount.
The story, set in the winter of 1943, sees Burton's army major tasked with leading a team of commandos on a mission to a castle high in the Bavarian Alps to rescue a captured American General who, unknown to the Nazis, has detailed knowledge of the planned D-Day landings. Joining the team is Lieutenant Schaffer (Eastwood) an American ranger who is puzzled by his inclusion, but as the men scale the mountain to reach the castle and undertake their mission several members of the team reveal their true plans.
Jean Mascii was born in Italy in 1923 and moved with his parents to France in 1932. In 1947 he was given his first job painting cinema billboards and from there he moved onto designing and painting film posters and is thought to have worked on over 2000 of them during his career, including several undisputed classics such as the poster for Jean-Luc Godard's Alphaville and George Franju's Les Yeux Sans Visage. The Cinesud site features a gallery of hundreds of his posters that's well worth browsing.
I'm not 100% certain that this Japanese version of Where Eagles Dare was painted by Mascii but I've seen the painting, which also features on a British quad (with some differences – Burton's face being one), credited to him several times. There is also an alternative French poster (image taken from eatbrie.com) for the film that is credited to the artist. If anyone know for certain that Mascii can be credited with this painting please get in touch.