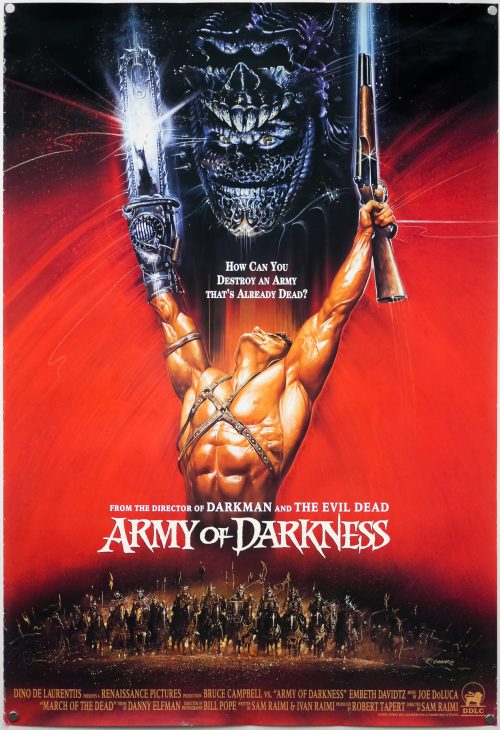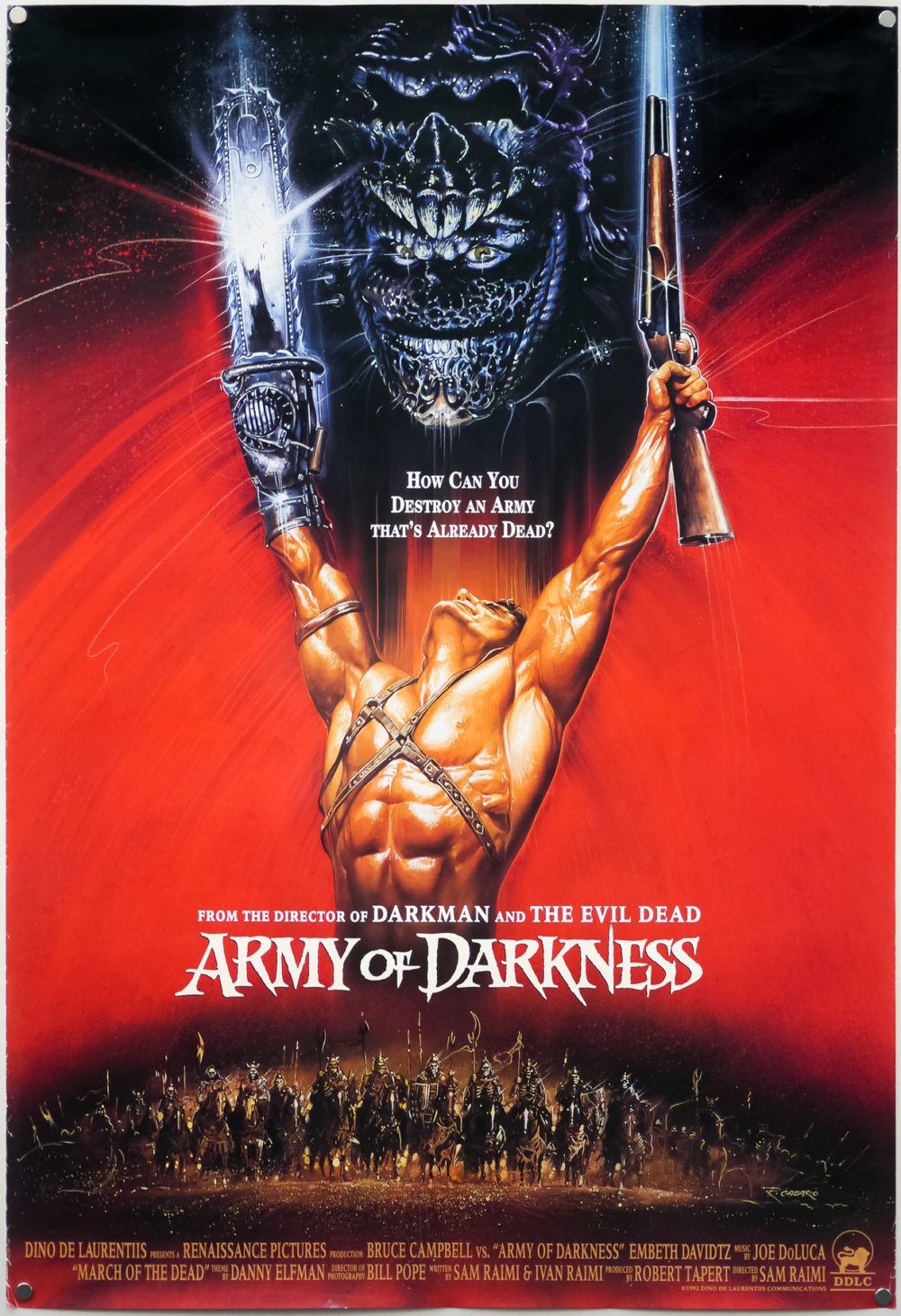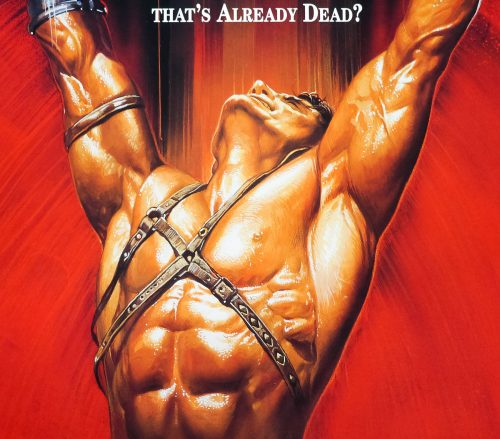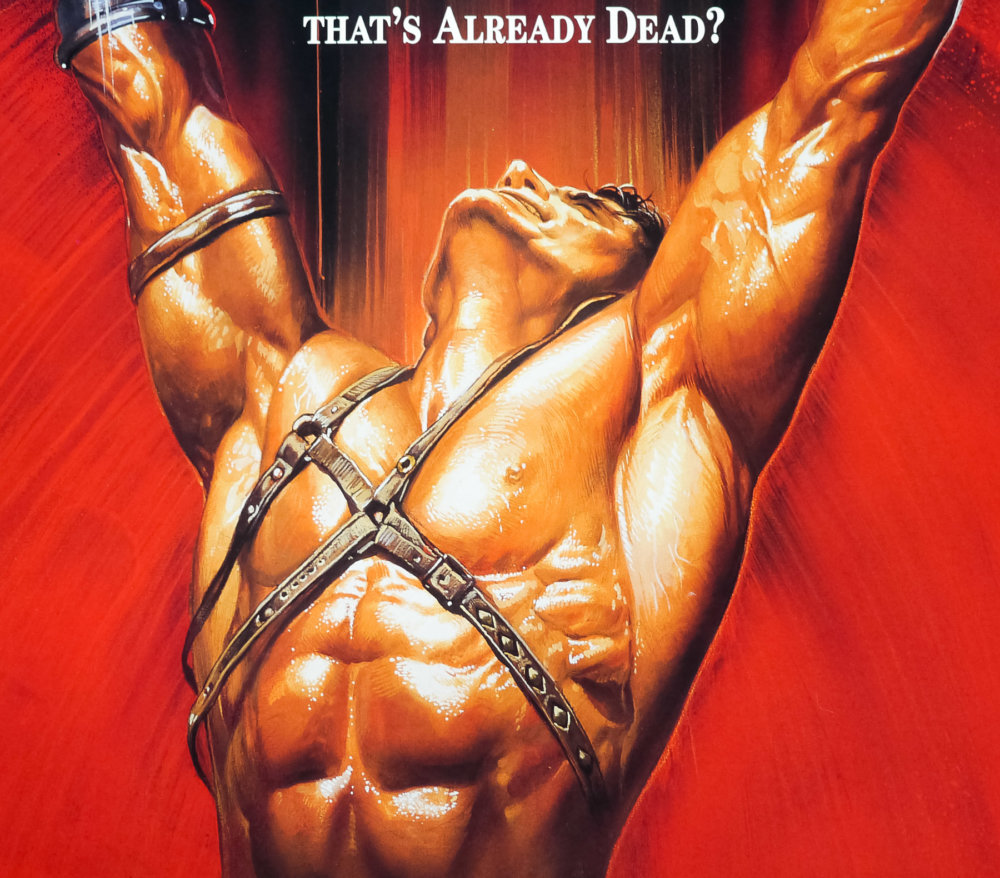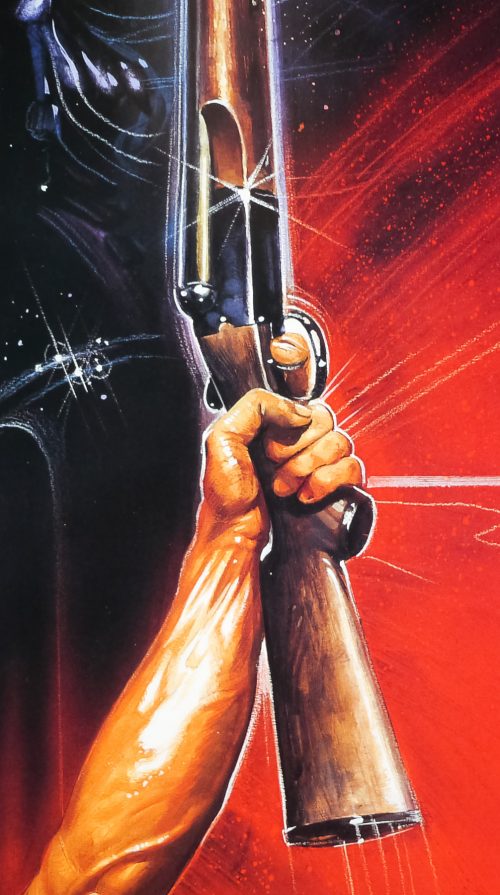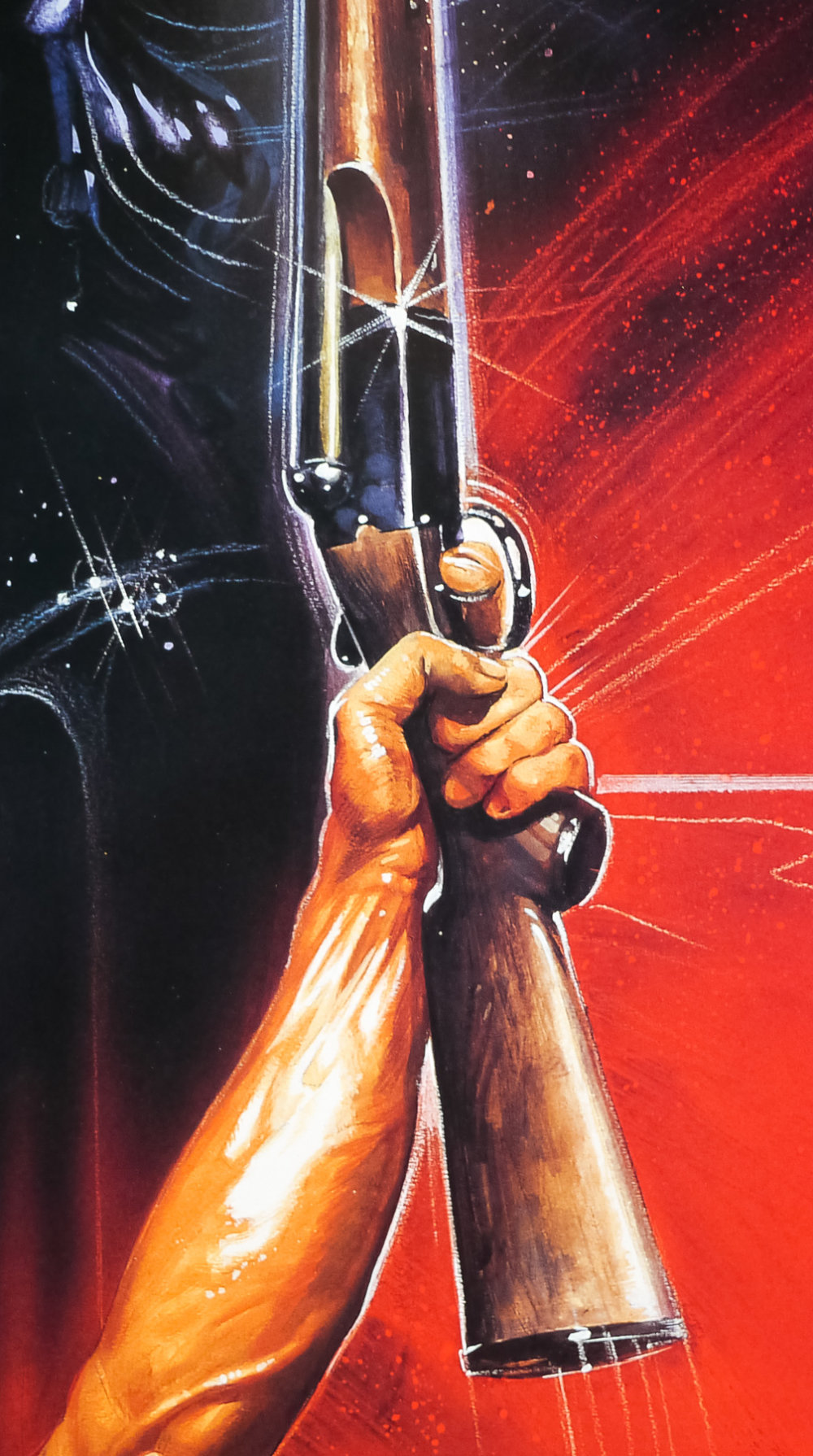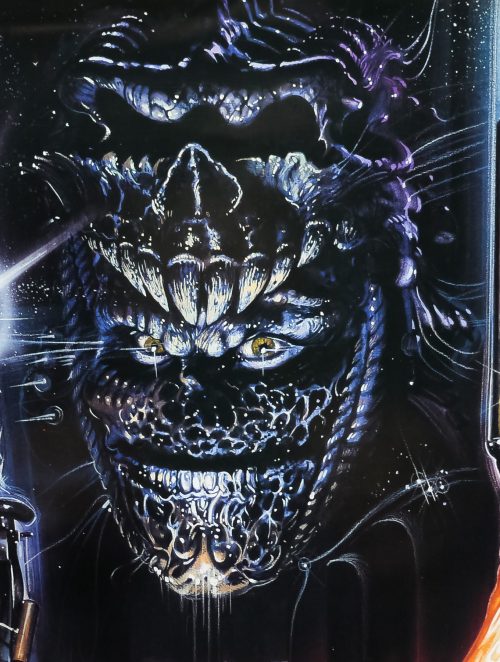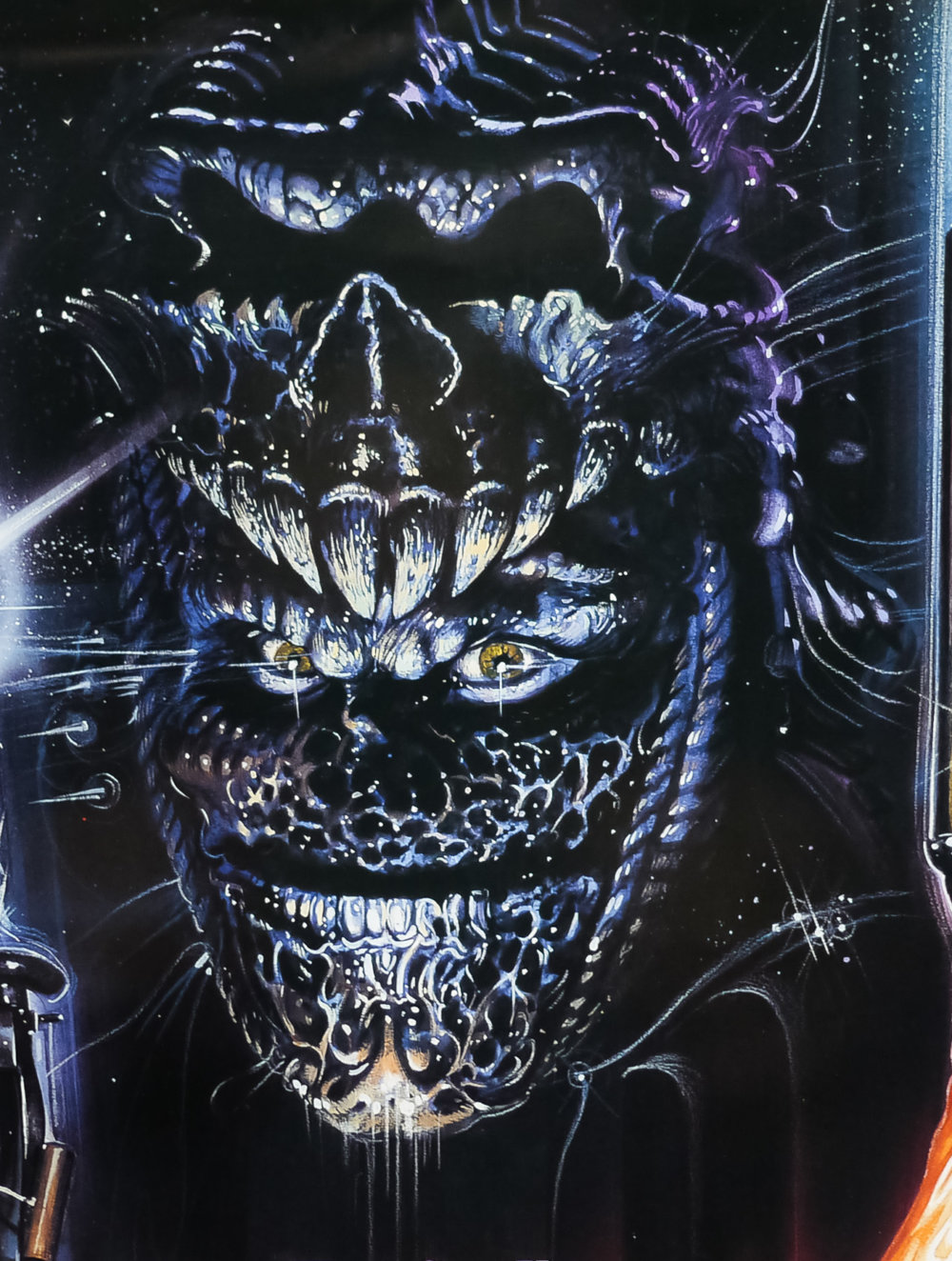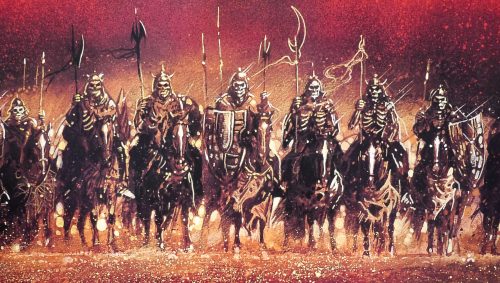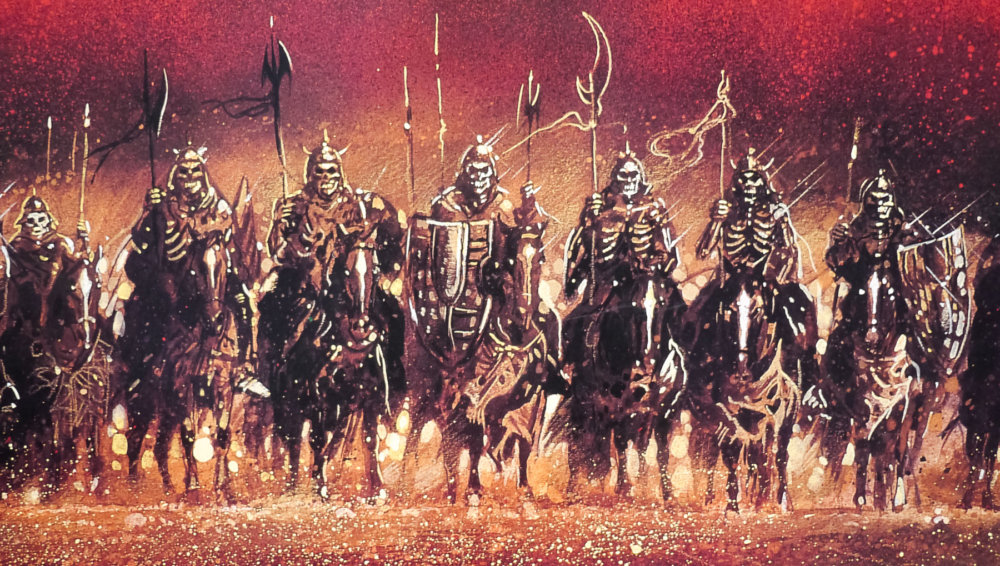 Title
AKA

Army of Darkness: The Medieval Dead (alternative title) | Kyaputien supamaketto: Shiryo no harawata III - Captain Supermarket (Japan)
Year of Film
Director
Starring
Origin of Film
Type of Poster
Style of Poster

--
Origin of Poster
Year of Poster
Designer
Artist
Size (inches)

27" x 39 10/16"
SS or DS

SS
NSS #

--
Tagline

How can you destroy an army that's already dead?
This is the scarce international one sheet for the release of Army of Darkness, the third installment in the Evil Dead trilogy. As with the previous entries in the cult horror series, the film was directed by Sam Raimi, produced by Robert Tapert and stars their friend Bruce Campbell as Ash, the unlucky goofball at the centre of the chaos. Re-interpreting the end of Evil Dead II somewhat, the film opens as Ash is sucked through a time portal and lands in 1300AD, whereupon he is captured by a medieval army led by Lord Arthur who believes him to be in league with his enemy.
After battling a deadite in a pit, Ash is set free and celebrated as a hero by Arthur and his men. He also meets and strikes up a friendship with Sheila, the sister of a fallen knight. Upon learning that he must find and use the Necronomicon Ex-Mortis (Book of the Dead, as seen in the previous films) to return to his time, Ash sets off to locate it but things don't go quite to plan. Whilst running through a haunted forest, he ends up crashing into a mirror inside a windmill and, in a superb sequence, is attacked by several mini clones of himself. Eventually one of them creates a full-size evil version of Ash and is soon uniting all of the deadites together to form the Army of Darkness.
Infamously, Universal Studios wrestled control from Raimi during post-production as they were unhappy with the downbeat ending that the director had shot, which depicted Ash drinking too much special potion and waking up in a post-apocalyptic future landscape. Another 'happy' ending, set in a supermarket with Ash recalling events of the film to a colleague, was filmed during reshoots and Army of Darkness was released in the US with that ending. Raimi was able to restore his preferred ending for international releases, including the UK, and subsequent home video releases have included both cuts.
This one sheet was illustrated by one of my favourite artists, Renato Casaro, an Italian with a prolific movie poster output that lasted over 35 years. He began his career in 1953, aged 19, at the famous Studio Favalli in Rome and would go on to design and paint posters for many of the biggest directors in the world. His skill at accurately portraying actors and his brilliant use of colour and composition saw him much in demand from studios and actors alike.
His artwork has featured on posters used in multiple countries, including Japan, Germany, USA as well as in his native Italy. Check out the incredible amount of work on his official website here, which also features a biography of the artist. The other posters I have collected by Casaro can be seen by clicking here.
This artwork also features on the UK quad and a few other European posters, including the Spanish release. The American one sheet features an excellent illustration by Michael Hussar.