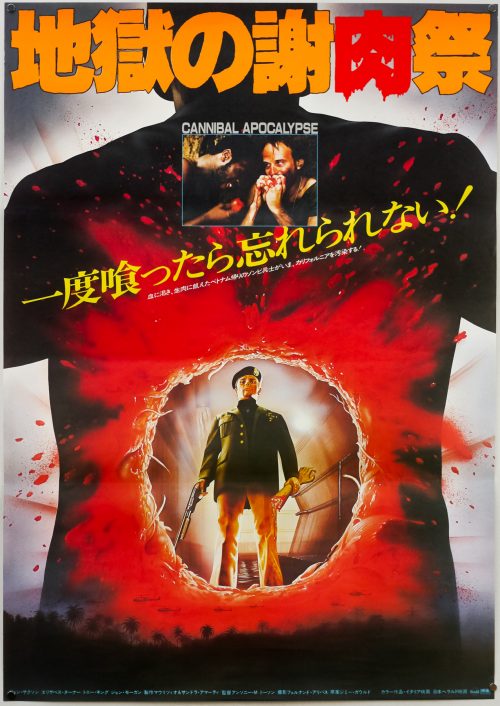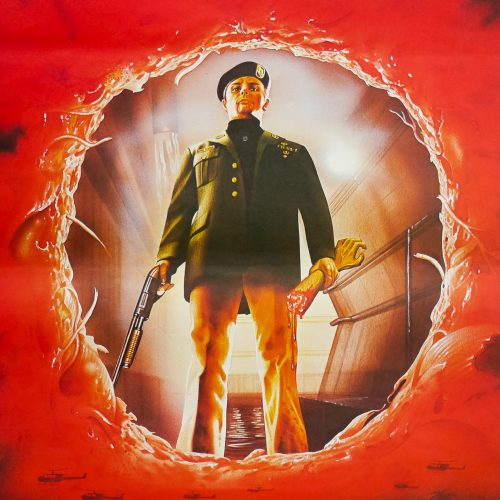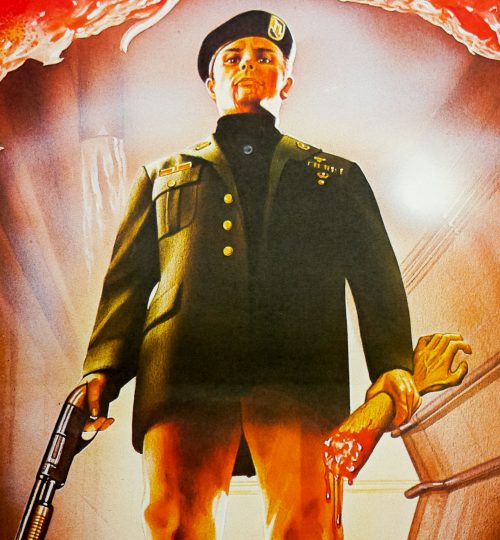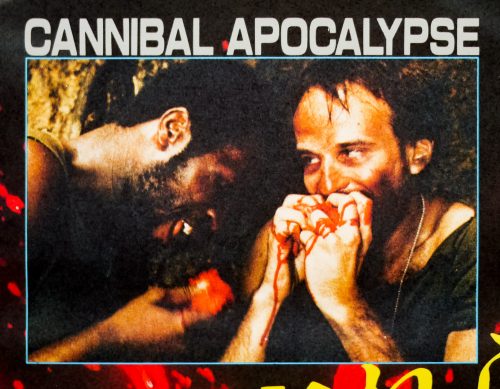 Title
AKA

Apocalypse domani [Apocalypse Tomorrow] (Italy - original title) | Invasion of the Fleshhunters (USA) | Virus (Spain)
Year of Film
Director
Starring
Origin of Film
Type of Poster
Style of Poster

--
Origin of Poster
Year of Poster
Designer
Artist
Size (inches)

20 6/16" x 28 13/16"
SS or DS

SS
Tagline

--
What would have been just another entry in the burgeoning cannibal and zombie sub-genres of horror made popular in the wake of the release of the low-budget but hugely profitable Zombie (1979), Cannibal Apocalypse took the standard formula and attempted to do something different. Prolific Italian director Antonio Margheriti, a veteran of several horror and westerns, including Horror Castle (1963) and Andy Warhol's Frankenstein (1973), decided to capitalise on the recent popularity of Apocalypse Now (1979) and begin his screenplay in the jungles of the Vietnam war. The film's key twist on the typical zombie formula is that the cannibalistic killers are not dead but infected with a virus that turns them into flesh-eaters.
Featuring genre stalwart John Saxon, who has apparently since tried to distance himself from the film, the story begins with Saxon's American sergeant Norman Hopper attempting to rescue two fellow soldiers, Bukowski (Giovanni Lombardo Radice) and Tom (Tony King), who have been taken captive by the Vietcong and are being kept in a pit. When he attempts to pull them to safety, the soldiers attack and bite Hopper, much to his confusion. Nevertheless the pair are rescued and returned to America. Several years later, Hopper is back in the States and suffering from flashbacks to the horrors of Vietnam when he receives a call to ask for his help in tracking down Bukowski who has escaped from a mental asylum and is on a murderous rampage. After cornering him in a department store, with help from the police and a biker gang, Hopper manages to persuade Bukowski back into custody, but not before he is informed that he is also infected with the same, (oddly) slow-progressing cannibal virus that the two soldiers caught back in the jungle. Before long, Hopper finds himself succumbing to cannibalistic desires and the real carnage begins.
This is the B2 poster for the Japanese cinema release in 1980. The zombie and cannibal genres were particularly popular in the country at that time and many films were given a cinematic release in Japan that went straight to video (or would be released several years later) in countries like the UK. In the case of Cannibal Apocalypse, the film was given a limited release in the US as Cannibal Massacre in 1981 with an 'X' rating, withdrawn and then re-released in 1983 in a heavily edited form, retitled as Invasion of the Fleshhunters. As far as I'm aware the film was never given a cinema showing in the UK and the eventual VHS release fell foul of the ridiculous video nasties situation and was banned from shelves. It took over 20 years before the film was made legally available again to British fans.
I'm unsure who is responsible for this unique artwork so please get in touch if you have any ideas.
The full film is available to watch on YouTube, should you wish to get your fill of cannibal fun.