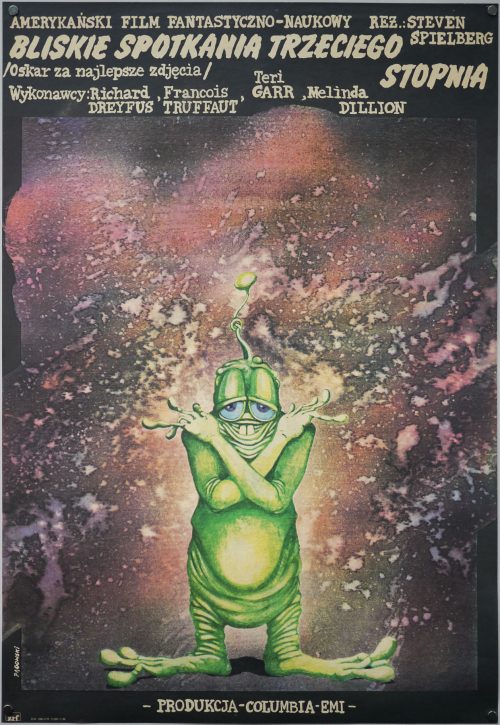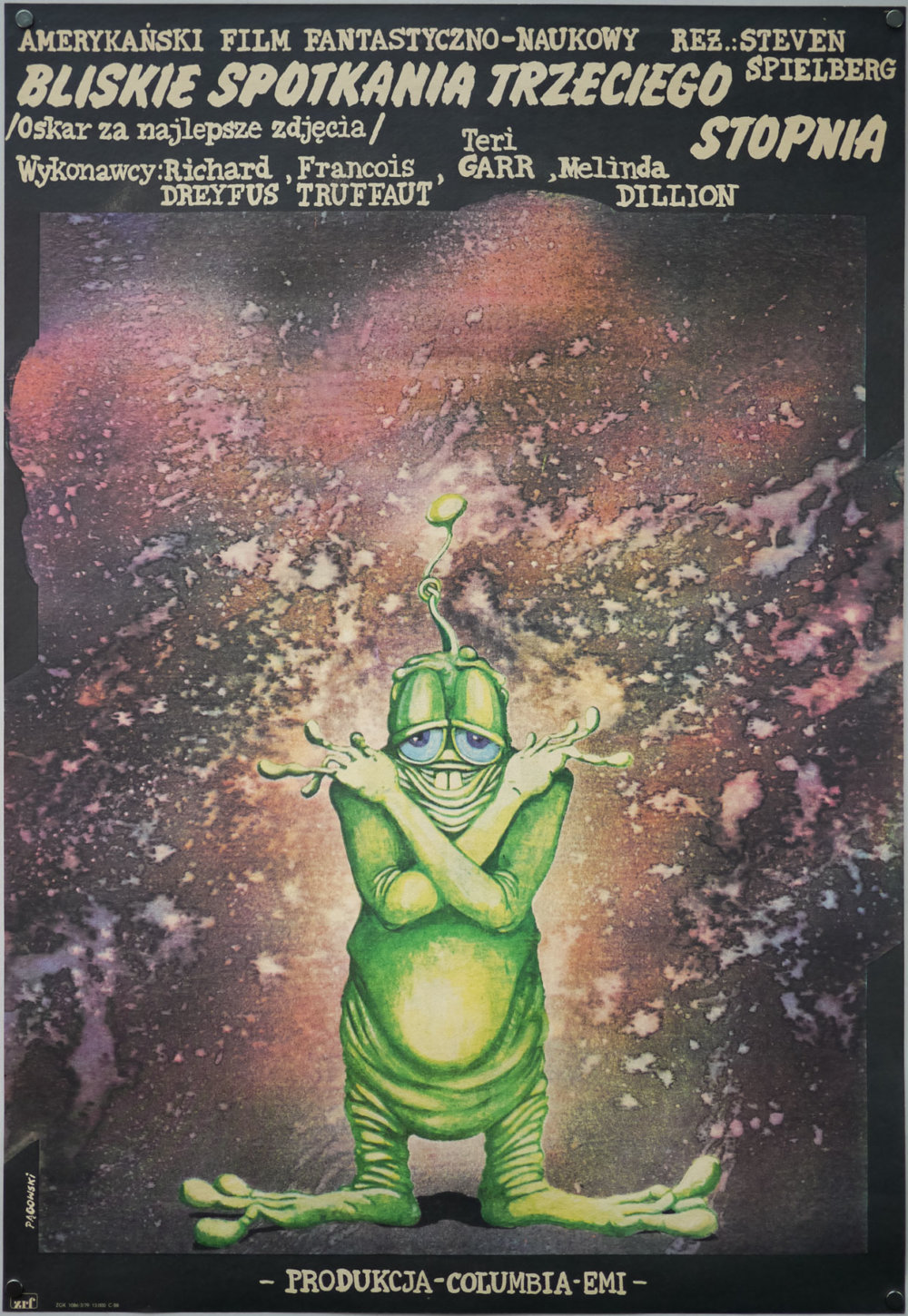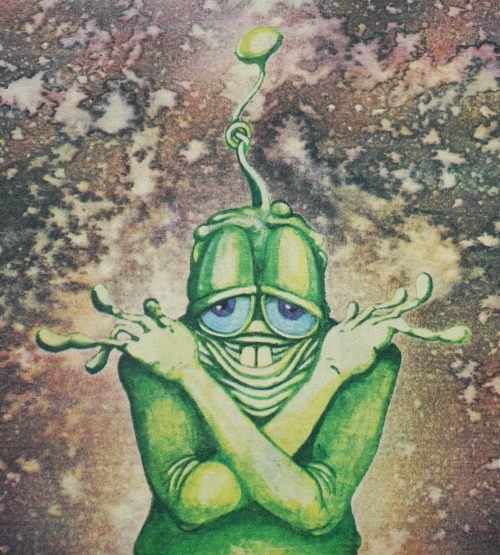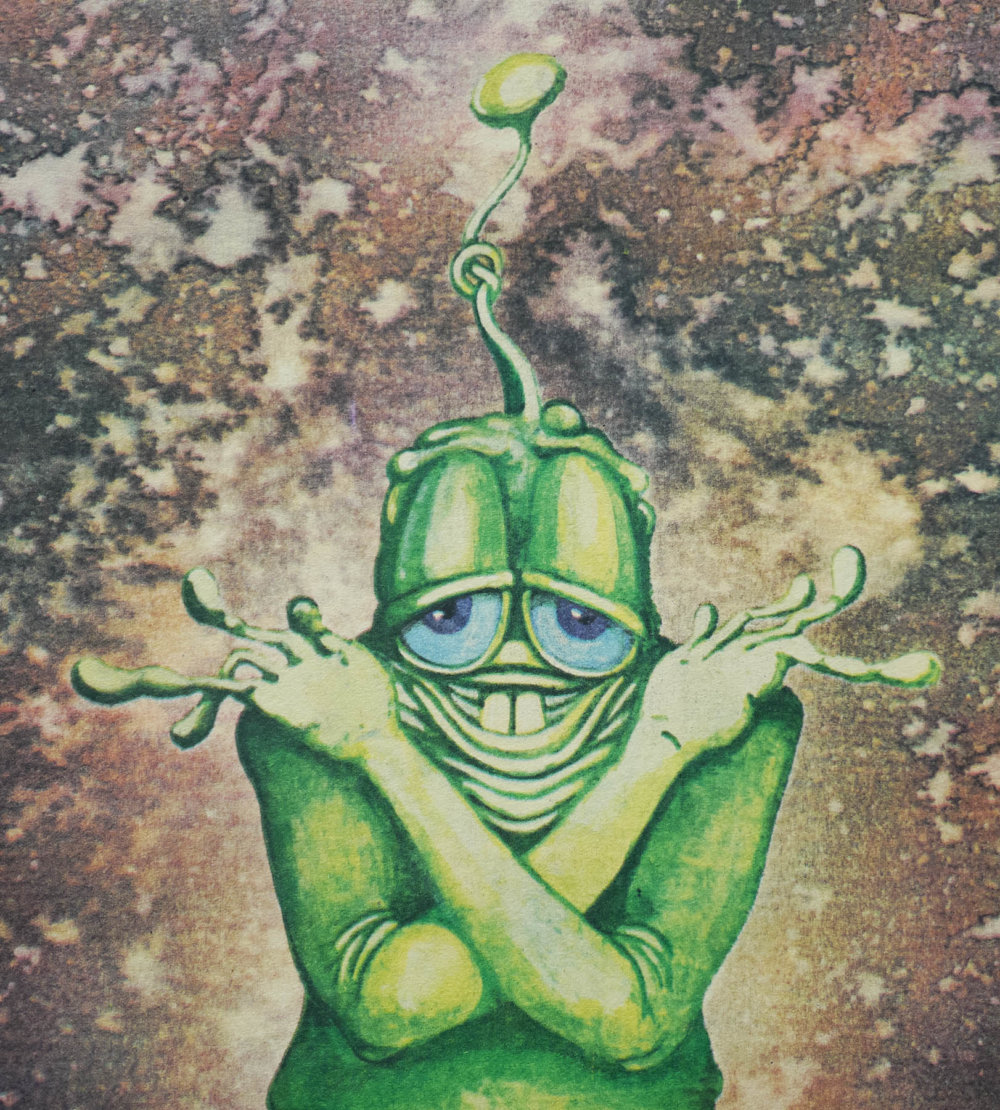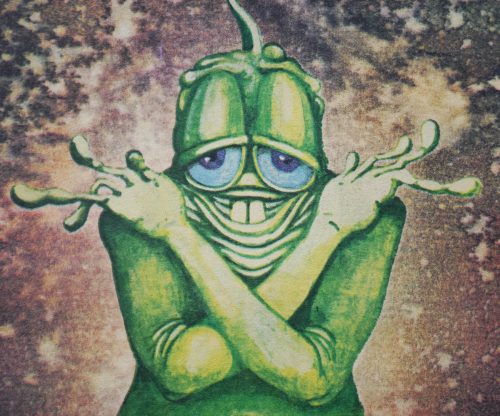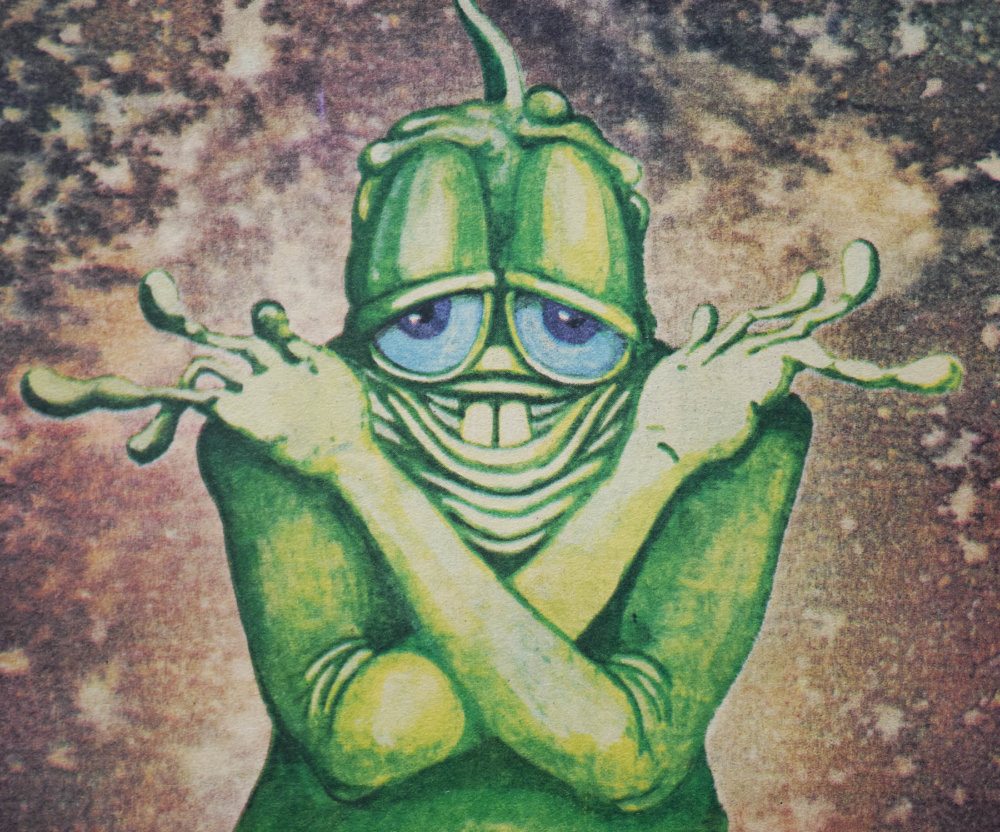 AKA

CE3K (USA - informal short title)
Year of Film
Director
Origin of Film
Type of Poster
Style of Poster

--
Origin of Poster
Year of Poster
Designer
Artist
Size (inches)

26 7/16" x 38 5/16"
SS or DS

SS
Tagline

--
Anyone who's seen Steven Spielberg's 1977 sci-fi classic Close Encounters of the Third Kind will know just how erroneous this painting by the Polish artist and designer Andrzej Pagowski is in representing the aliens seen in the film, but to me that's part of its charm. It certainly wasn't the first time that a Polish poster artist chose to reinterpret a creature from a film they were tasked with creating advertising material for, although Pagowski seems particularly fond of doing so as can be seen with his poster for Ridley Scott's Alien, amongst others.
Spielberg had been developing Close Encounters for several years, with the origins stretching back to his youth and an early fascination with sci-fi and UFOs, but when Jaws became a critical and box-office behemoth in 1975, he was given creative carte blanche by the studio Columbia with whom he had negotiated a deal to develop a sci-fi film. The film's Wikipedia page details the multiple iterations the screenplay went through, including a draft by Paul (Taxi Driver) Schrader, but the final script was written by Spielberg (with uncredited help from Jerry Belson). The director later revealed that he had been warned off making a film on the subject by both the US government as well as NASA, with the latter reportedly writing him a 20 page letter advising against it. This only served to fuel Spielberg's passion for the project.
The film begins in the Sonoran desert with French scientist Claude Lacombe (legendary French director François Truffaut) and a group of US government scientists rushing to the site where a group of World War II-era planes that went missing mid-flight 30 years earlier appear overnight without explanation. They later find a ship that went missing in 1925 in the Gobi desert whilst an American air traffic control team overhears two airline pilots discussing a near-miss with an unidentified flying object, but decline to officially report it.
In Indiana, electrical technician Roy Neary (a memorable performance by Richard Dreyfuss) has a close encounter with a UFO whilst responding to a state-wide power outage. He soon becomes obsessed with an image he keeps seeing in his head and his erratic behaviour soon alienates his wife and kids. Neary and a group of others who have come into contact with the unidentified visitors, including single-mum Jillian (Melinda Dillon) whose young son was abducted one night, converge on Devils Tower in Wyoming. There the government have set up a site in preparation for the anticipated arrival of the alien's mothership and no one is prepared for what happens next.
The film was another critical and commercial success for Spielberg, earning almost $340 million on a $18 million production budget. It would go on to win multiple awards and quickly entered the cultural zeitgeist, sparking the imagination of millions around the world who agreed it's unlikely that we're alone in the universe.
Andrzej Pagowski is a prolific film poster artist who was born in Warsaw in 1953 and studied at the celebrated University of Fine Arts in Poznań, graduating in 1978 under the tutorship of the noted artist Waldemar Świerzy. In 1990 he started his own graphic design studio called Studio P, which he developed into an advertising agency by 1993. According to the biography on his official site, Pagowski has illustrated over 1000 posters during his career and has also done work for books, magazines and music covers. In addition, he is also a TV and theatre stage designer and a screenwriter. Undoubtedly a man of many talents!
Pagowski's official site features an extensive gallery of his work, including several of the posters. Polishposter.com also features multiple pages worth of his movie posters and this culture.pl article is well worth a read too.