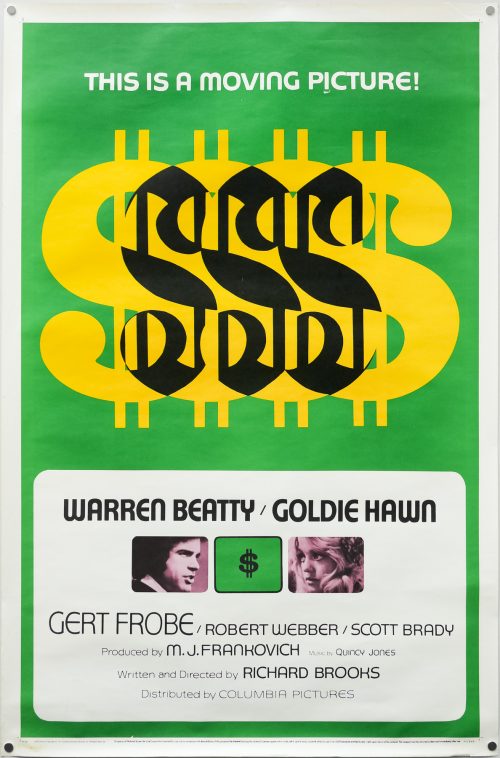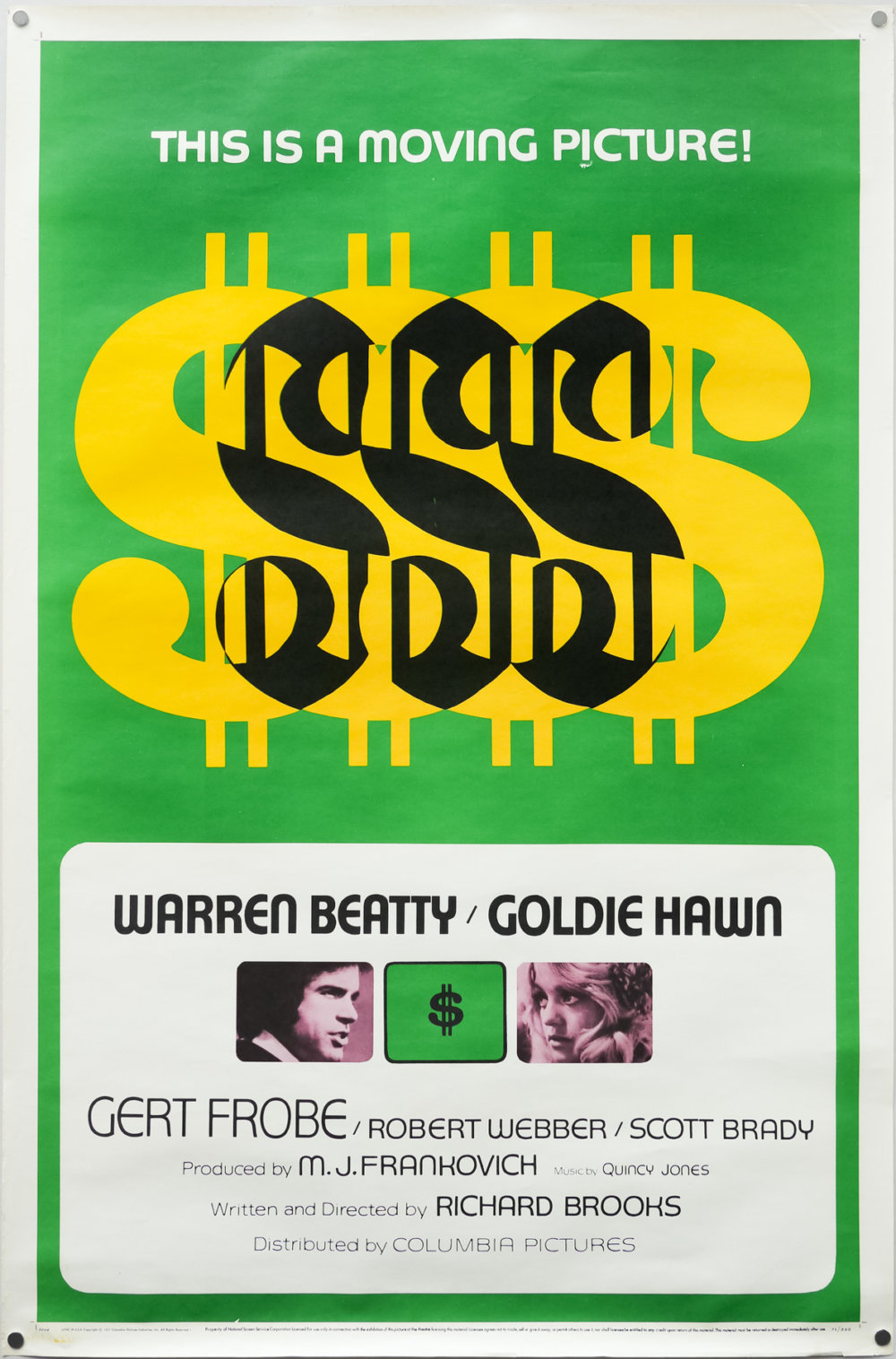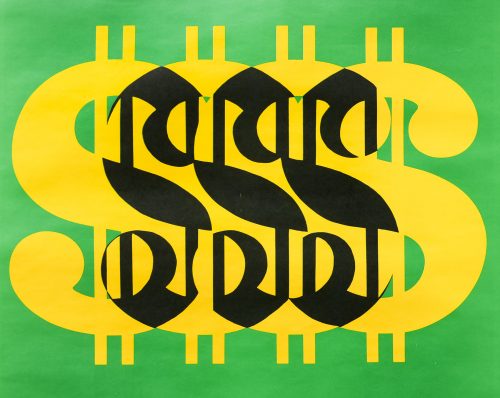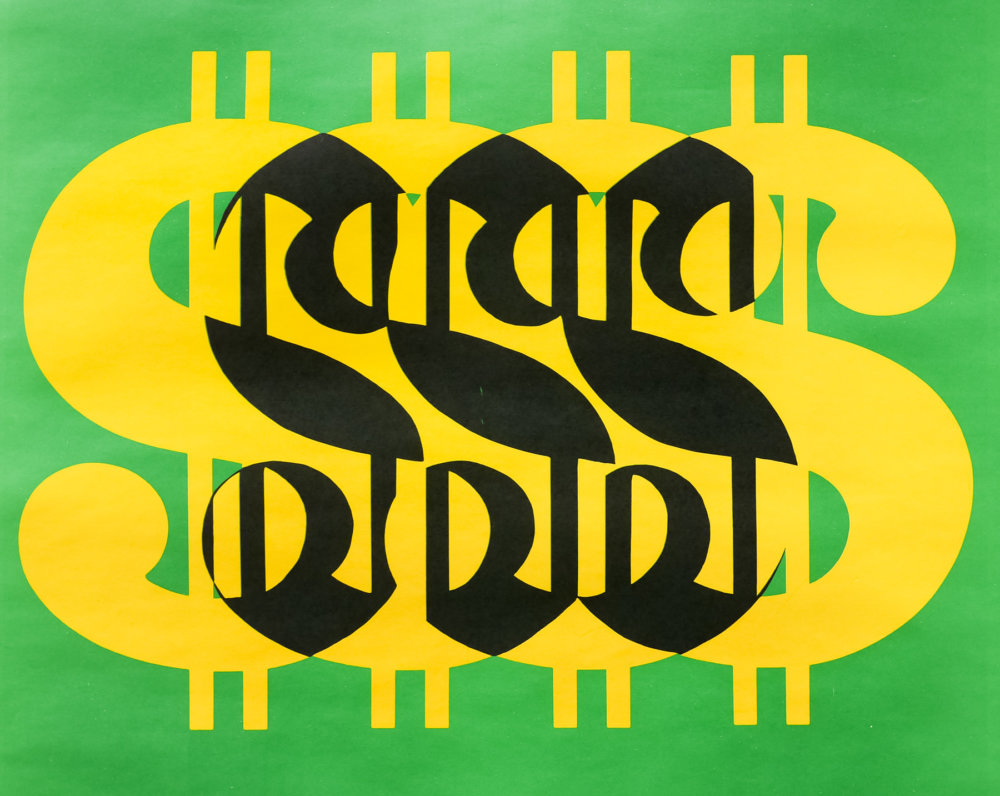 Title
AKA

Dollars (Alt. USA title) | The Heist (UK)
Year of Film
Director
Starring
Origin of Film
Type of Poster
Style of Poster

Style A
Origin of Poster
Year of Poster
Designer
Artist
Size (inches)

27 2/16" x 41"
SS or DS

SS
NSS #

71/355
Tagline

This is a moving picture!
A simple design features on this one sheet for the US release of the 1971 crime-caper $ (AKA Dollars AKA The Heist). The film was written and directed by the late American director Richard Brooks who is best known for Blackboard Jungle (1955), Cat on a Hot Tin Roof (1958) and In Cold Blood (1967). It stars Warren Beatty who was arguably at the height of his career following his appearance in Bonnie and Clyde a few years earlier. He had just finished work on Robert Altman's McCabe and Mrs Miller which was released the same year as $. The film also marked the third screen appearance of Goldie Hawn and features Goldfinger himself Gert Fröbe. $ is notable for being filmed on location, including in Hamburg, Germany (where it is largely set) as well as in Sweden and San Diego, California.
The film's plot is described on IMDb:
[$ is a] caper film about crooks robbing crooks, set in Germany where American bank security expert Joe Collins (Beatty) plots with call-girl Dawn Divine (Hawn) to rob three safety deposit boxes from three criminals; a local drug dealer known as the Candy Man, a Las Vegas mobster, and a crooked U.S. Army sergeant. The heist goes off with few complications. But when Candy Man and the Sarge find their money gone and figure out that Dawn (whom they all have gotten to know) is behind it, they team up to try to get their money back.
Despite receiving solid critical notices $ failed to set the box-office alight and was considered something of a flop on release.
This is one of several one sheets printed for the release of the film and some of the others can be seen by checking out this page on emovieposter.com. I'm unsure who was responsible for the design of this particular poster (known as 'style A') so if anyone has any ideas please get in touch.