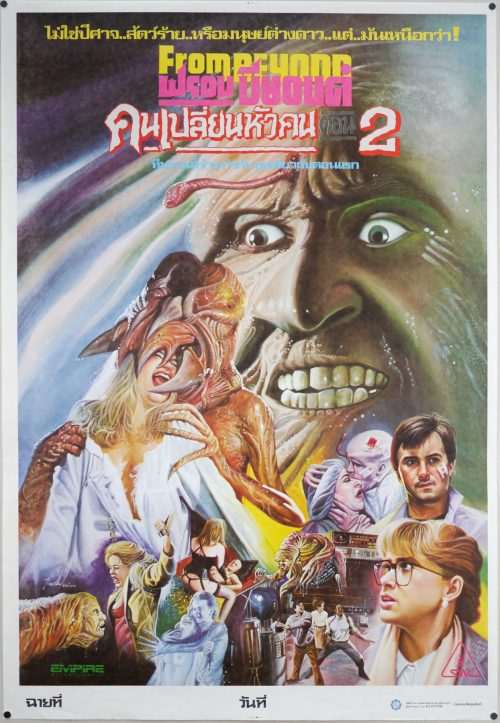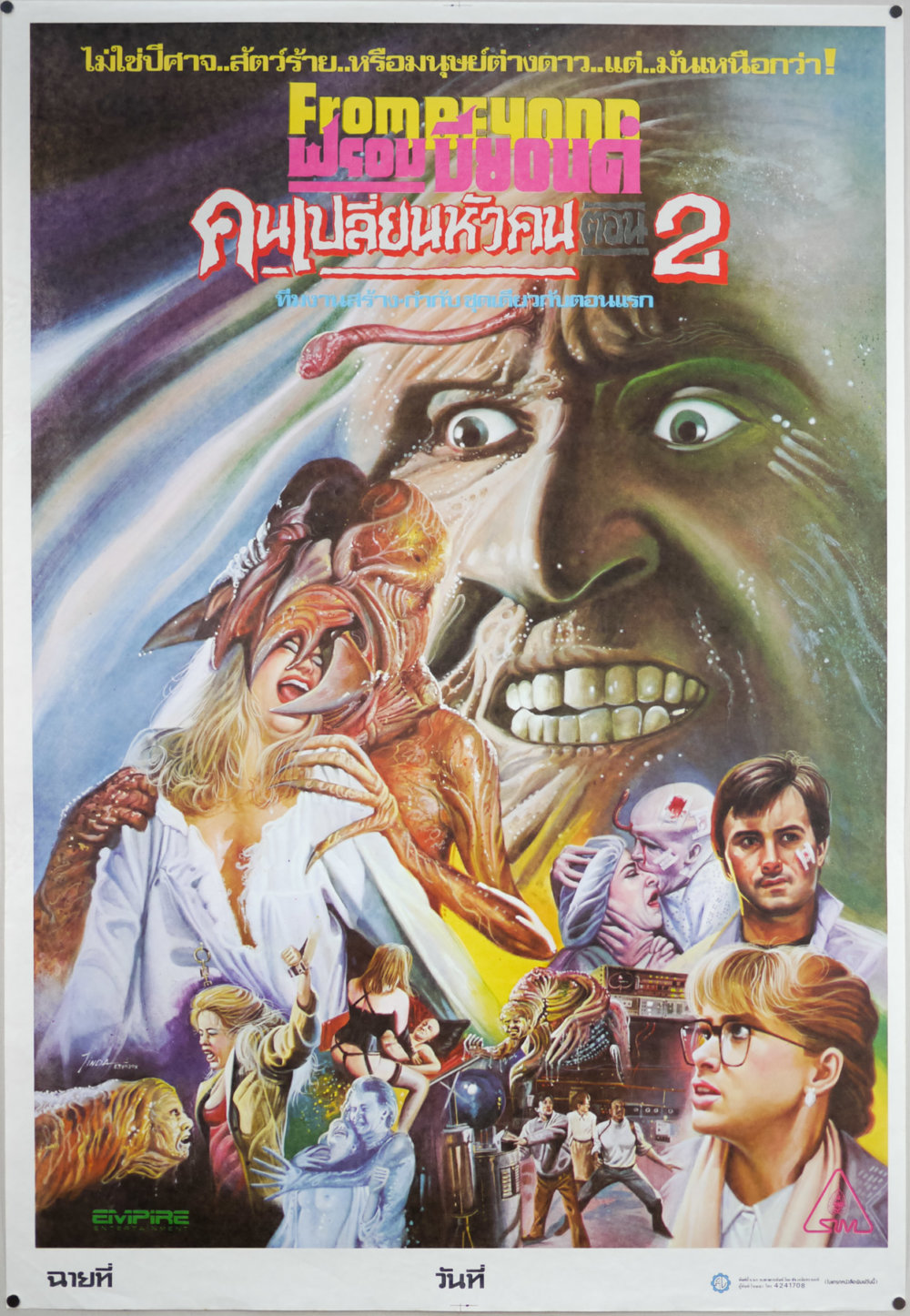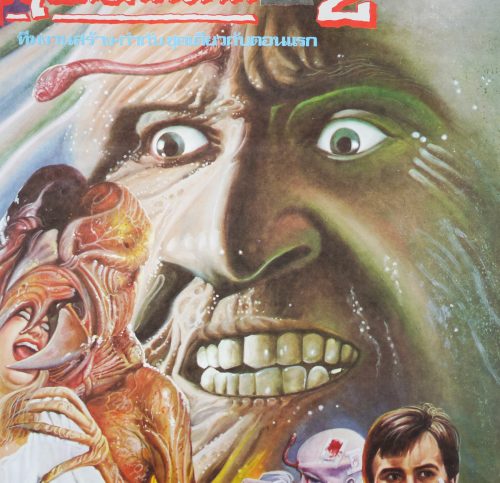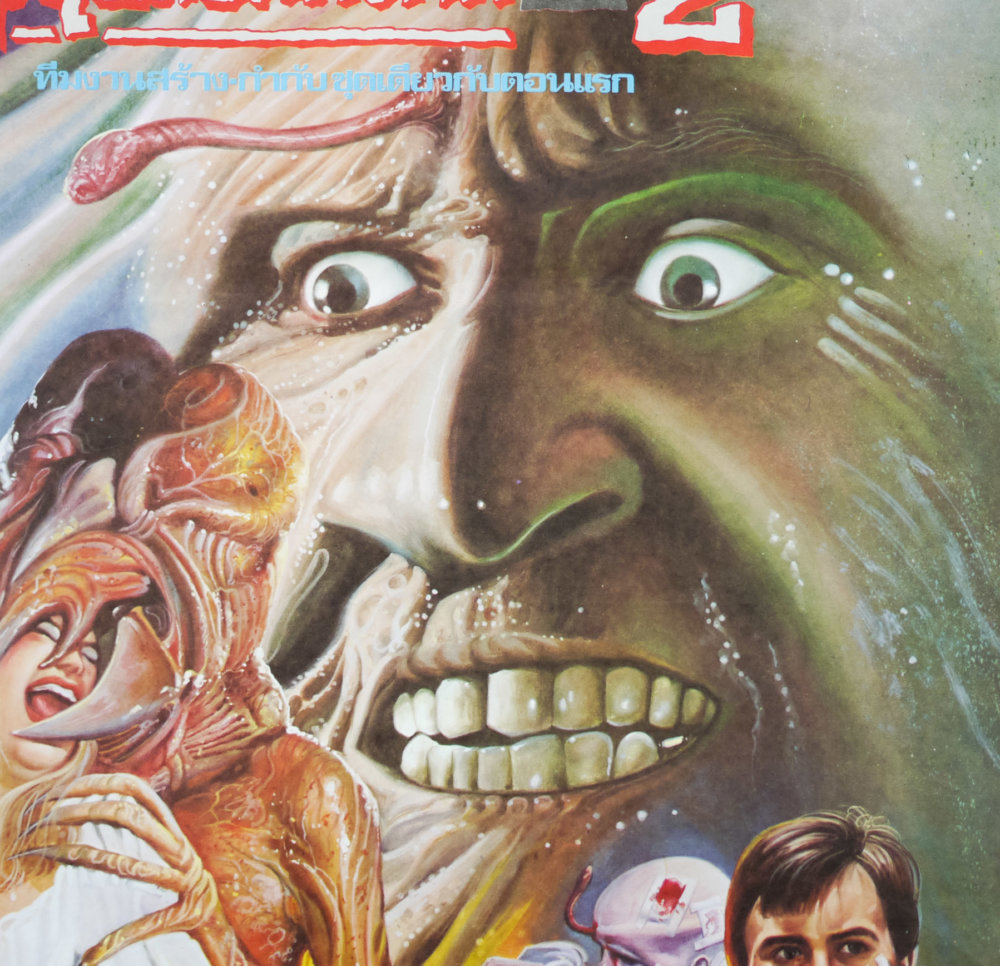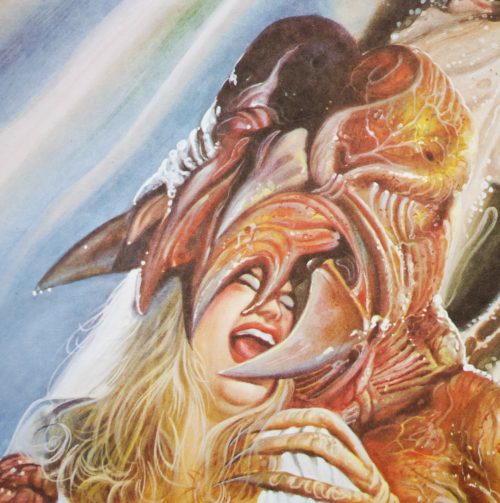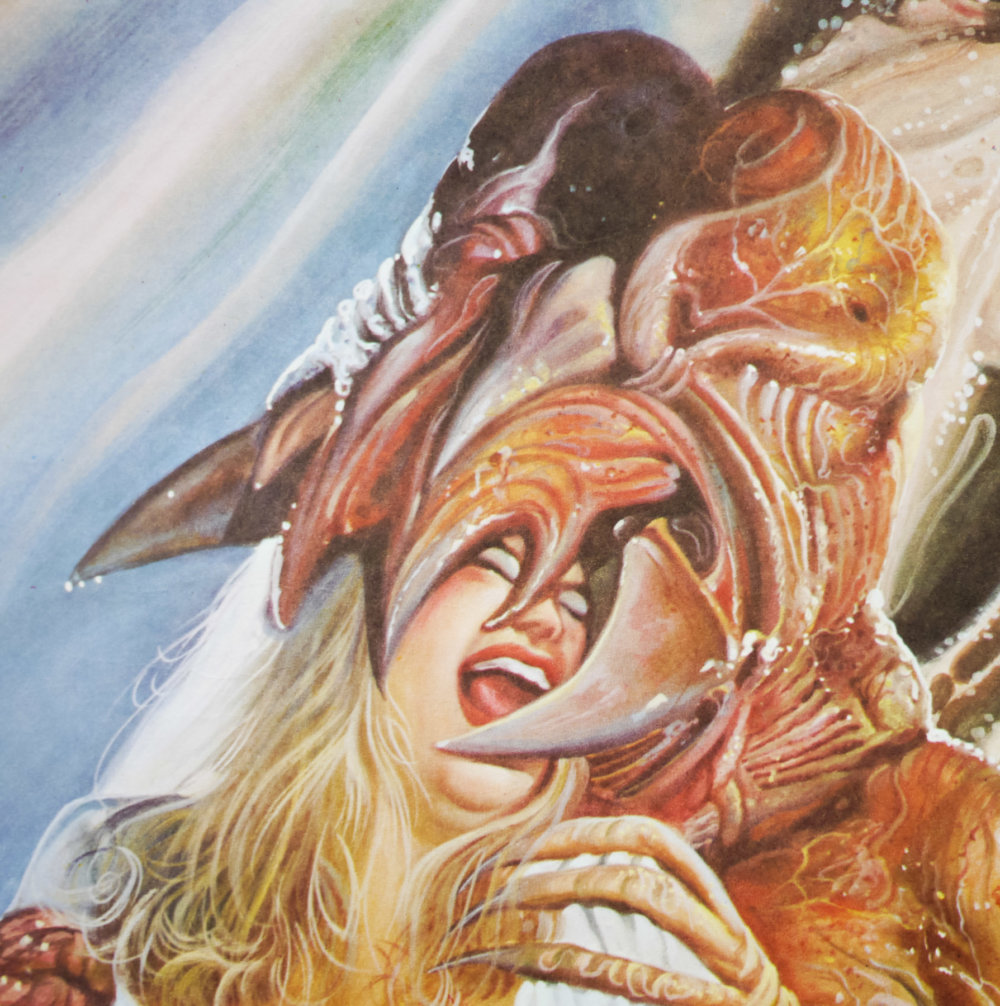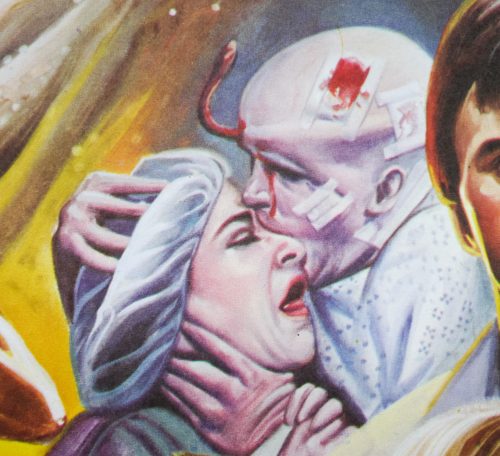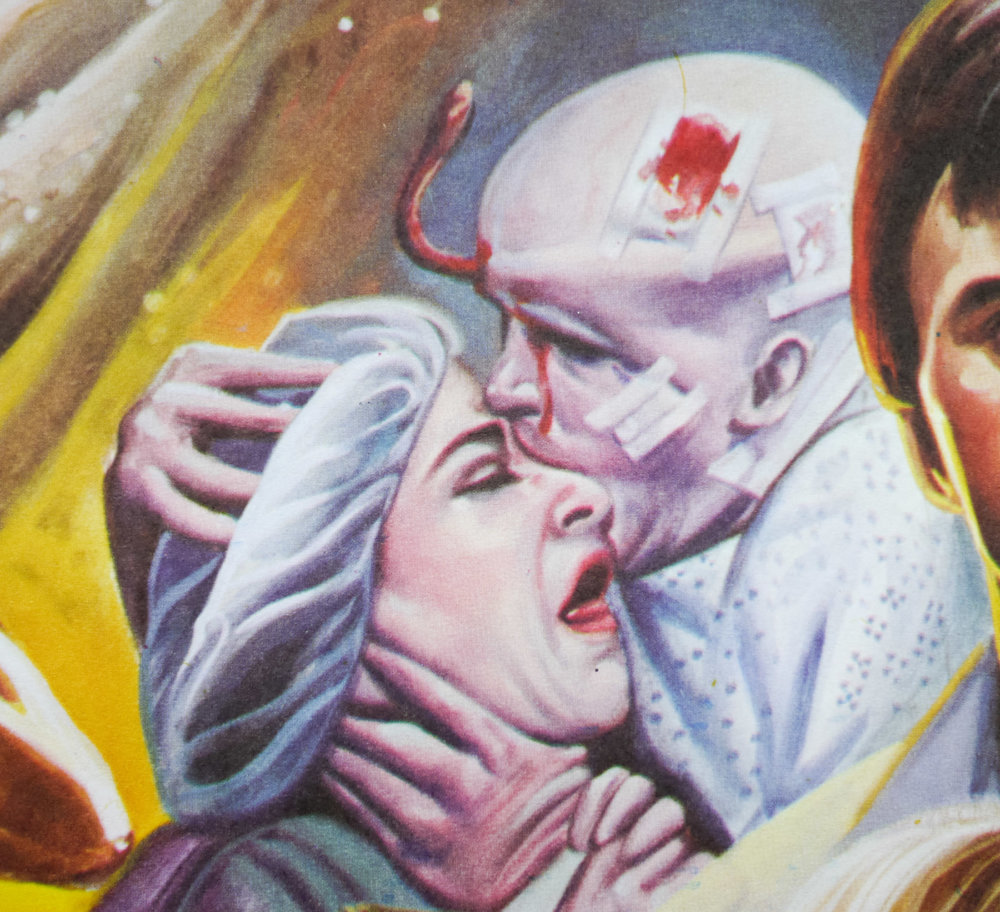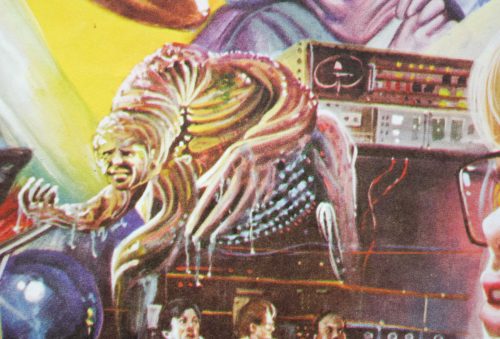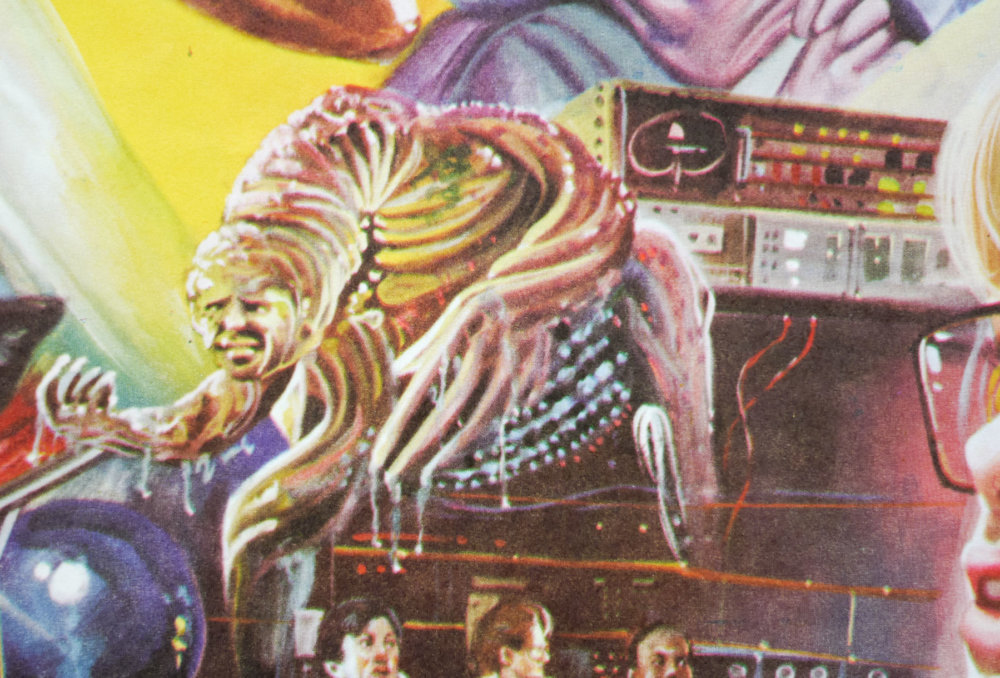 Title
AKA

--
Year of Film
Director
Starring
Origin of Film
Type of Poster
Style of Poster

--
Origin of Poster
Year of Poster
Designer
Artist
Size (inches)

21 4/16" x 30 13/16"
SS or DS

SS
Tagline

--
Suitably over-the-top artwork by Jinda features on this Thai poster for From Beyond. Loosely based on the short story of the same name by famed horror author H. P. Lovecraft, the film was director Stuart Gordon's second following Reanimator (1985). Gordon once again called on the services of two of the stars of that film, with Jeffrey Combs and Barbara Crampton both returning. The film was produced in Italy in order to keep costs down and the director also shot his film Dolls at the same time in the same studio.
Combs plays Crawford Tillinghast, a physician and assistant to Dr. Edward Pretorius (Ted Sorel). The pair have been working on a device called The Resonator which they hope will stimulate the pineal gland. The machine appears to be a success but one unforeseen consequence is that it allows people in the vicinity to see creatures from an alternate dimension that are all around them. Determined to carry on, Pretorius is eventually attacked and seemingly killed by an unseen creature. Tillinghast escapes from the laboratory and is arrested by police who suspect his involvement in the scientist's death. 
Dr. Katherine McMichaels (Crampton) begins treating Tillinghast and eventually persuades the hospital to allow her to release him into her care to investigate his claims. The pair return to the Pretorius' home accompanied by a police detective called Bubba Brownlee (Ken Foree). The trio soon discover that the scientist is alive but no longer very human in appearance. Once again The Resonator is activated and events start to spin out of control.
I've been unable to find out much about Jinda other than the titles of several of the Thai film posters he painted the artwork for. If anyone has anymore information on him please get in touch.