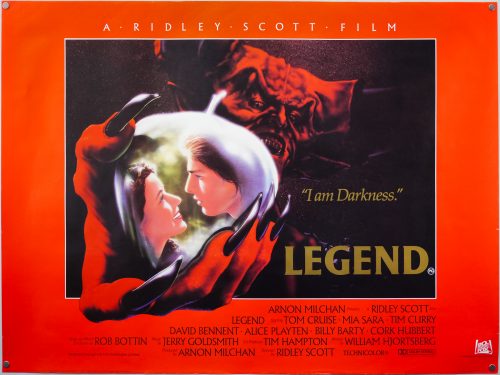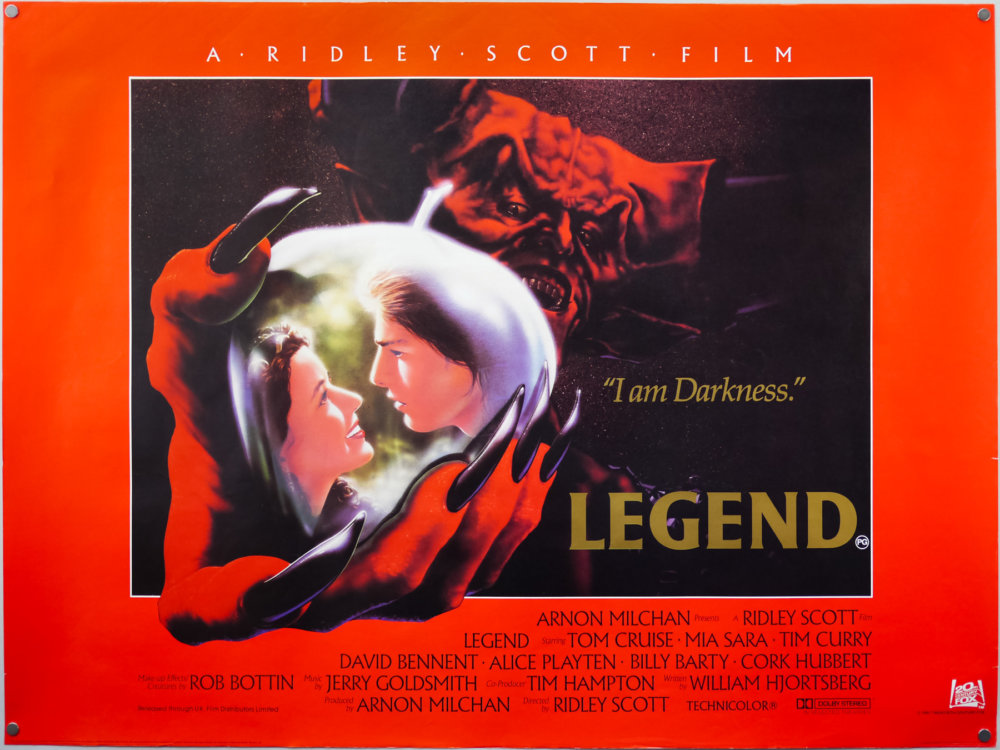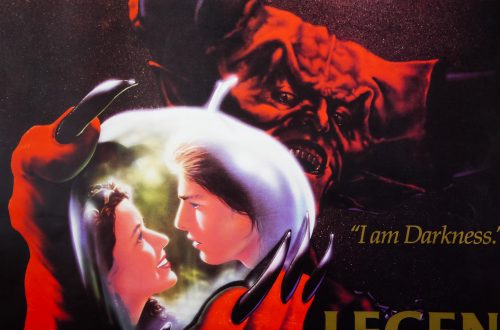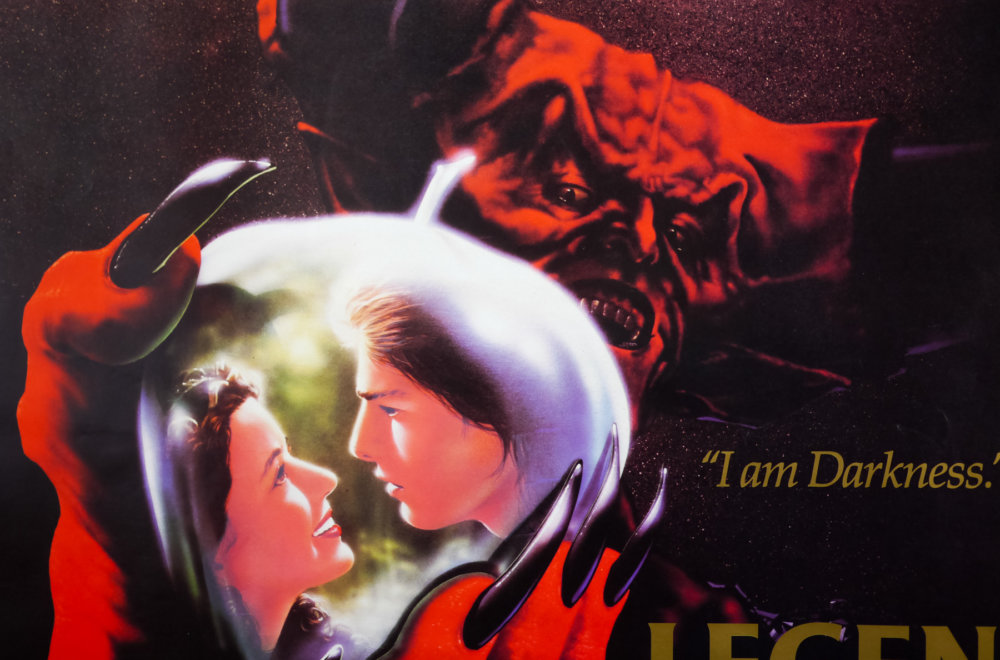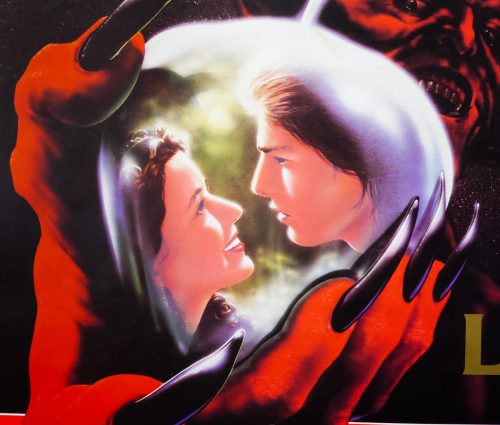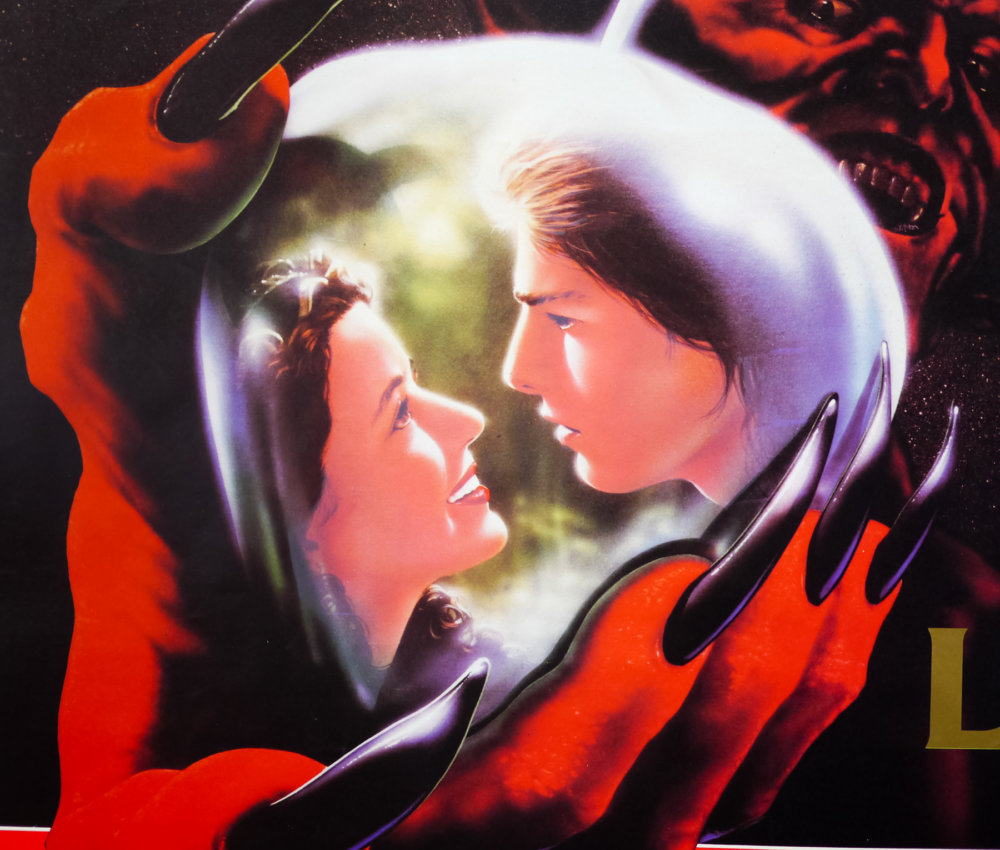 Title
AKA

--
Year of Film
Director
Starring
Origin of Film
Type of Poster
Style of Poster

--
Origin of Poster
Year of Poster
Designer
Artist
Size (inches)

30 1/16" x 40"
SS or DS

SS
NSS #

--
Tagline

"I am Darkness"
John Alvin artwork features on this British quad for the release of director Ridley Scott's 1985 fantasy oddity, Legend. It's a film that is often scrubbed from both Scott and star Tom Cruise's filmography whenever their previous films are discussed. There are a number of reasons for this, not least the fact that it had a troubled production as well as a fairly brutal critical mauling. Cruise's performance is a shadow of what the actor brought to Tony Scott's seminal Top Gun only a year later. part of the blame for this has to be down to the way the film was extensively edited by both Scott and the studio prior to release. Scott's first version ran 125 minutes and this was then cut down to 113 minutes following some test screenings. The final UK (European?) release was 95 minutes and US audiences had another 6 minutes removed for their version.
There are things to admire about the film, including the production and set design which created some memorable environments in which the action takes place. Tim Curry is near unrecognisable as the evil Darkness (as featured on this poster) and the make-up effects, created by Rob Bottin and his team, are incredible. Mia Sara also impresses as Lili and it's hard to believe she was just 16 at the time of filming. Whilst it failed to recoup its budget on initial release, the film has definitely gained something of a cult following in the years since, particularly with those coming of age around the time of its release on home video. 
The late American designer and artist John Alvin was responsible for over 135 film poster designs over a thirty year period. Alvin painted many unforgettable pieces of artwork, including Blade Runner and E.T. The Extra Terrestrial, and this image he created for Legend was used around the globe to promote the film, including in multiple European countries and on the international one sheet. Alvin sadly passed away too early, just shy of his 6oth birthday (in 2008), but his fantastic designs will live on for generations to come.
To see the posters I've collected by Alvin click here.