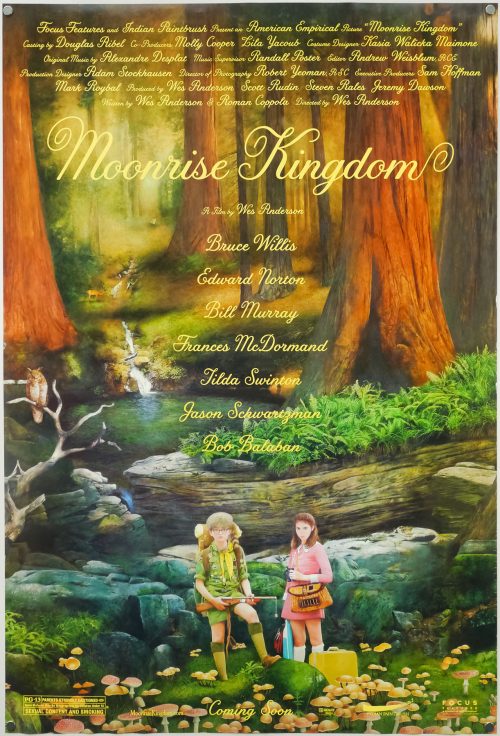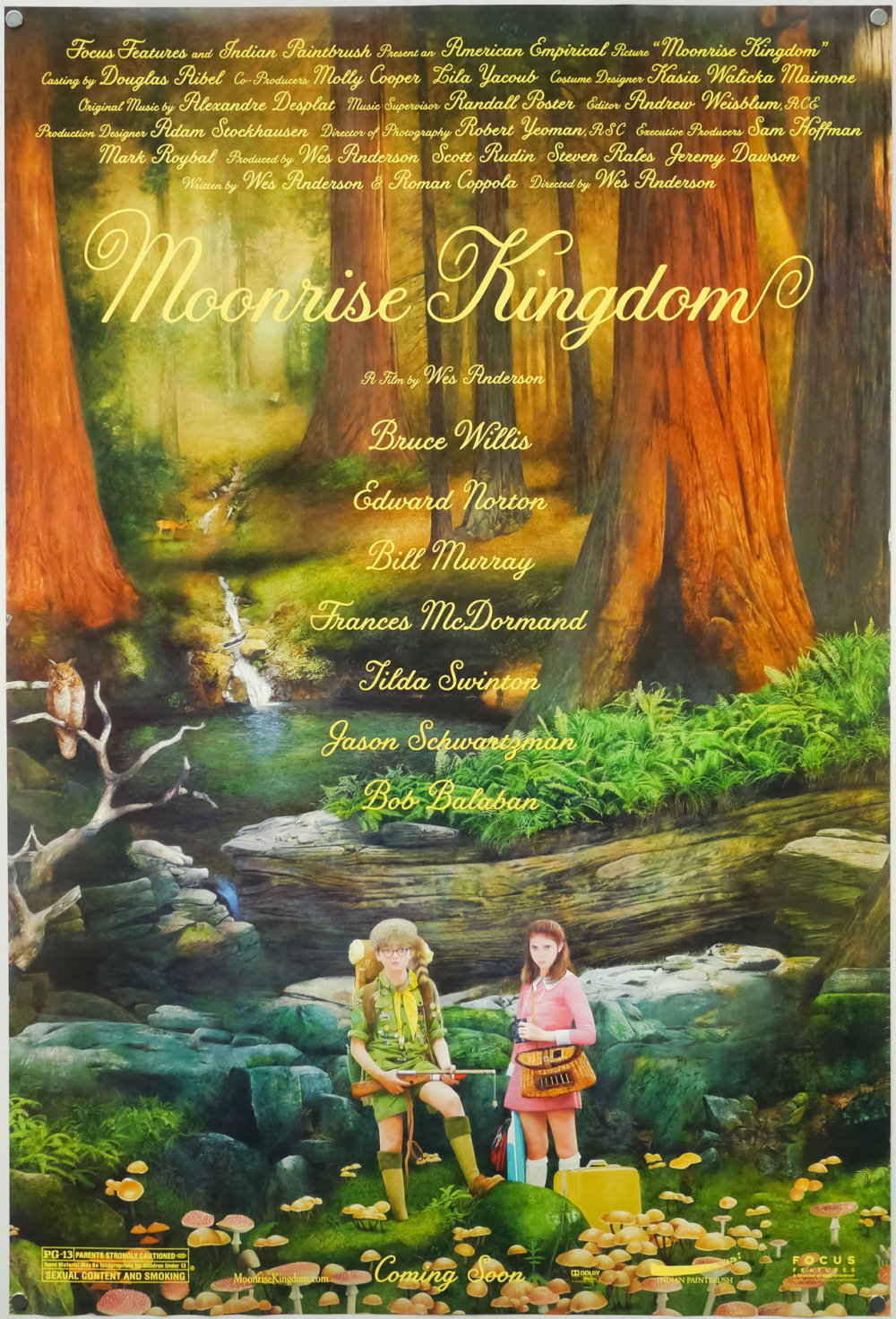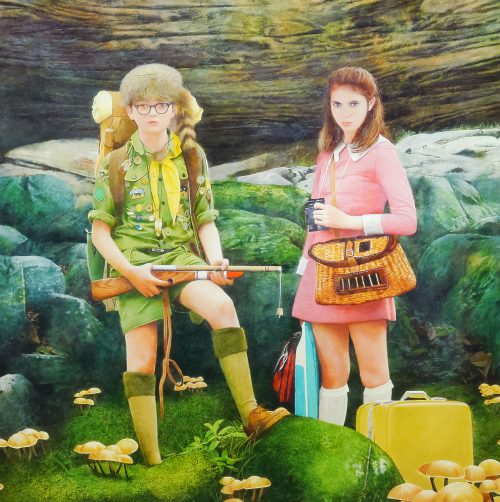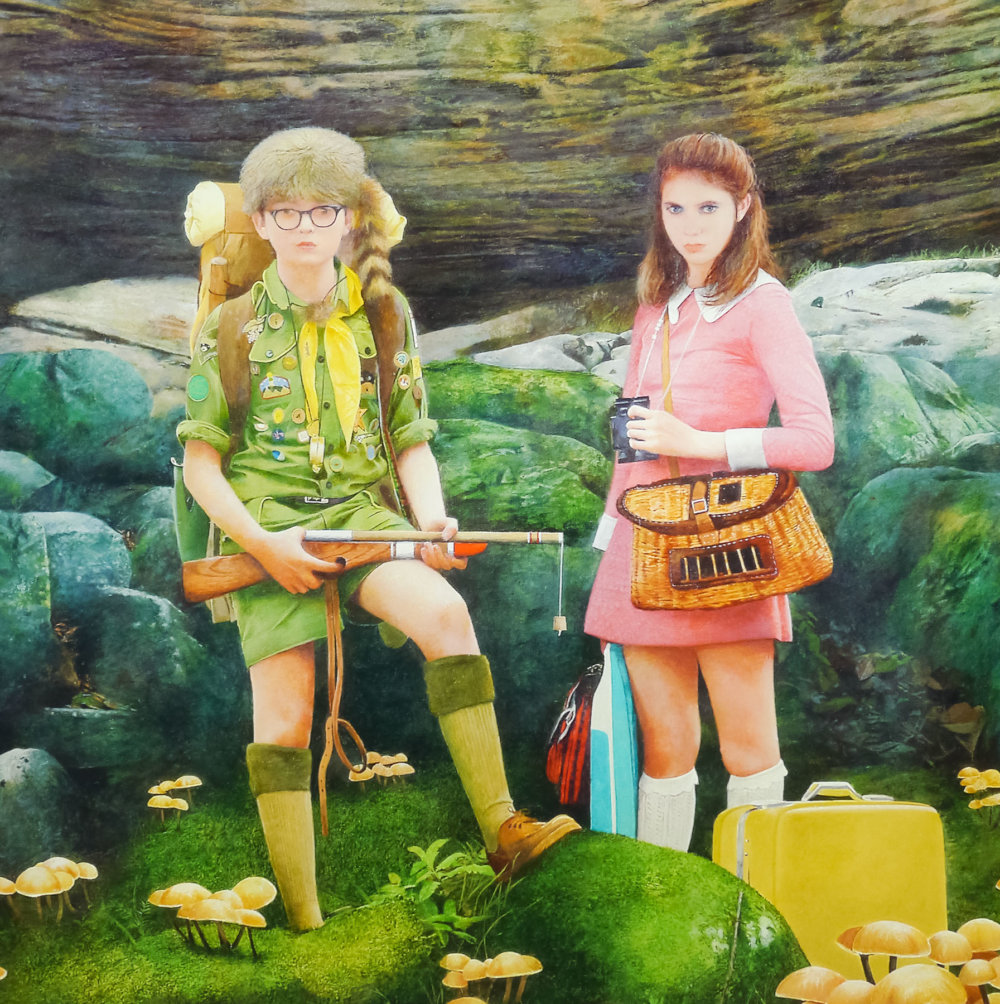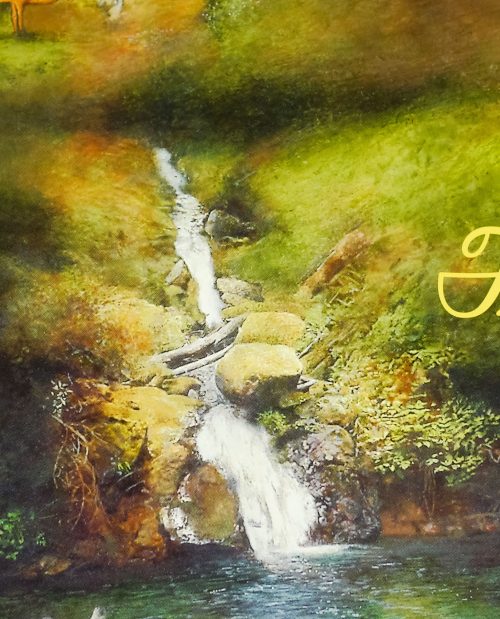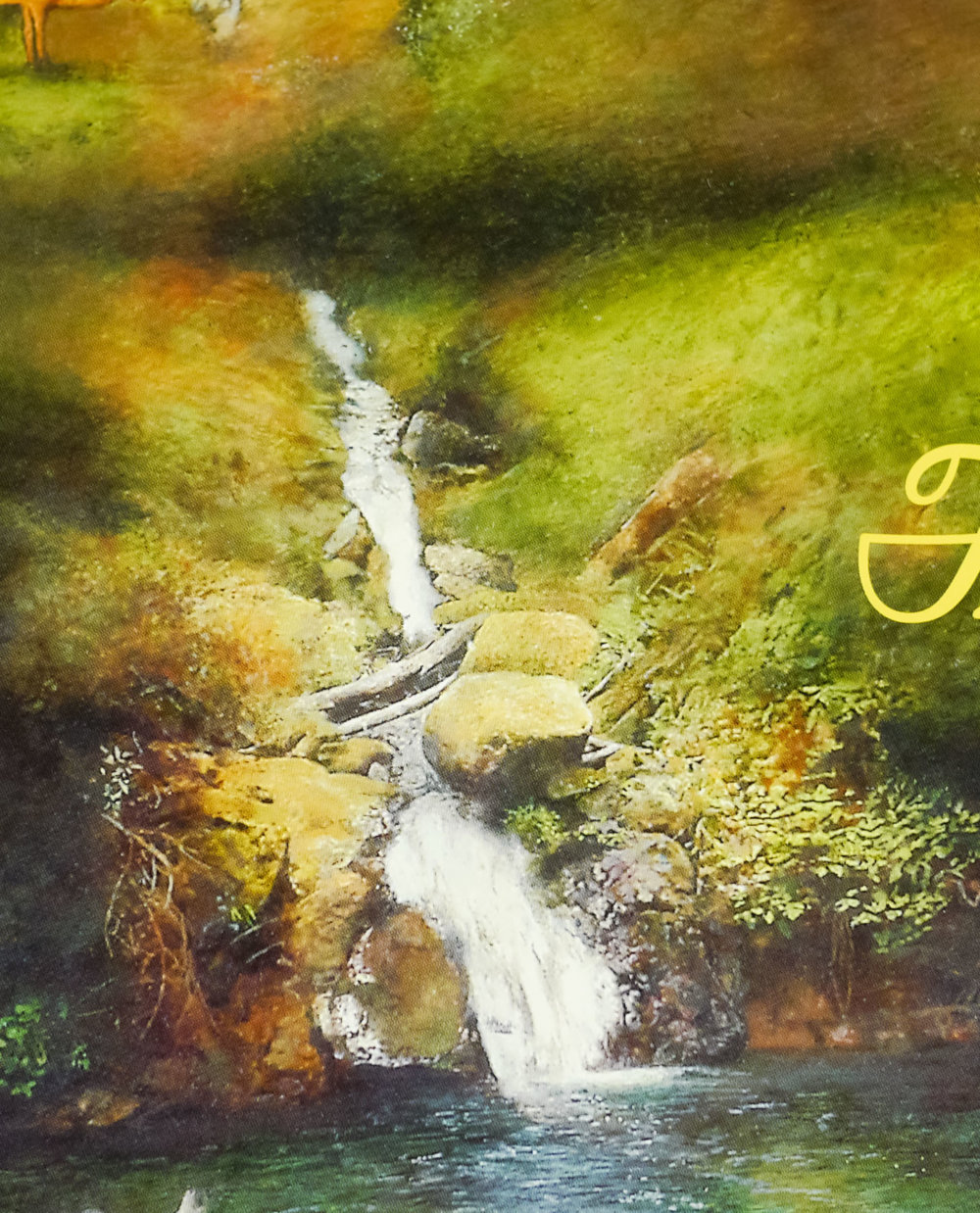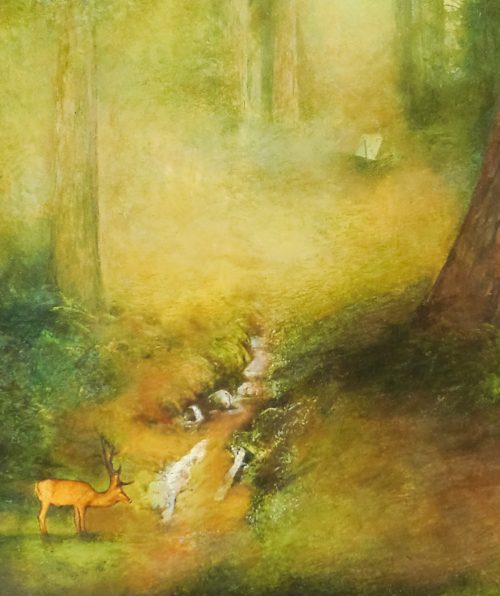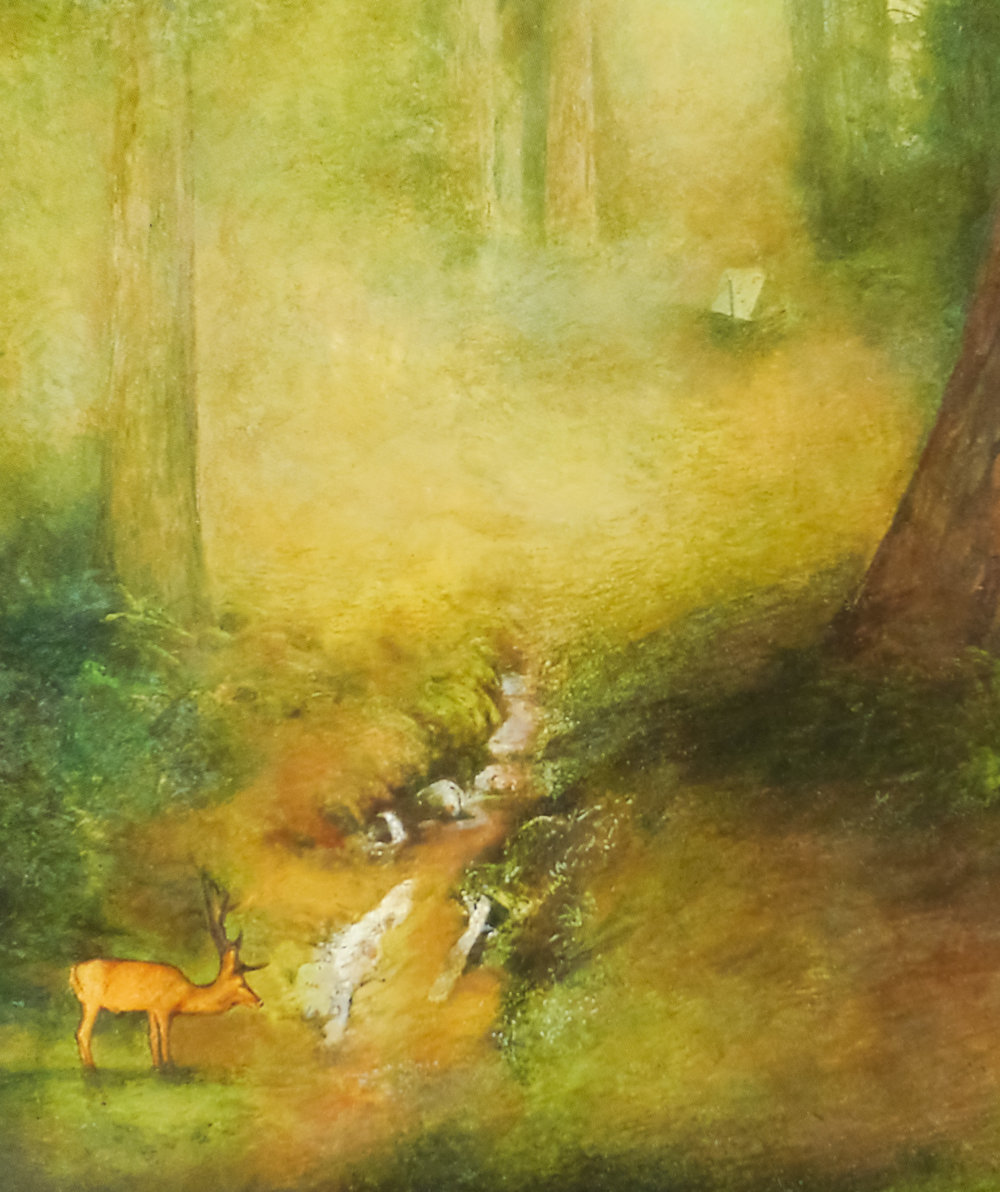 Title
AKA

--
Year of Film
Director
Starring
Origin of Film
Type of Poster
Style of Poster

Advance ('coming soon')
Origin of Poster
Year of Poster
Designer
Size (inches)

27 1/16" x 40 1/16"
SS or DS

DS
NSS #

--
Tagline

--
Wes Anderson's superb Moonrise Kingdom is my favourite film of 2012 and this American one sheet is in the running for poster of the year too. Arguably the director's best to date (although I'd have a hard time justifying picking this over Rushmore) the film is set on a fictional New England island in the 1960s and follows the exploits of a pair of young lovers who decide to elope (her from home, him from scout camp) and trigger a series of events as the islanders set out on the hunt for them. The pair at the centre of the film (as depicted on this poster) are played by two unknowns, Kara Hayward and Jared Gilman. They are surrounded by Anderson regulars, including Bill Murray and Jason Schwartzman, as well as a handful of first-time collaborators like Bruce Willis and Edward Norton.
This poster is the result of a pairing of two considerable talents; the British artist Michael Gaskell and the American letterer and illustrator Jessica Hische. Gaskell, born in 1963, is an award-winning painter of still-life, landscapes and portraits who has been the subject of five solo shows in London and has twice been awarded second prize in the BP Portrait Award. His official website features a biography as well as a gallery of his work. I'm not sure how his involvement in this poster came about and have been unable to find out any details online. I intend to try and contact him to discover more.
Jessica Hische is responsible for the design of the typography that was used on the posters as well as the credits during the film itself. Hische is a multi-talented letterer and illustrator who has worked on projects for advertising, editorial, branding and books. Her official website features a biography as well as an extensive portfolio of her work. The site used to have a page on which the designer wrote about her involvement in the project:
"I worked directly with Wes and his small team of co-producers to bring his vision to life. […] The initial direction was based on Ed Benguiat's Edwardian Script, but the direction shifted toward something more hand-hewn looking and lightly referencing titles from a Chabrol film. I was hired to create the 20 or so credits in the beginning of the movie, and a typeface to be used for the end credits. I ended up creating two fonts—a display and a text weight of the same typeface. […] Working with Wes was an absolute dream and I was amazed and impressed at just how involved he is with every aspect of his films."
The page notes that art direction was given from Jeremy Dawson and Molly Cooper who were producer and co-producer respectively.
The trailer for the film is on YouTube and if you're yet to see the film I strongly urge you to hunt down a copy of it ASAP, with the only caveat being that if you're not a fan of Wes Anderson's output then this film will not convert you!