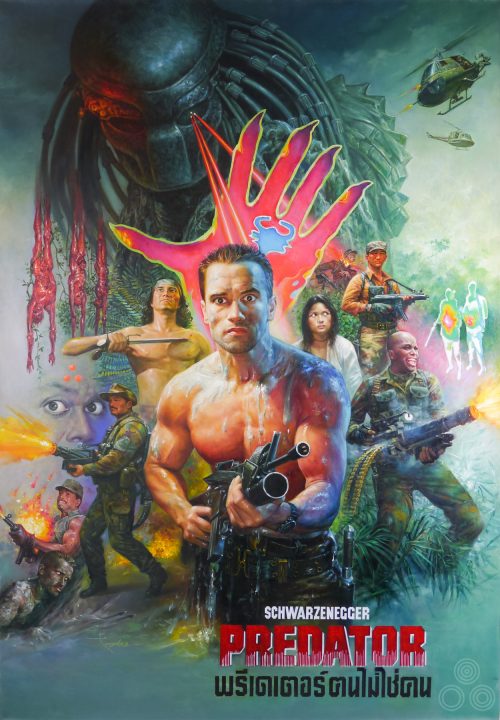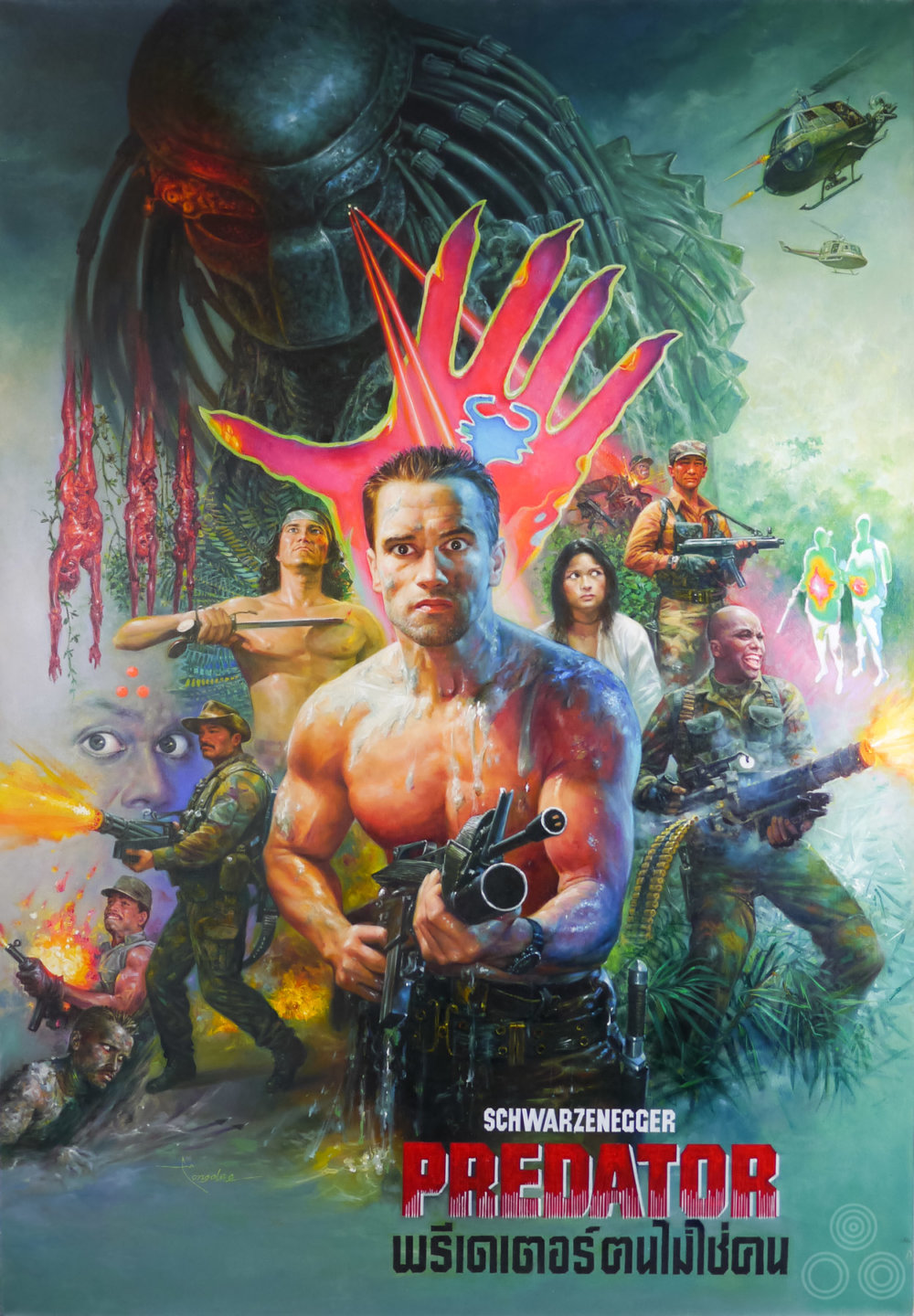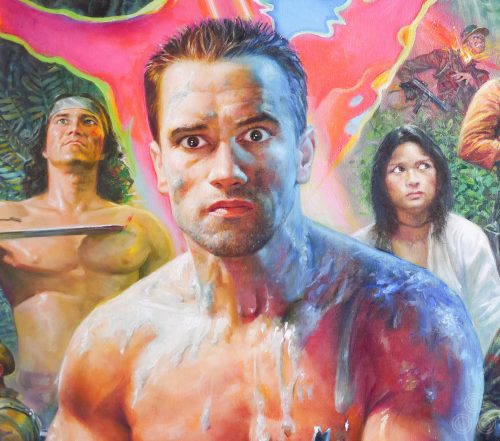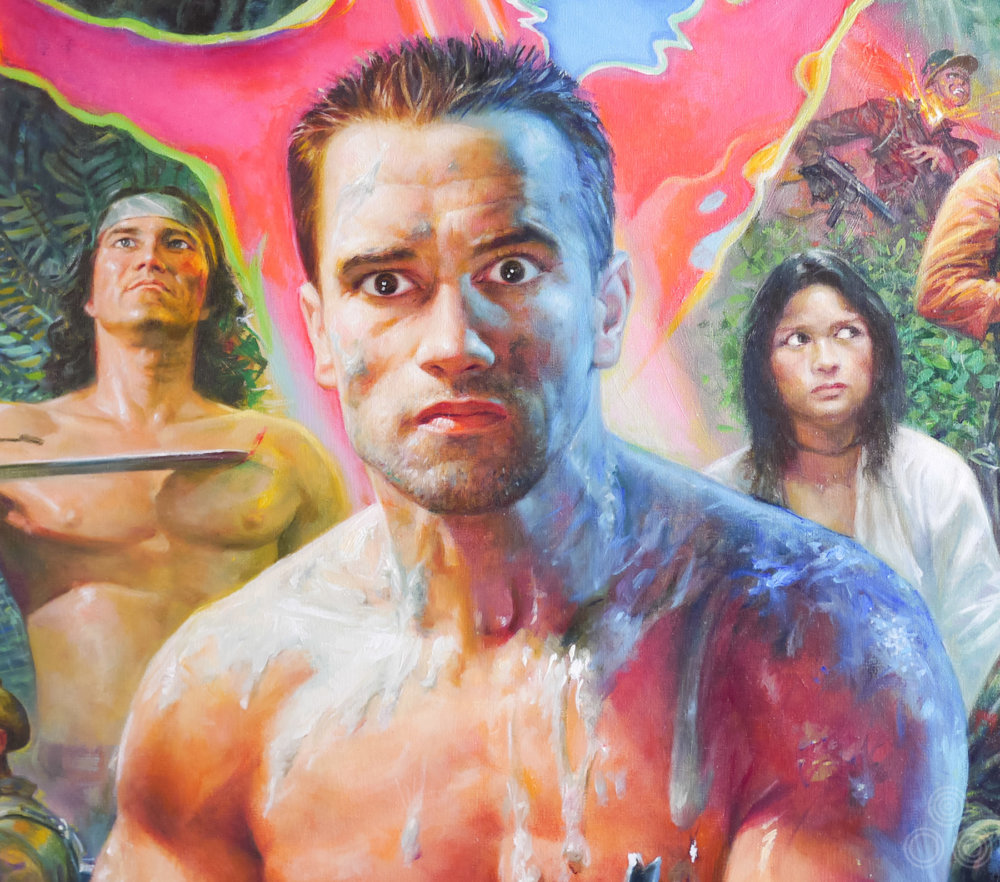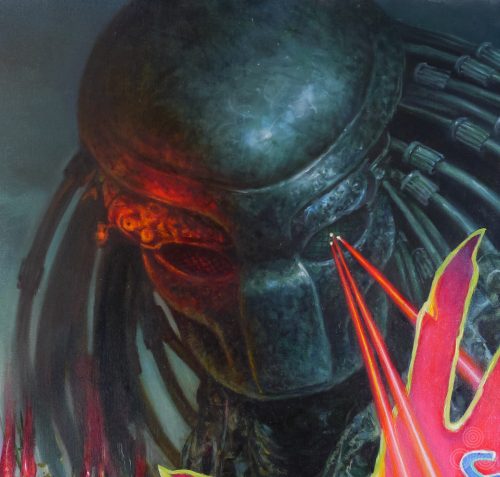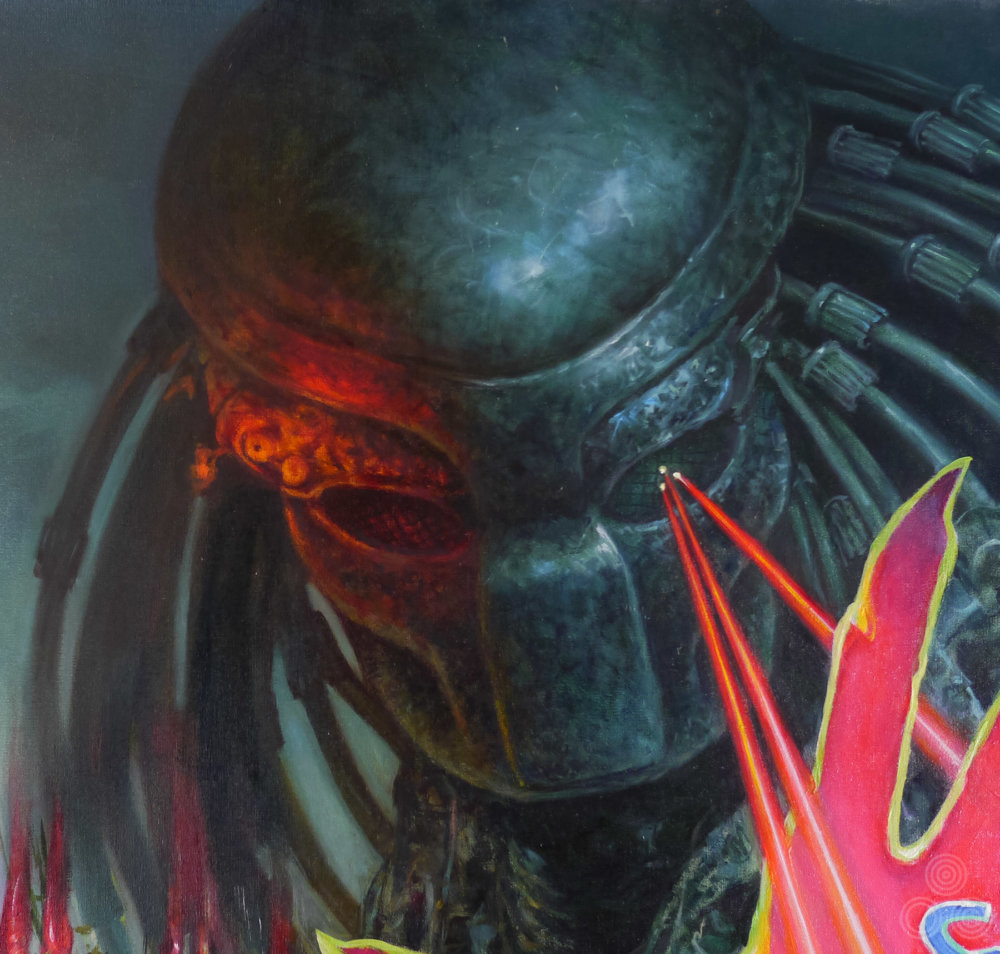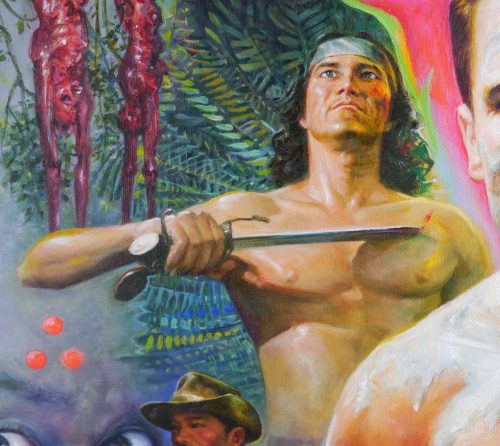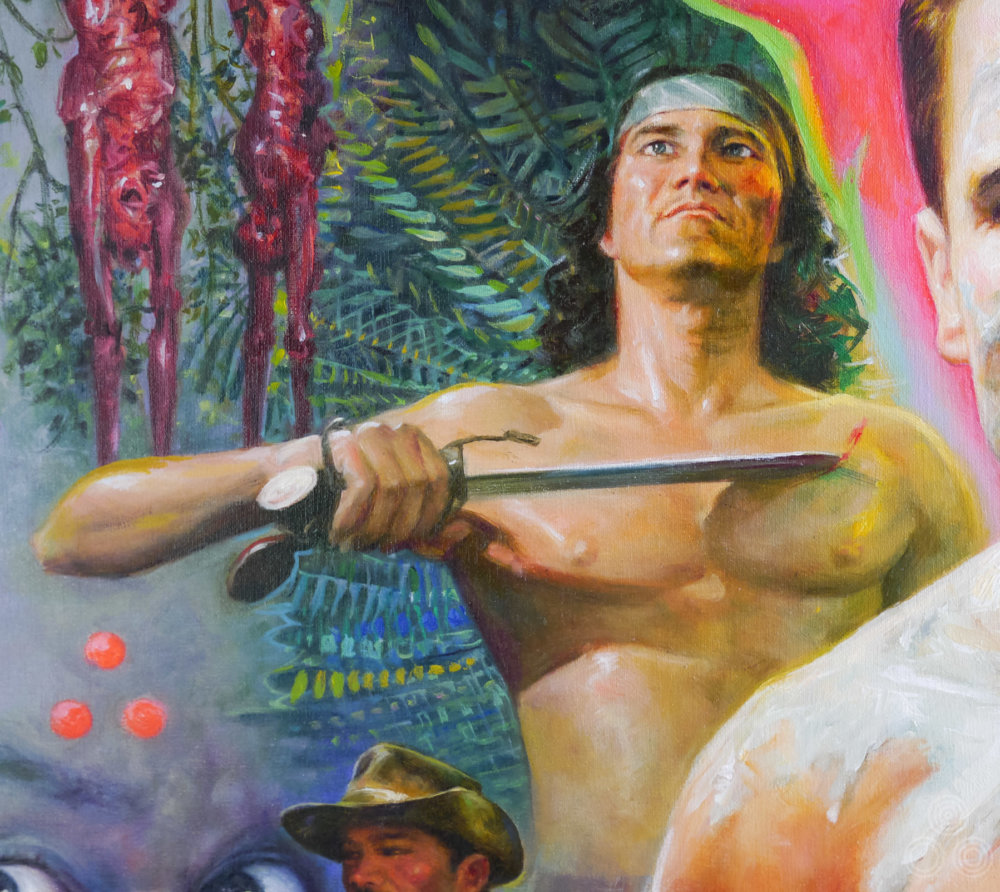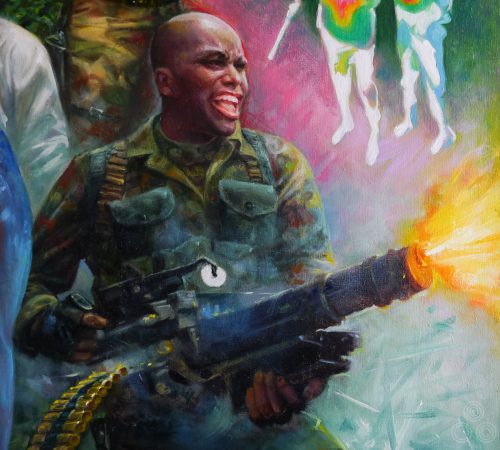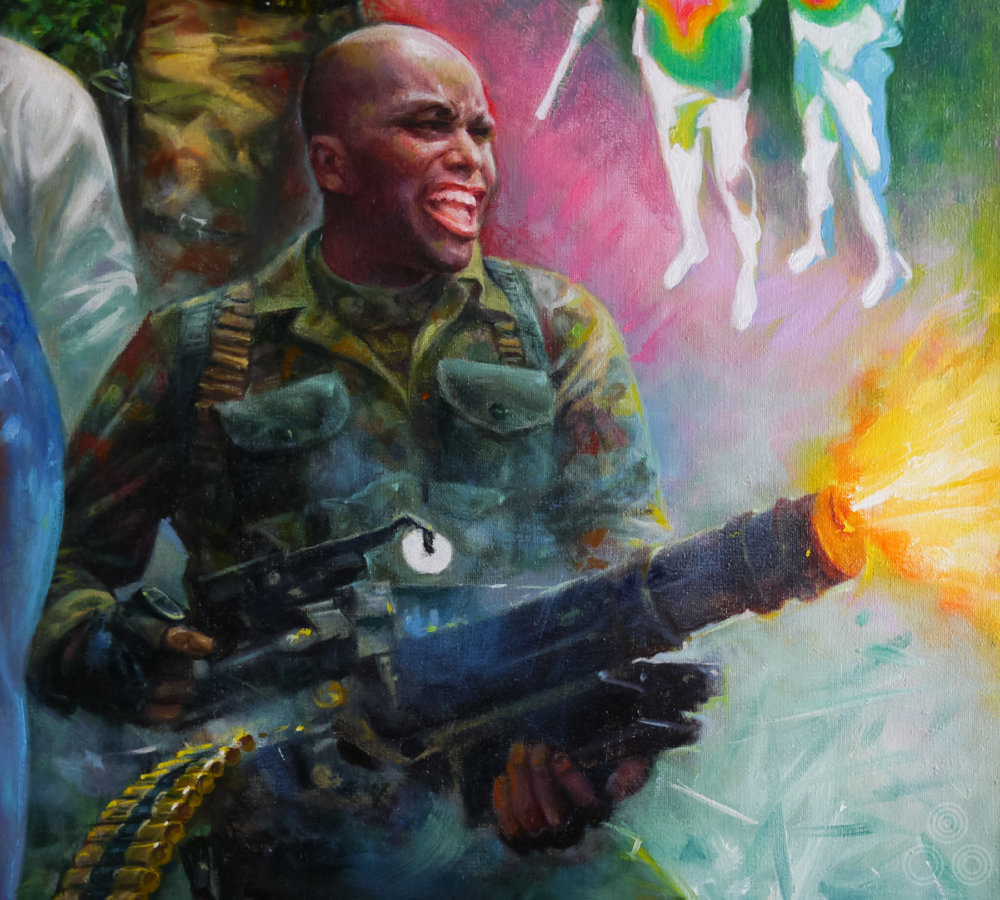 Title
AKA

O Predador (Brazil / Portugal)
Year of Film
Director
Starring
Origin of Film
Type of Poster
Style of Poster

--
Origin of Poster
Year of Poster
Designer
Artist
Size (inches)

28 5/16" x 41"
SS or DS

SS
NSS #

--
Tagline

--
Earlier this year I commissioned (through a mutual friend) the legendary Thai artist Tongdee to reimagine a poster for one of my favourite films, Predator (1987). The film was released in Thailand at a time when the use of painted artwork was being phased out and the original Thai poster is a photographic design that was based on the US one sheet. I'm a huge fan of Thai film poster artwork because of the typically lurid use of colours and lack of censoring, which led to some incredible posters like Tongdee's Apocalypse Now and the one for Lucio Fulci's The Beyond.
Because the original photographic poster was comparatively disappointing, I was excited to see what Tongdee would create. I gave him free reign with the exception of a couple of things I was keen to see (the iconic thermal-vision being one) and after a few weeks was sent a sketch with his idea for the layout. After requesting a couple of very minor tweaks I gave the go ahead and Tongdee began working on the actual painting. Last week I received the finished article and I'm very happy with the result. I love the layout and the use of colours, including the incorporation of the thermal-vision Predator hand. I also love the artistic licence he took on a few elements (I'll let you figure out what I'm talking about) which was typical of his paintings from the original period of him working on film posters.
The painting is just over American one sheet size and I plan to get it framed as soon as possible. I've tried to take as many pictures as possible so you can see the details, and you'll be able to see the grain from the canvas onto which Tongdee painted. I've also included three pictures that I was sent showing the painting with Tongdee in his studio. There's also one photo (fourth from last) which shows the painting as it was sent to me, having been removed from the wooden frame over which it was stretched for painting.
Tongdee Panumas (he signs his posters with just his first name) was incredibly prolific during the 70s, 80s and 90s and, although he no longer paints official film posters for Thai distributors he is still painting for other clients. I've been unable to find out much about him from a biographical point of view other than that he was born in 1947. My hope is to someday travel to Thailand to meet and interview him.
One of the best films of the 1980s and certainly one of the Austrian Oak's finest roles, Predator is a film I've seen more times than I care to remember. Directed by John McTiernan, who would go on to helm Die Hard the following year (arguably the greatest action movie ever made), the film is an excellent mix of gung-ho action and sci-fi horror with a truly iconic monster that has gone on to appear in several (not so great) sequels and spin-offs.
The story sees Schwarzenegger's team of single-monikered, rough-neck commandos dropped into a dangerous South-American jungle ostensibly on a rescue mission. When they discover a series of butchered and skinned corpses it soon becomes clear that they're dealing with more than just a bunch of gun-toting guerrillas and someone, or something, is following them through the jungle. The film features several memorable characters, including Native American Sonny Landham's Billy, a man-mountain with much-needed tracking skills and the first one to realise they're not alone, and Bill Duke's Mac who memorably leads the charge with a mini-gun when one of his comrades is killed. Like many of Schwarzenegger's films, Predator is eminently quotable and features countless memorable lines spoken by several of the characters – 'If it bleeds, we can kill it!'
To see the other Thai posters I've collected click here.