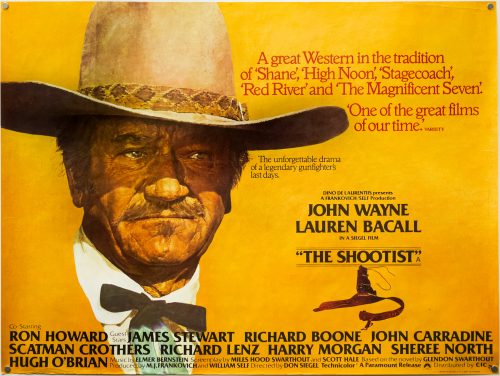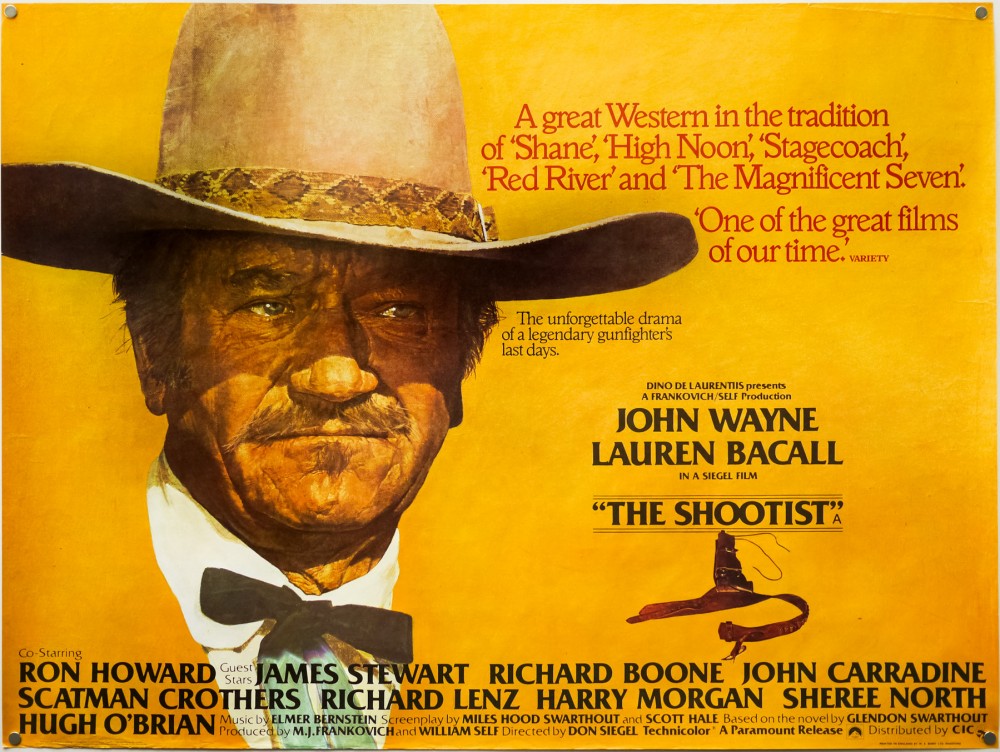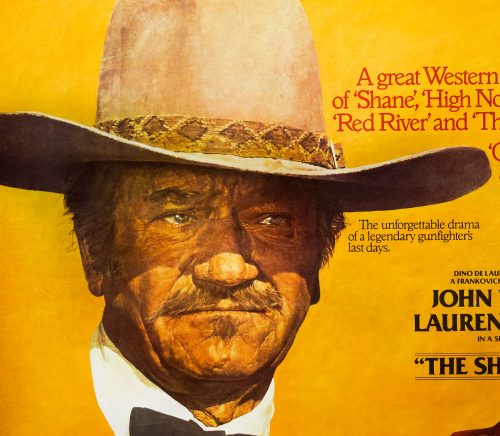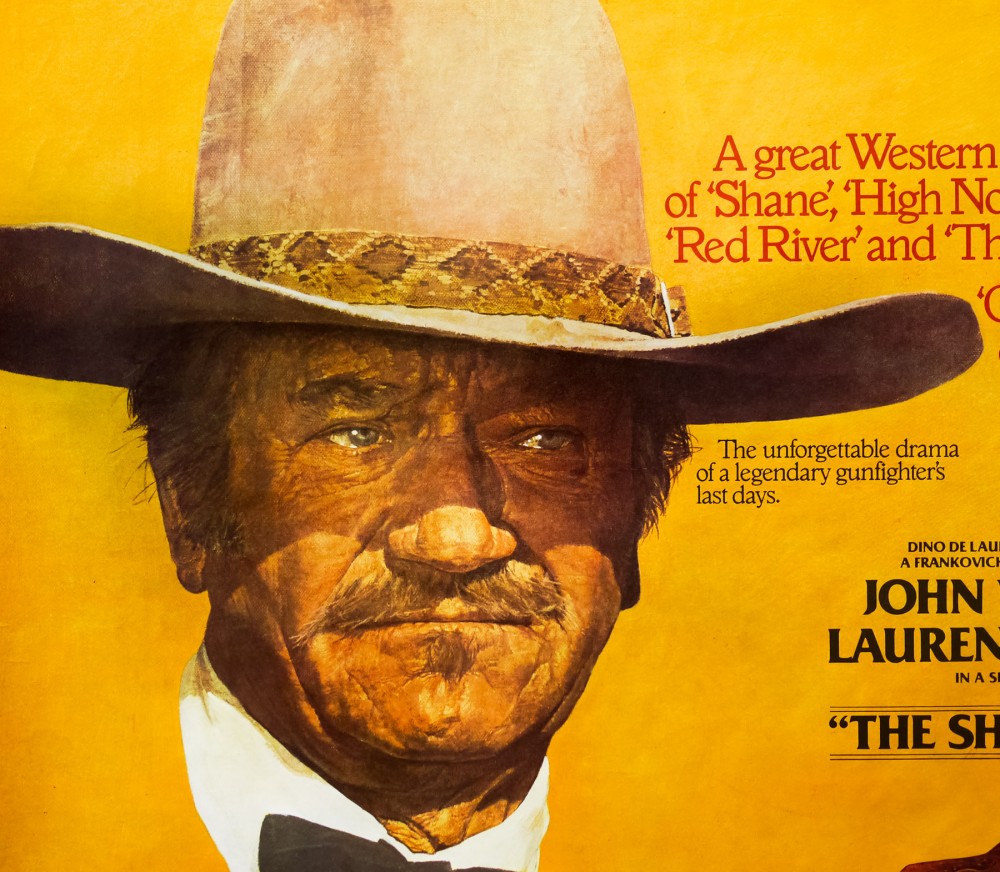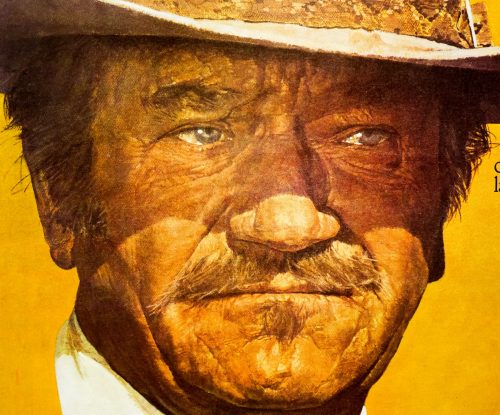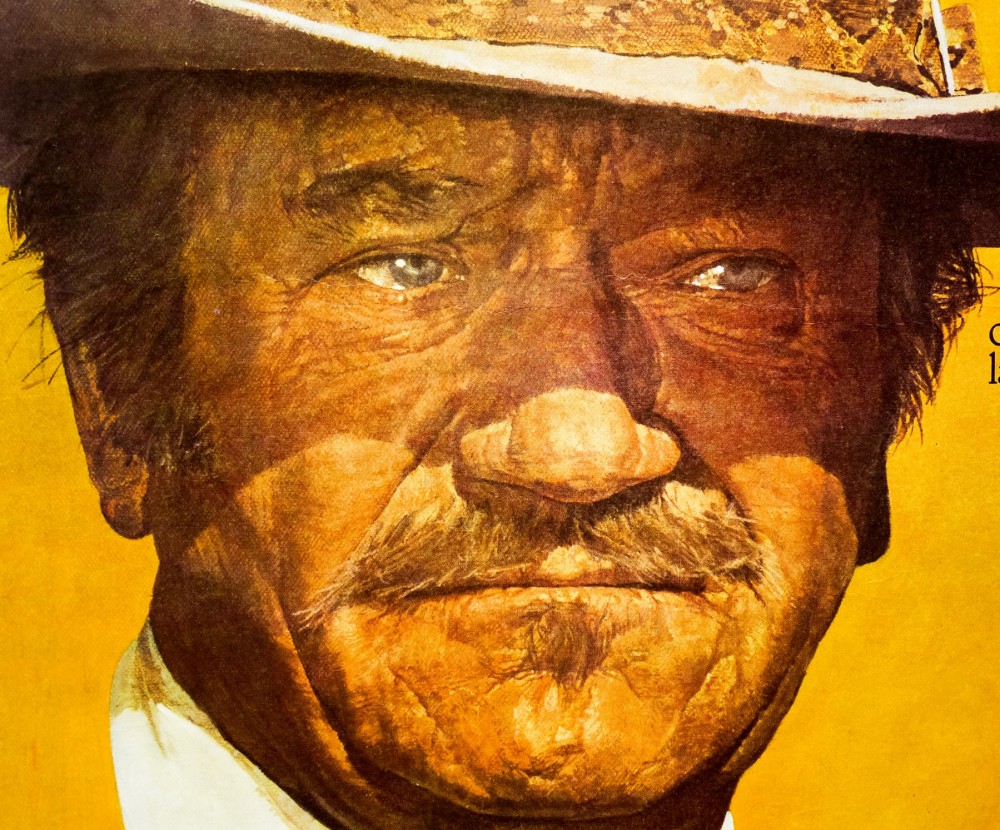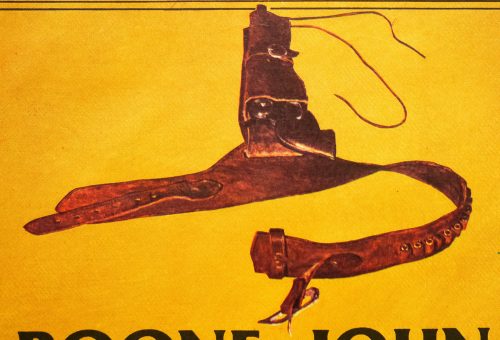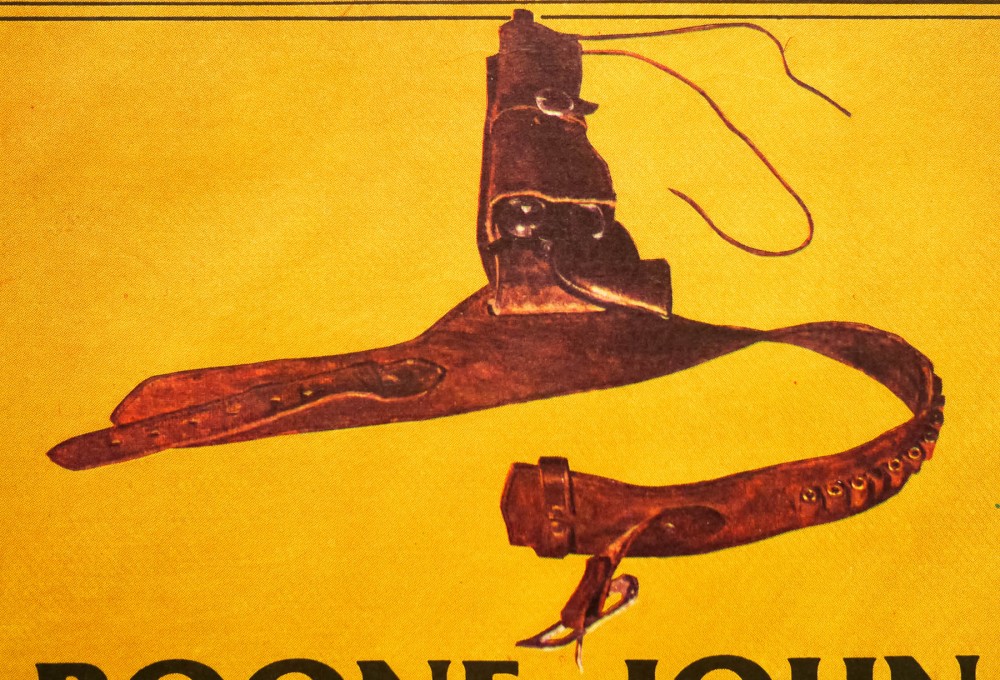 Title
Year of Film
Director
Starring
Origin of Film
Type of Poster
Style of Poster

--
Origin of Poster
Year of Poster
Designer
Artist
Size (inches)

30" x 39 14/16"
SS or DS

SS
Tagline

The unforgettable drama of a legendary gunfighter's last days.
A superb portrait of the late, great John Wayne on this British quad for the release of The Duke's last film, 1976's The Shootist. Directed by Don Siegel, the film depicts the last days of a legendary gunfighter named J. B. Books and it actually begins with a montage of clips from Wayne's earlier cowboy films. In the early 20th century, at the 'end' of the wild west, Books arrives in Carson City, Nevada and, after seeking an audience with a doctor, is told that he has terminal cancer and has only a couple of months left to live. He rents a room from the widow Bond Rogers (Lauren Bacall) and her son Gillom (Ron Howard) with the intention of planning a quiet and dignified end to his life, but his mere presence in the town sets of a chain of events with various characters keen to take advantage of Books' predicament. Before long, the legendary shootist realises that he's going to have to end his life with bang, not a whimper.
This British quad was designed at the London advertising outfit Lonsdales by a gentleman called John Raymer and was painted by the freelance artist Roger Coleman. Unique to the UK campaign, the intimate portrait of a grizzled Wayne was commissioned by Paramount Pictures UK as they felt that the original US poster, painted by Richard Amsel, had contributed to the film's poor domestic box office performance.
As detailed in Sim Branaghan's superb British Film Posters book, John Raymer was born in 1933 in South Norwood, South London, and went on to attend the nearby Croydon School of Art where he gained a National Diploma after specialising in book illustration. After completing his National Service he returned home in 1955 and was taken on by a design agency called Greenly's situated on Berkeley Square in central London. The agency had held the Paramount account since 1922 and Raymer was finally given the opportunity to work on it in 1967, which was a year before the designer Frank Pickford, who had been on the account since day one, retired from the agency.
By the mid 1960s Richard Lonsdale-Hands had taken over the agency and there was clear recognition that the traditional model of adapting a US campaign for the UK market was no longer working. Sim's book features a fascinating account from Raymer on the way Lonsdales dealt with being given more freedom to create publicity better suited to UK audiences. In 1975 the designer moved to the rival agency Downton's where he apparently found the change of pace quite difficult to adapt to initially, with the requests for multiple designs per week being quite a change from his experience at the more sedate Lonsdales. When the illustrated cinema poster work began to slow down in the 1980s he started, like many other designers and artists, to work on video covers as well as a handful of quads, often in collaboration with the illustrator Brian Bysouth. He finally retired in 1993, and at the time of the publishing of Sim's book was painting local scenes that were being sold in local galleries in his native Surrey.
Roger Coleman, one of several freelance illustrators used by Lonsdales, was born in South Wigston, Leicestershire in 1930 and studied painting at Leicester College of Art before winning a national portrait competition in 1952. He then went on to study at the Royal College of Art in London and eventually joined the editorial staff of Design magazine where he wrote about art and design and organised several exhibitions. In 1960 he was taken on by the agency Artist Partners and thus began several years of working on film campaigns, which included posters for films such as Catch 22 (1970) and Bad News Bears (1976) as well as concepts for the posters for Kubrick's 2001. The Shootist is probably Coleman's most famous printed poster, which the artist recalls was painted in six days, and the striking image of Wayne undoubtedly helped the film to success at the UK box office.