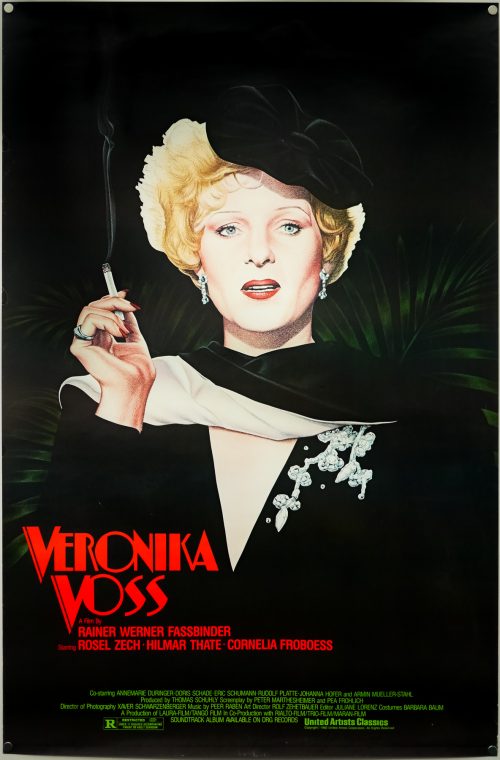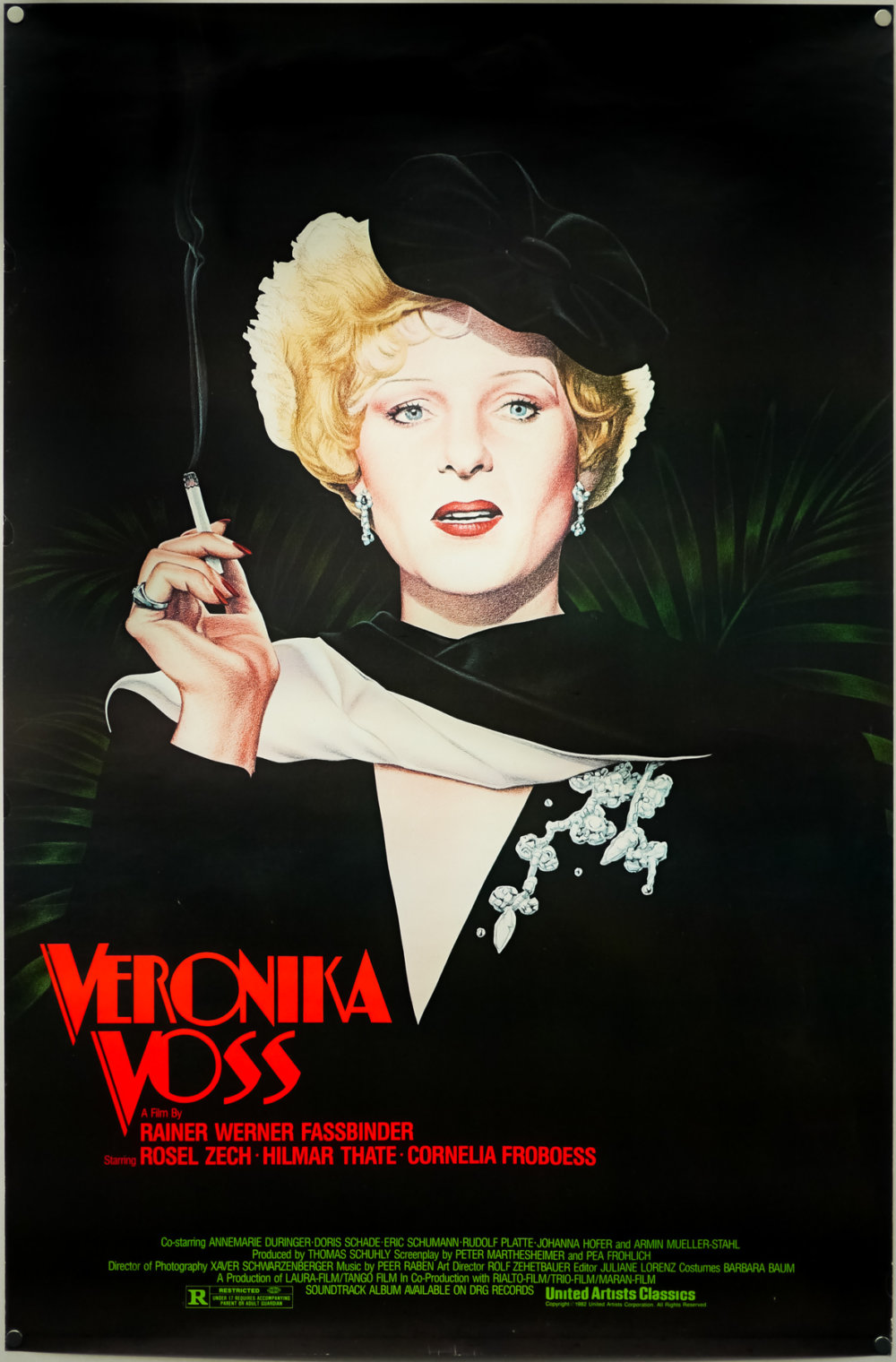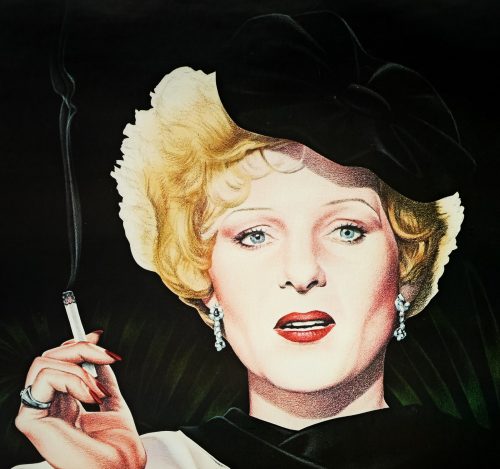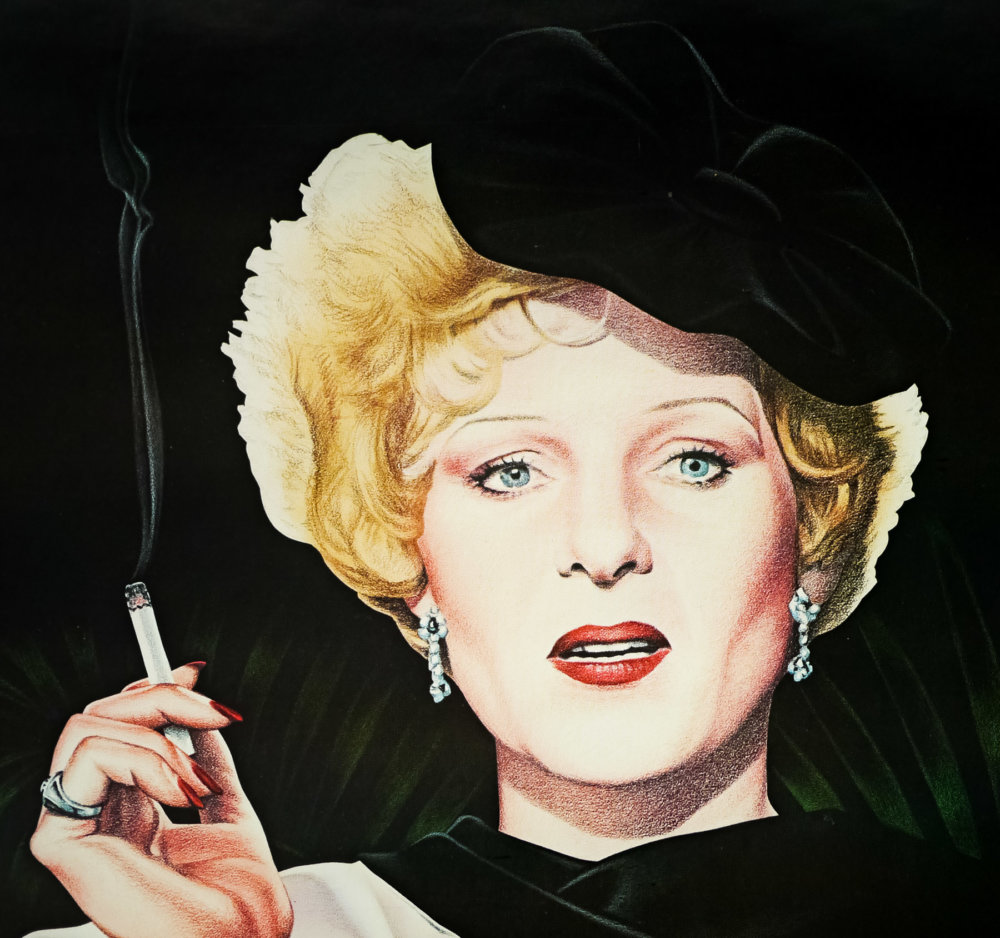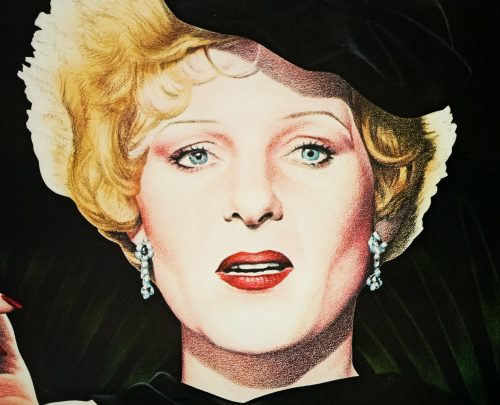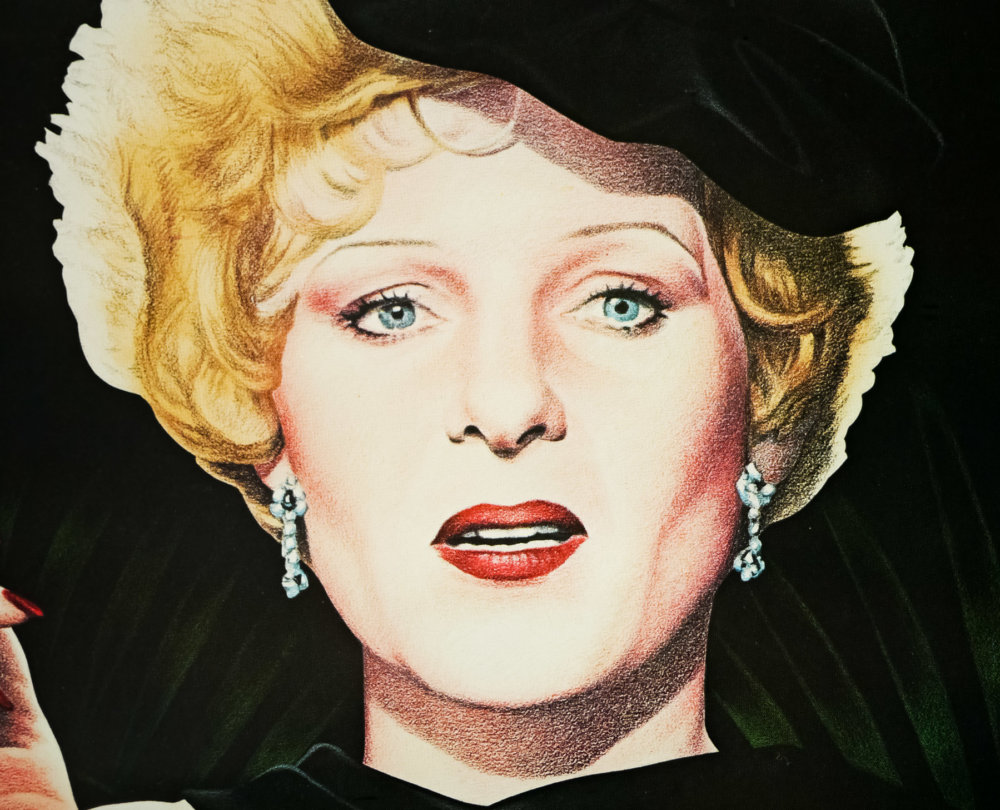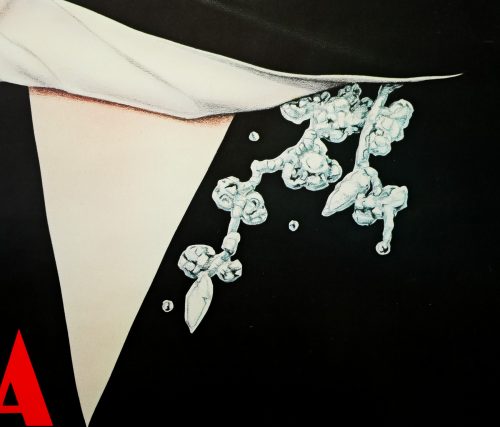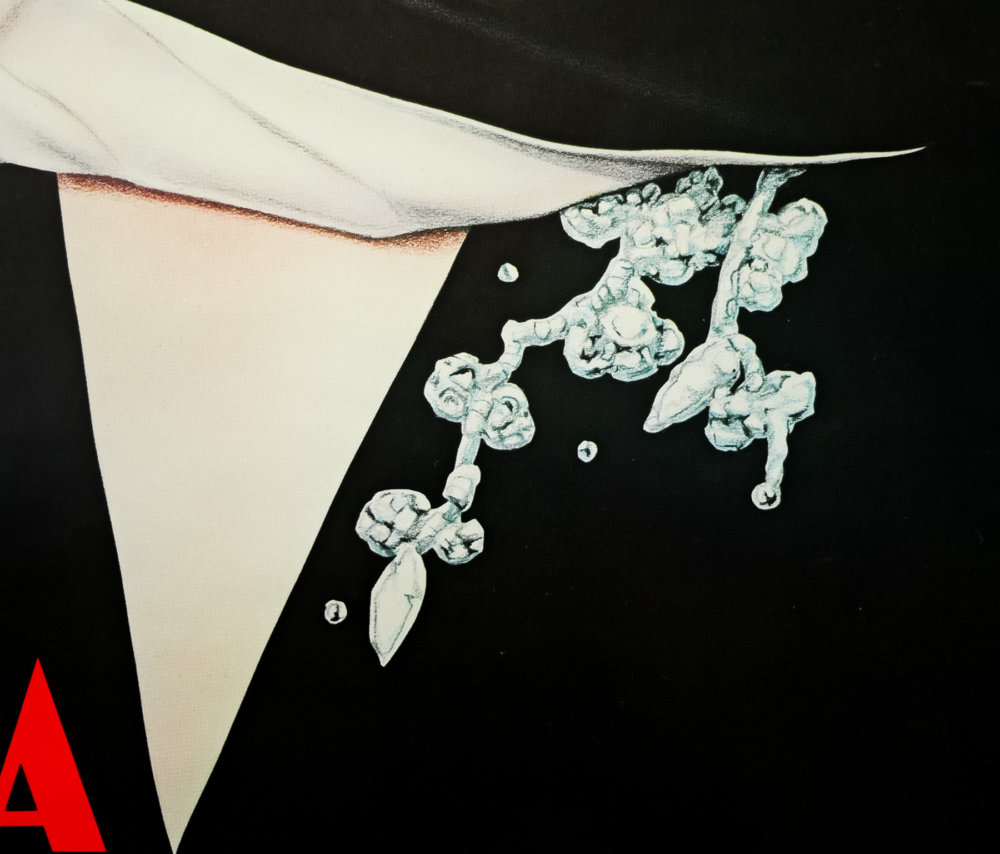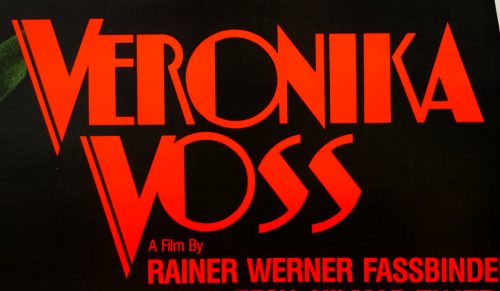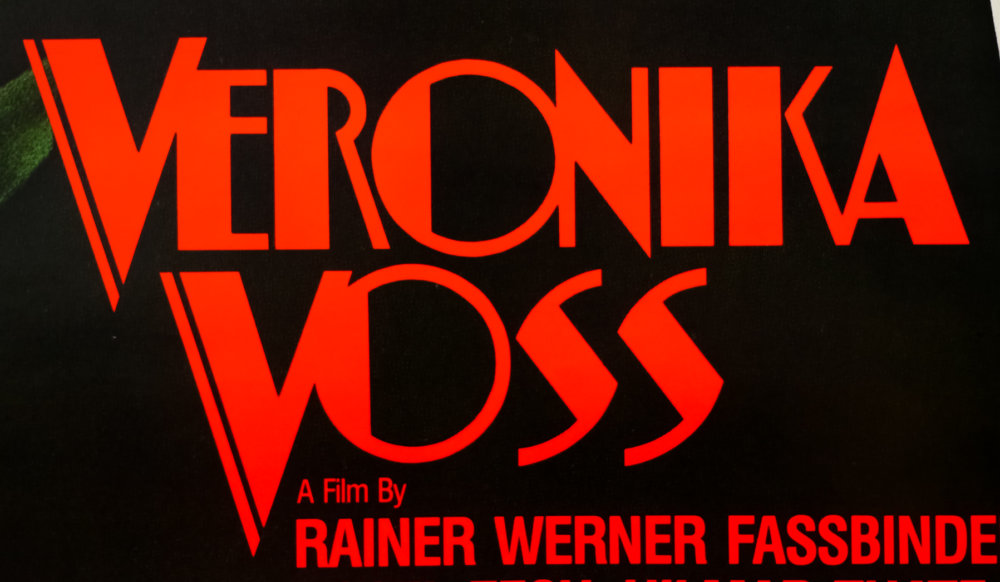 Title
AKA

Die Sehnsucht der Veronika Voss [The Longing of Veronika Voss] (Germany - original title)
Year of Film
Director
Starring
Origin of Film
Genre(s) of Film
Type of Poster
Style of Poster

--
Origin of Poster
Year of Poster
Designer
Artist
Size (inches)

27 1/16" x 40 15/16"
SS or DS

SS
Tagline

--
A striking portrait by the artist Vincent Topazio features on this one sheet for the US release of Veronika Voss. The film was the penultimate one by the legendary German director, screenwriter, producer and actor Rainer Werner Fassbinder. It was released the year of his untimely death (he was only 37) and his final film as director, Querelle, was released posthumously the following year.
The film was an entry in what Fassbinder named the BRD Trilogy; three films all focusing on a single female character and set in West Germany following World War II. BRD is an acronym for Bundesrepublik Deutschland, which was the official name of the country during that period. The first of the trilogy, The Marriage of Maria Braun, was released in 1979 and then, rather confusingly, Fassbinder named Lola (1981) as the third film in the trilogy before Veronika Voss was released in 1982. The films have no narrative connection but have thematic consistencies, with all three focusing on a particular woman in a post-war BRD during the 'economic miracle'. All three of the stories were originated by Fassbinder but the screenplays were written by frequent collaborator Peter Märthesheimer and his then partner Pea Fröhlich.
Veronika Voss is loosely based on the ill-fated life of actress Sybille Schmitz and the titular lead is played by Rosel Zech. Set in Munich in 1955, the film finds Voss struggling to reclaim former glories and unable to win the kinds of roles she played whilst working for the UFA production company during the war. One night she bumps into sports journalist Robert Krohn (Hilmar Thate) who isn't aware of her past. The pair strike up a romance, despite Krohn being in a relationship with girlfriend Henriette (Cornelia Froboess). Soon he realises that Voss is addicted to opiates that are being administered by a mysterious neurologist called Dr. Marianne Katz (Annemarie Düringer) who Voss believes is caring for her. When Krohn begins to investigate he realises that Katz is actually bleeding Voss of her finances and is keeping her doped up and under control.
The art on this one sheet is by Vincent Topazio and, although it doesn't feature his unique signature, he is credited for it on the vinyl release of the film's soundtrack. Very little is known about the artist and there's barely any information about him online. He looks to have worked on only a handful of film posters, most of which were for independent/arthouse features. Perhaps his most famous poster is the one he worked on for Paul Verhoeven's The 4th Man.
Adrian Curry highlighted some of Topazio's work for his Movie Poster of the Week column on Mubi.com. Other titles include the sequel Zulu Dawn and the 1985 American drama Smooth Talk. Curry notes that he believes Topazio was working from the mid-1970s into the 1980s and also created art for magazine editorials. Emovieposter.com has a number of his posters in their archive. If anyone has any more details about him please get in touch.