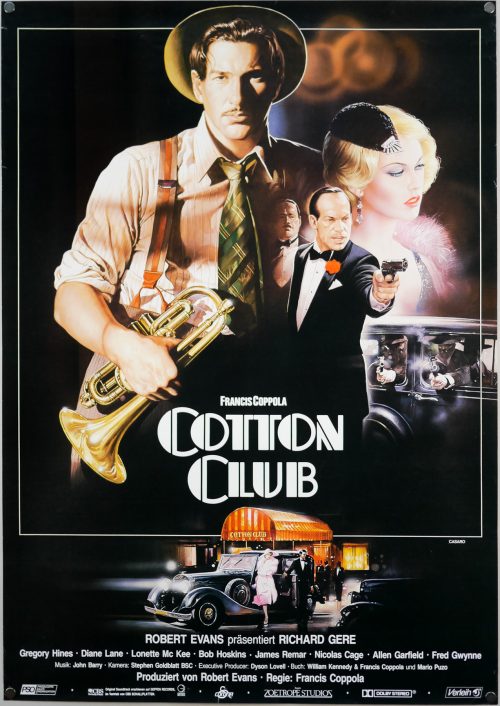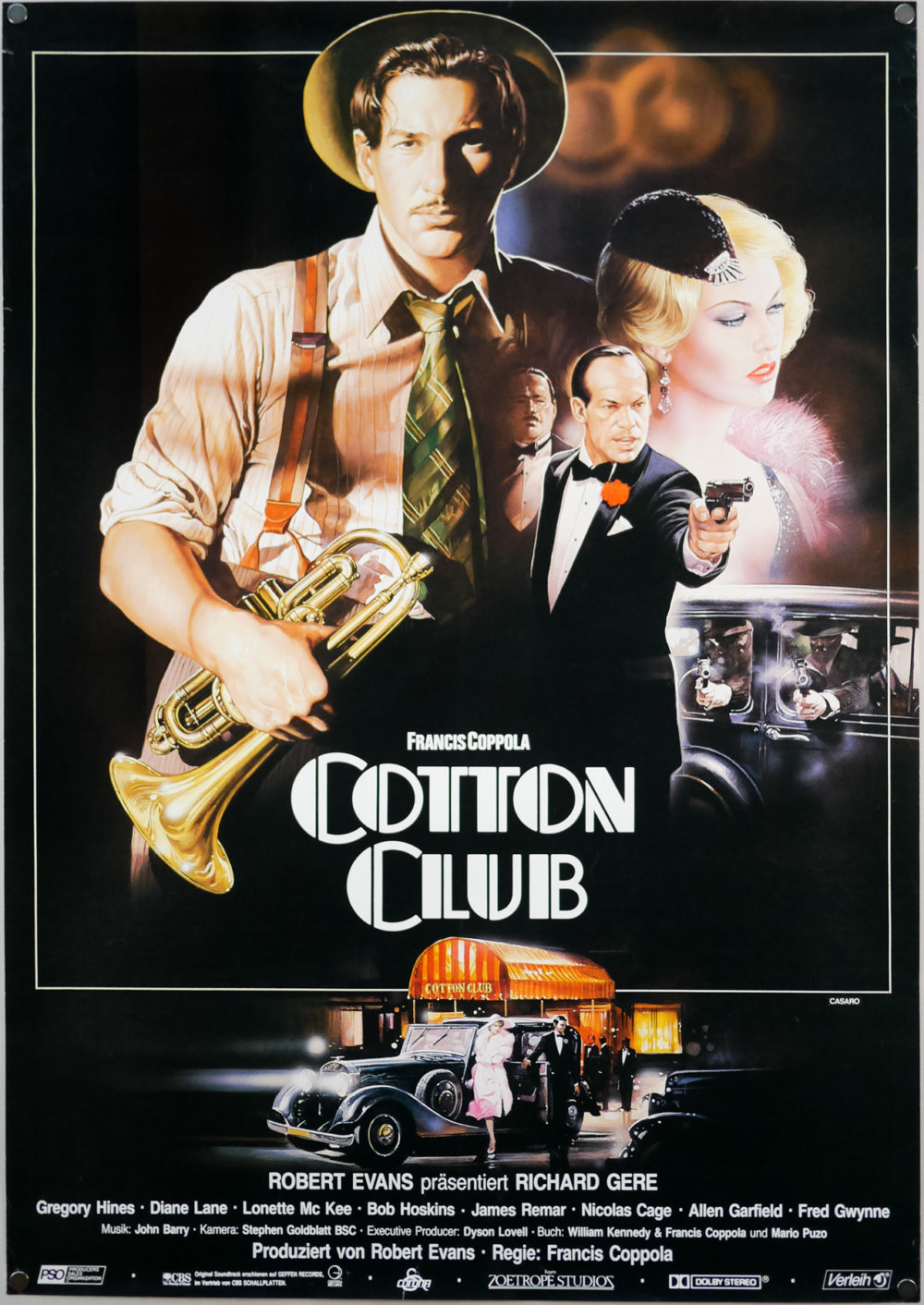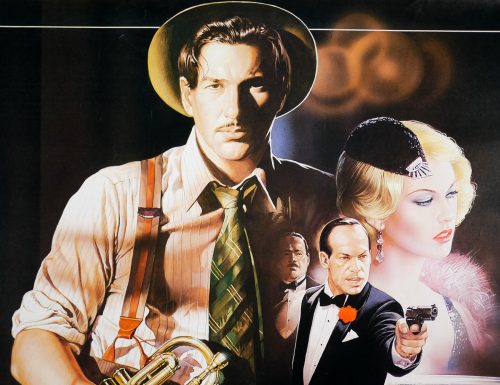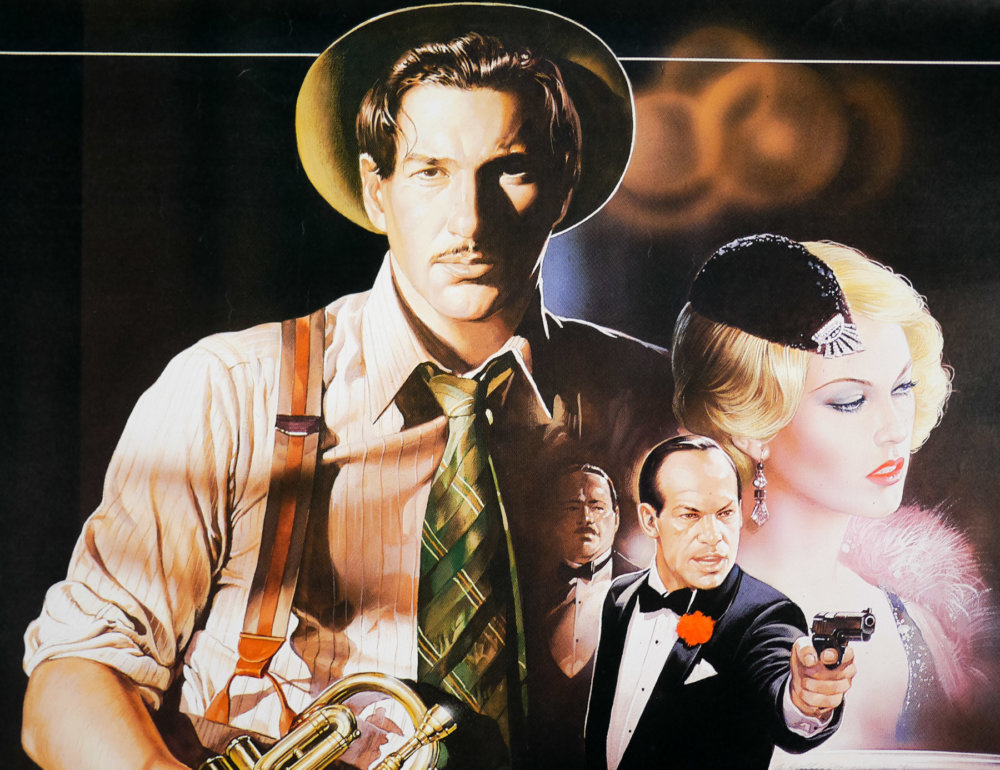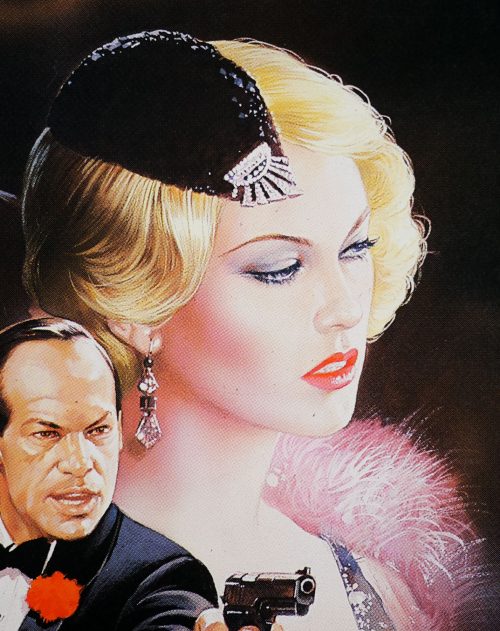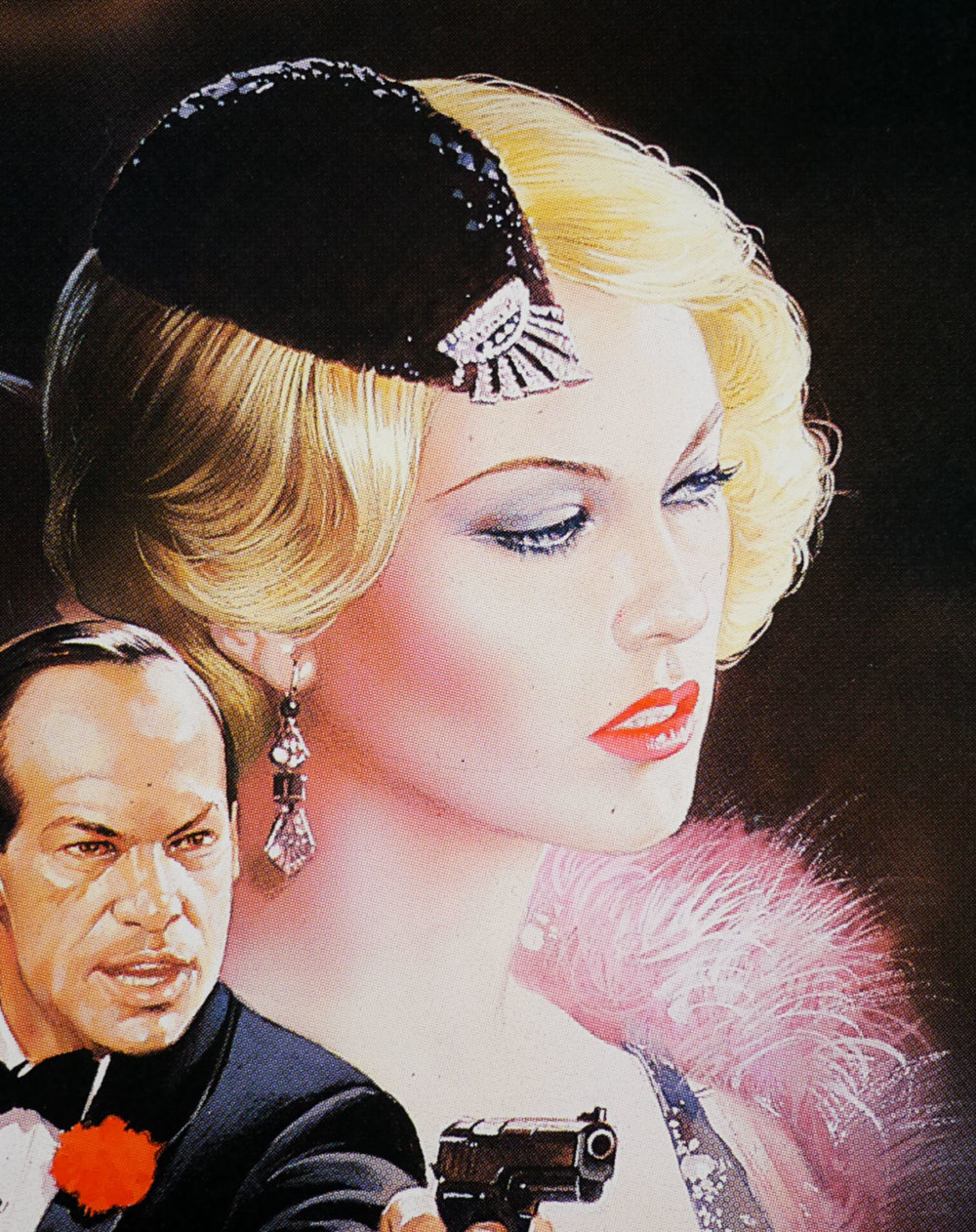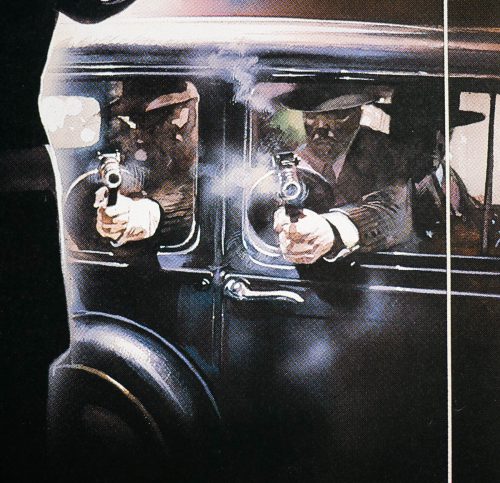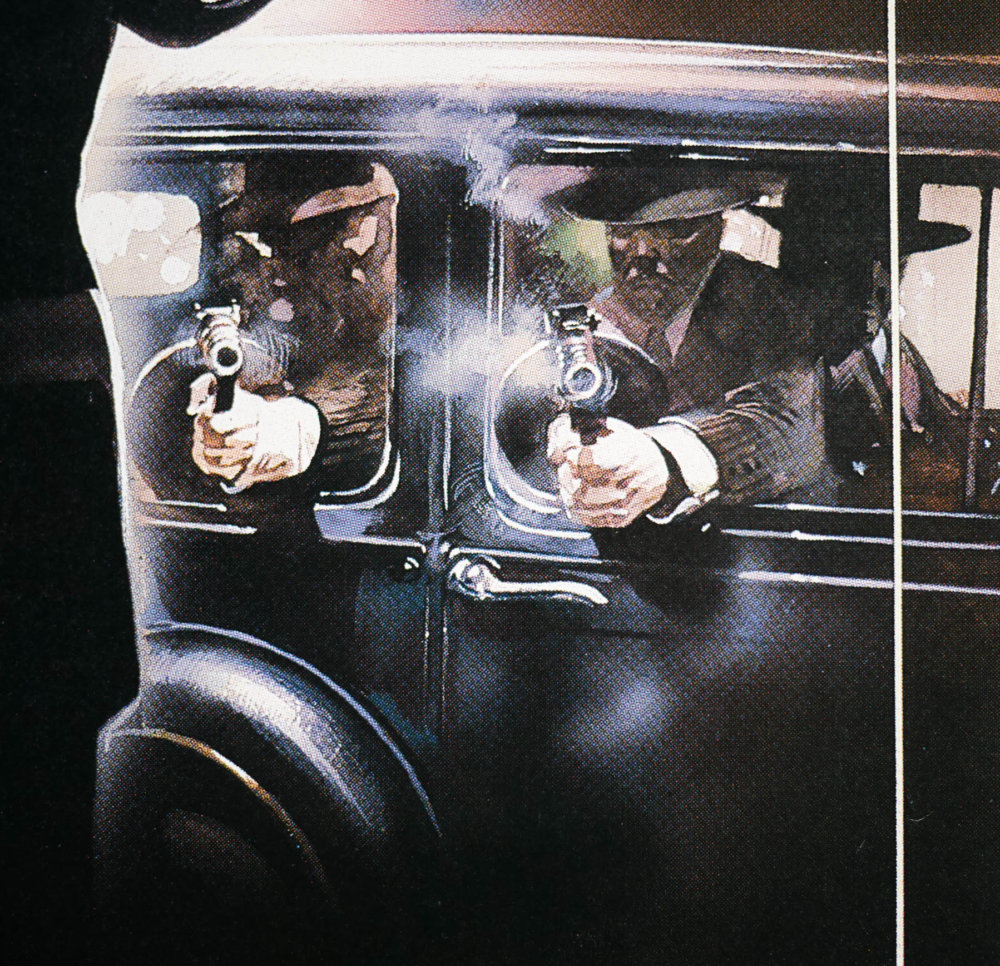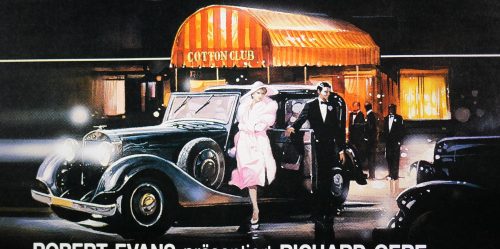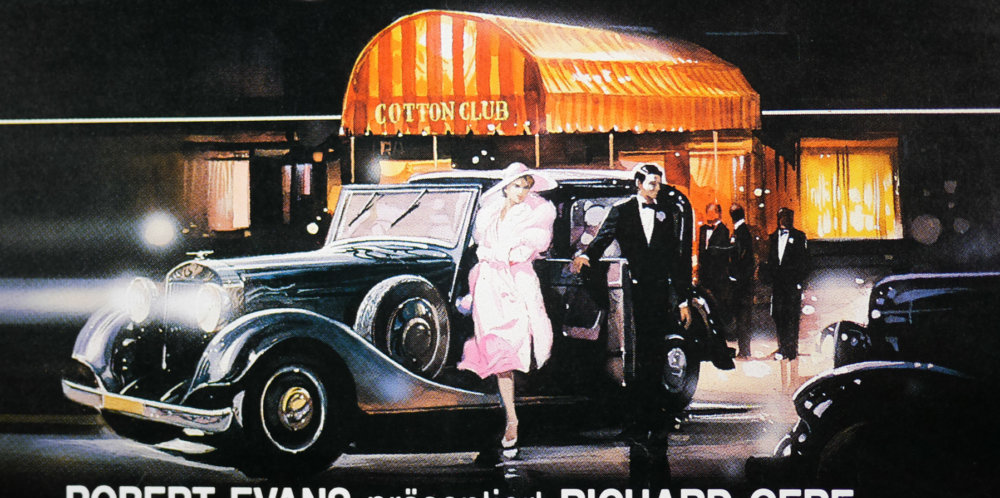 Title
AKA

--
Year of Film
Director
Starring
Origin of Film
Type of Poster
Style of Poster

--
Origin of Poster
Year of Poster
Designer
Artist
Size (inches)

23 6/16" x 33"
SS or DS

SS
Tagline

--
This is the poster for the German release of Francis Ford Coppola's 1984 crime-drama/musical The Cotton Club. Legendary producer Robert Evans had originally planned to direct the film and the initial story and screenplay had been written by Mario 'The Godfather' Puzo, but Evans had a last-minute change of heart and asked Coppola to step in. Puzo's script was apparently re-written by the author William Kennedy who ended up writing multiple drafts and ended up with a shared screenplay credit along with Coppola. Production was apparently beset with problems, including a spiralling budget that was provided by various parties including Las Vegas casino owners, an Arab arms dealer and a vaudeville performer. In typical fashion, Evans was determined to make the film as extravagant as possible and constructed 'no expense spared' sets, hiring some of the best technicians in the business at eye-watering figures.
Another likely reason that filming costs ballooned is the impressive ensemble cast that Evans and the studio were able to hire, which included the likes of Richard Gere, Diane Lane, Bob Hoskins and Gregory Hines. Loosely based on the real club of the same name that was located in New York's Harlem neighbourhood, the story follows the machinations of various characters involved with the club in the 1930s, including Gere's musician Dixie Dwyer whose dealings with the mobster owner of the club Owney Madden (Hoskins) sees him advance his career as an actor whilst having an affair with the girlfriend of the local kingpin, Dutch Schultz (James Remar). The film also follows Sandman Williams (Hines) a local dancer who falls for the club's star performer Lila Rose Dwyer (Lonette McKee). Nicolas Cage appears as Dixie's violent, racist brother Vincent who joins Schultz's gang.
The film features several musical sequences and is soundtracked by several of the most popular jazz tunes of the era. Sadly, Coppola and Evans clashed regularly during the production and at a certain point the director apparently barred the producer from visiting the set. The Cotton Club was declared a flop when it opened in fourth place at the box-office and would eventually go on to recoup less than half of its reported budget of just under $60 million. Despite tepid critical reception the film was nevertheless nominated for several awards (only winning for Best Costumes at the BAFTAs). The film has something of a cult following today, with many fans speaking highly of the film's production values and well-staged musical numbers. Rumours of a director's cut release were ignited last year when Coppola declared that a restoration was in the works, reinstating several musical sequences that were apparently cut for its initial release.
This German poster was illustrated by Renato Casaro, an Italian with a prolific movie poster output that lasted over 35 years. He began his career in 1953, aged 19, at the famous Studio Favalli in Rome and would go on to design and paint posters for many of the biggest directors in the world. His skill at accurately portraying actors and his brilliant use of colour and composition saw him much in demand from studios and actors alike. His artwork has featured on posters used in multiple countries, including Japan, Germany, USA as well as in his native Italy.
Check out the incredible amount of work on his official website here, which also features a biography of the artist. In March 2014 I published an exclusive interview with Renato and it can be read by clicking here. The other posters I've collected by Renato Casaro are here.