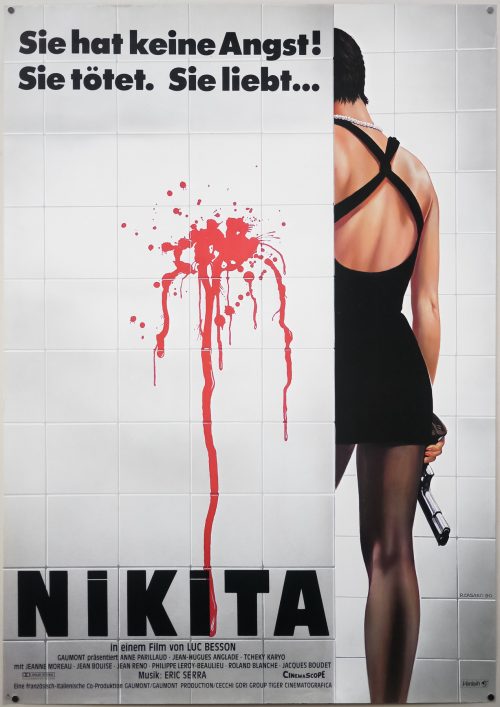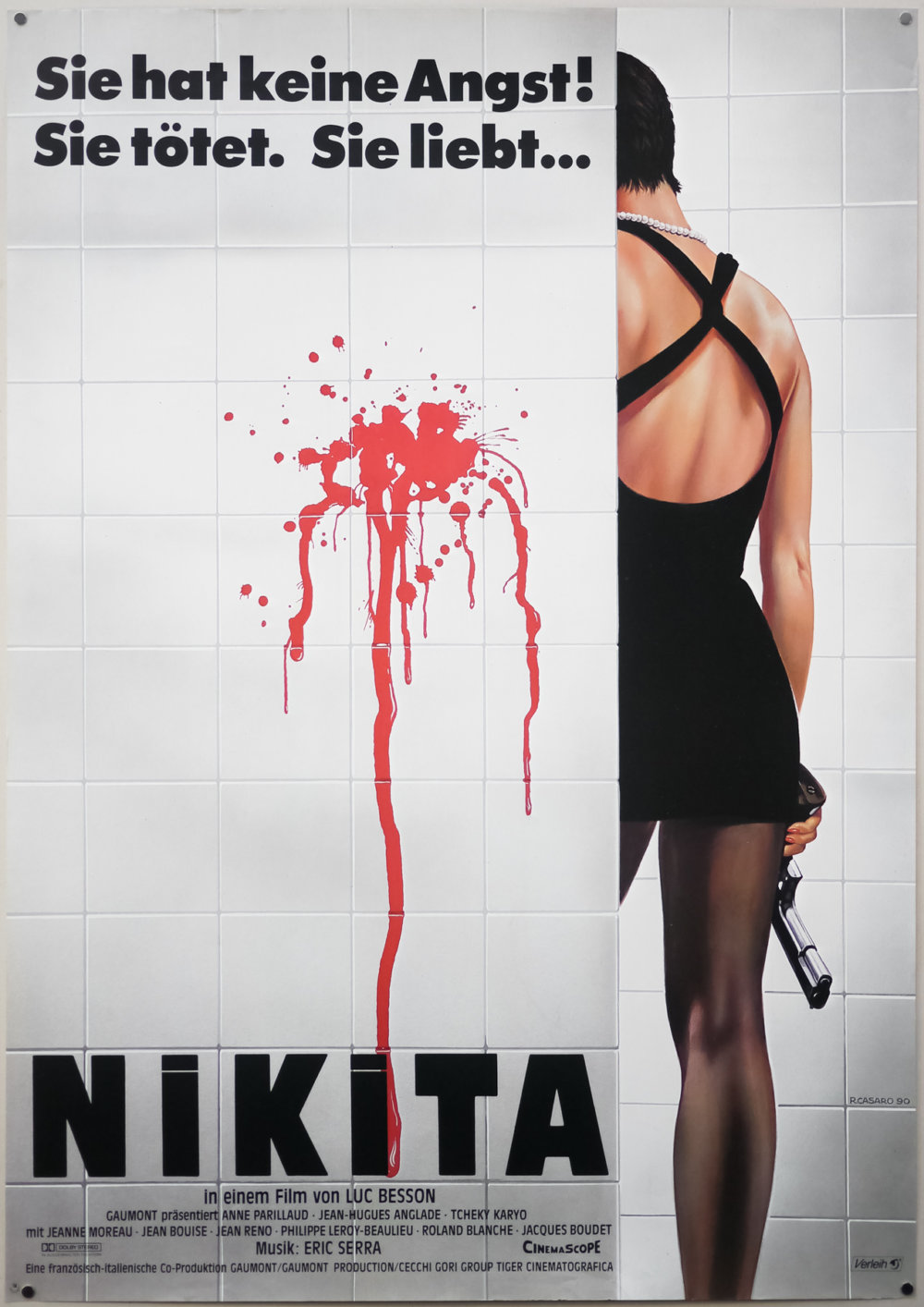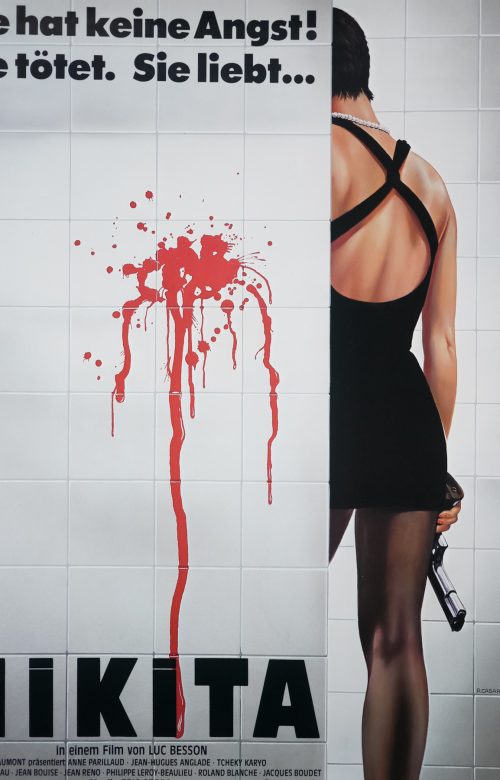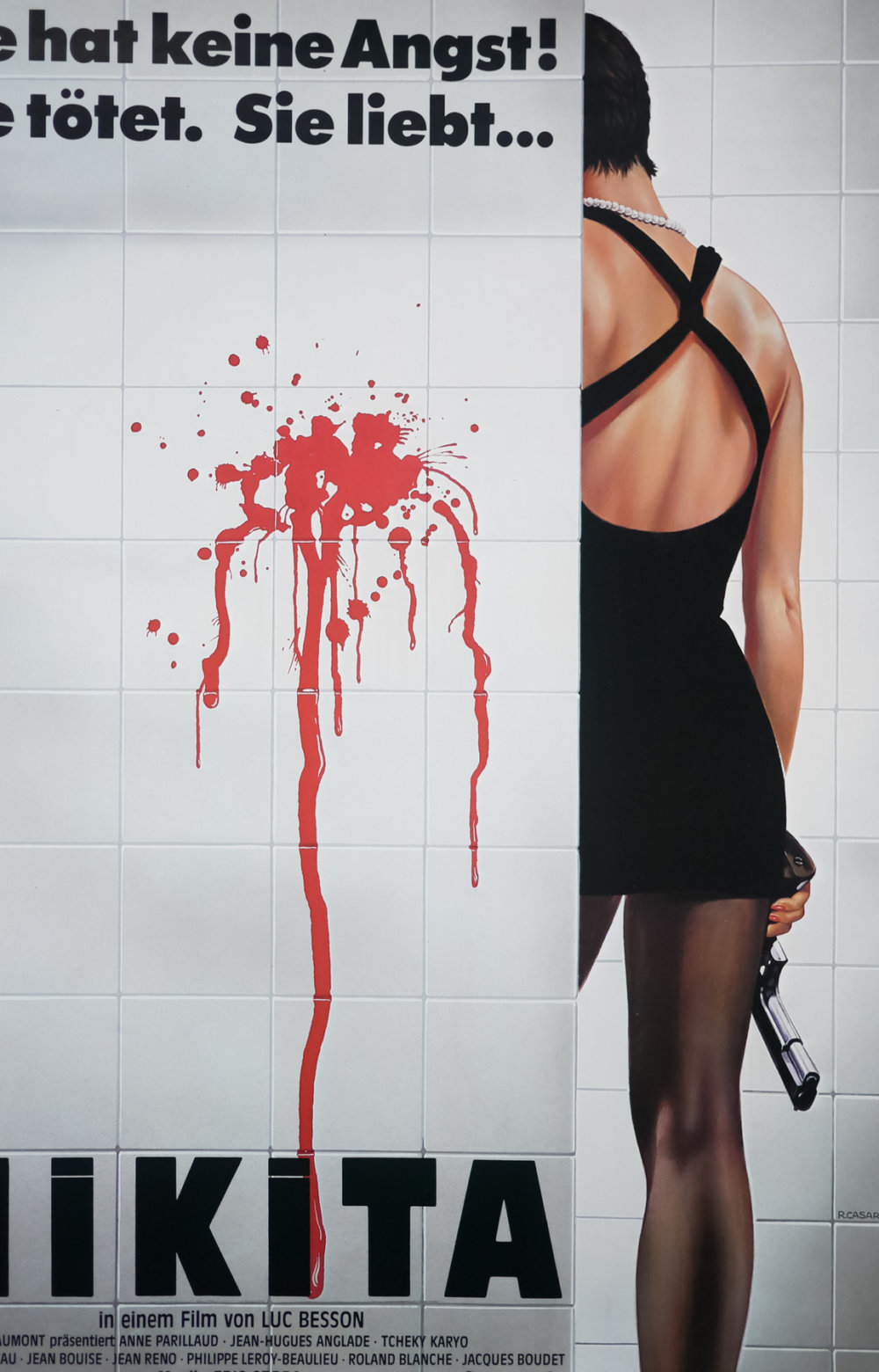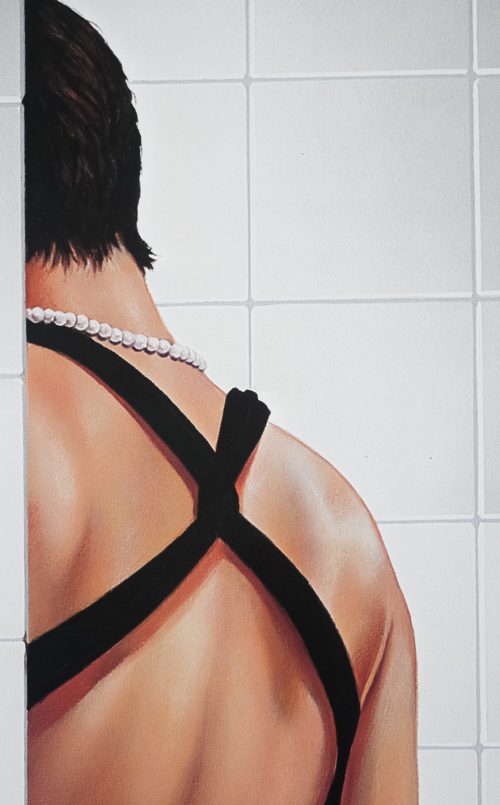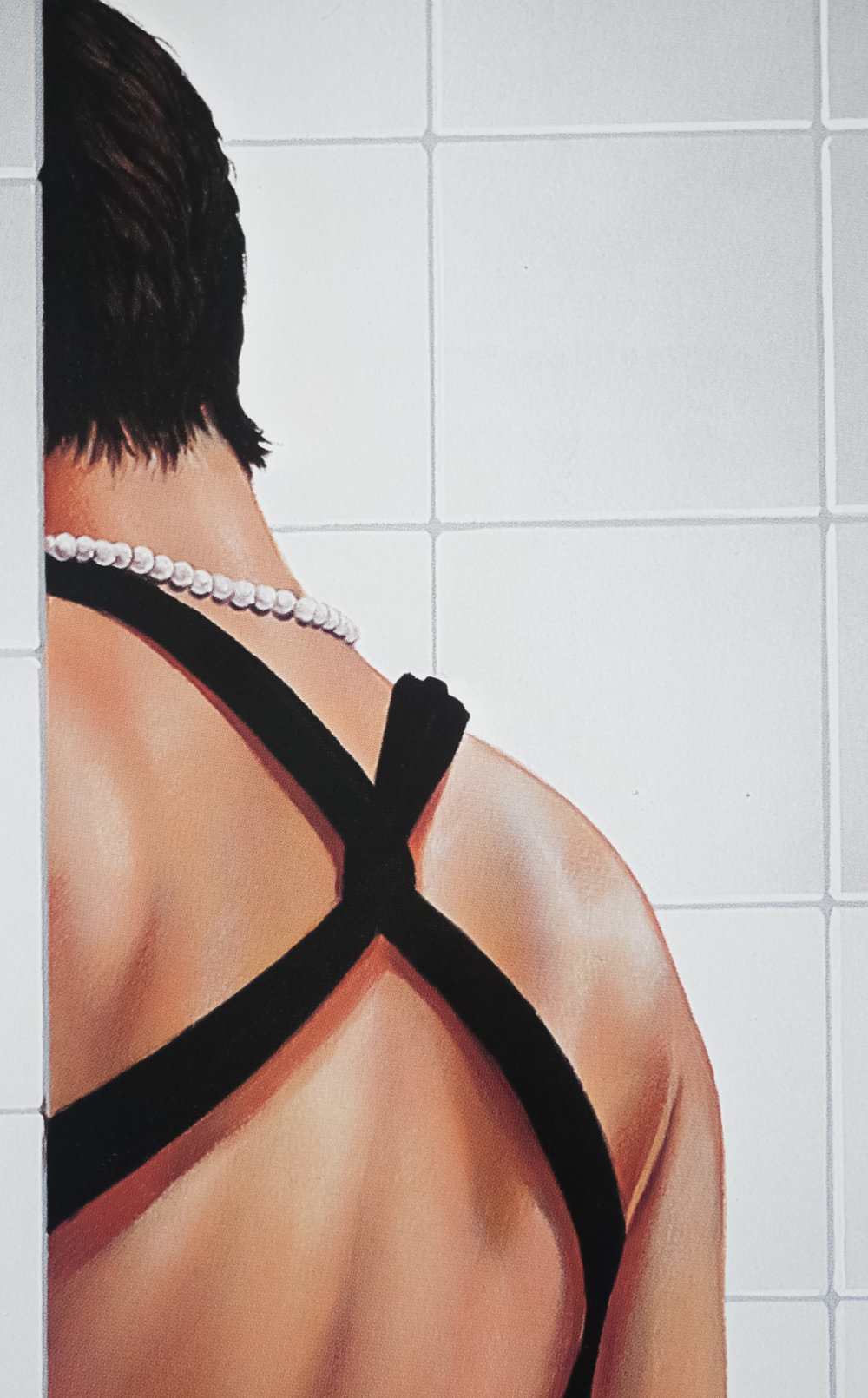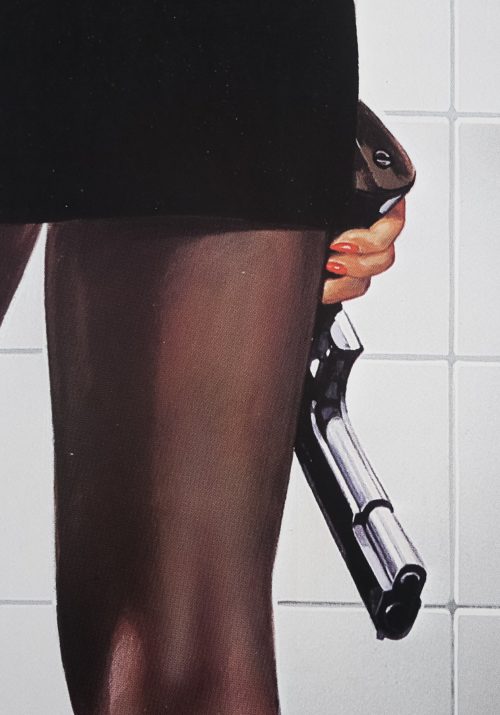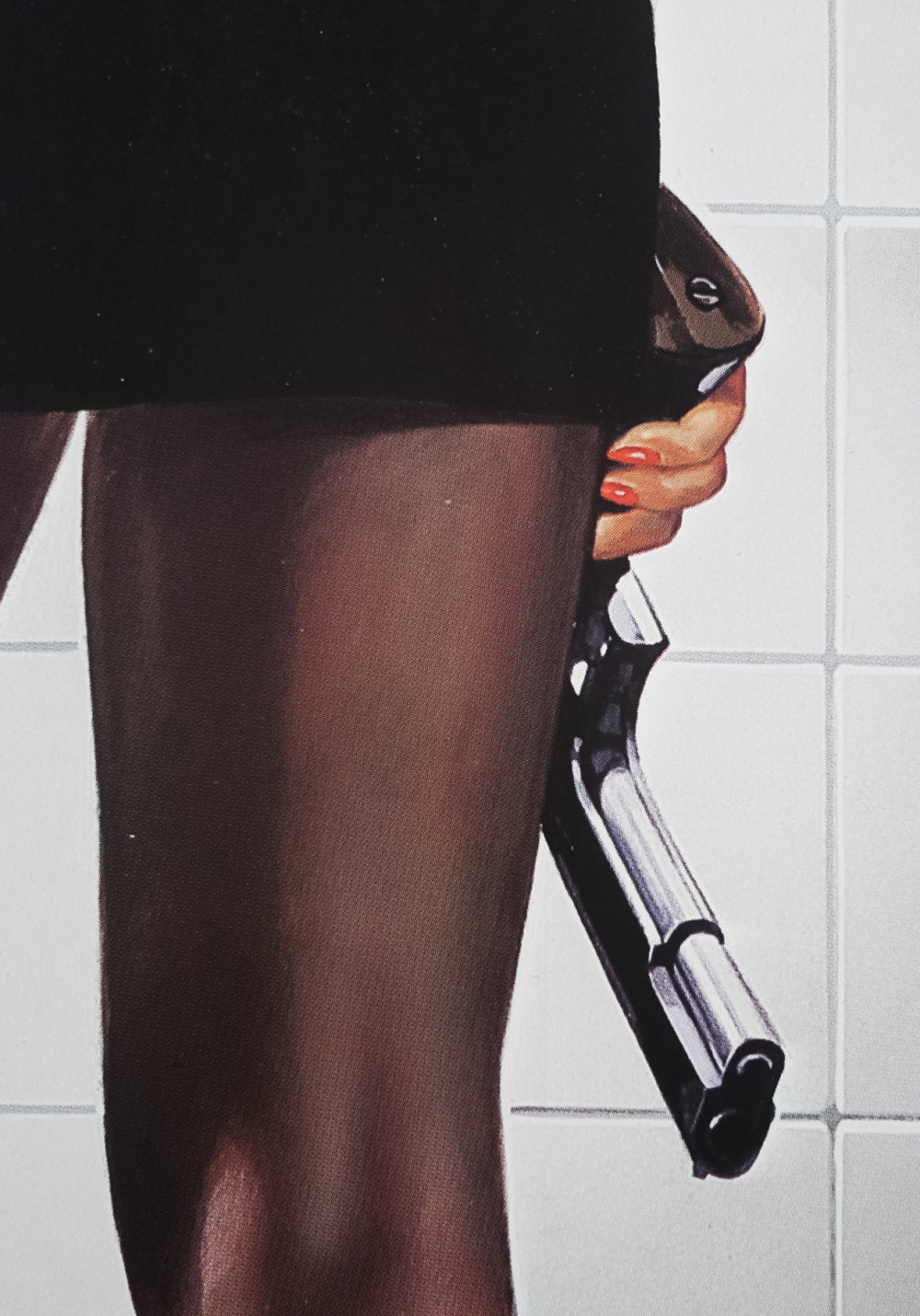 Title
AKA

La Femme Nikita (US / UK)
Year of Film
Director
Origin of Film
Type of Poster
Style of Poster

--
Origin of Poster
Year of Poster
Designer
Artist
Size (inches)

23 7/16" x 33"
SS or DS

SS
Tagline

--
This is the German A1 poster for the original release of Luc Besson's international breakthrough hit, Nikita, featuring design and artwork by Renato Casaro. A French/Italian co-production, the film stars Anne Parillaud (Besson's wife at the time) as the titular assassin who starts out as a drug-addicted teenager living a life of crime. When a robbery at a pharmacy goes awry and her friends are killed in a gunfight, Nikita shoots dead a policeman before being arrested and sentenced to life imprisonment.
Soon after arriving in prison, Nikita is kidnapped and wakes up in a specialist facility where she learns that her death has been faked and she has been selected to become part of a secretive government agency simply known as the Centre. Nikita is given the choice of training as an assassin or to end up in the pauper's grave earmarked for her. When she wisely chooses the former Nikita begins to learn the skills of a stealthy assassin under the guidance of Bob (Tchéky Karyo), her agency handler, and Amande (Jeanne Moreau).
After graduating an becoming a sleeper agent in Paris, Nikita meets and falls in love with Marco (Jean-Hugues Anglade), a man she meets in a supermarket, but before long Centre activates her for assassination missions and both her relationship and life are under threat, especially when a mission inside an embassy gets messy and Victor the Cleaner (Jean Reno) is called to help out. Despite mixed critical reaction the film was an international box-office hit and, for reasons I've never understood, was given the lengthier title of La Femme Nikita outside of France and Germany. Four years later Besson and Reno would reunite for the lauded and much-loved Leon: The Professional. In addition, two American TV series have since been made based on the original film.
In 2013 I interviewed the designer and artist Renato Casaro for this site and he mentioned this poster during our chat. This is the excerpt:
—————————–
Every time you worked on a poster you were trying to do something new with your painting style?
Yes, I didn't want to just recycle the same designs over and over, or paint in the same colours just because it had worked for one poster. I used the airbrush carefully because I didn't want that to be what I was known for, plus used exclusively it created very cold, artificial artwork. I would always paint the base of any artwork with gouache oils and then use the airbrush to add little bits of texture, like shadows or highlights that would really help to make the original painting that little bit more exciting and realistic. Two posters that I used airbrush almost entirely for were those for Bernardo Bertolucci's The Sheltering Sky and Luc Besson's Nikita. I'm proud of how both of those turned out, particularly the first one.
I really like the design for Nikita.
Yes, that just came to me one day whilst I was thinking of ideas. I decided that you shouldn't see her face or what she had done to cause this bright red blood splash onto clean white tiles. The film was quite complex and focused on this woman in crisis so I knew that the poster had to be a sympathetic image to sell it to cinema goers.
——
Renato also mentioned that he'd worked on some ideas for the poster before seeing the film:
Did you ever work on poster ideas without having seen the film or visiting the set?
Very occasionally yes, but I usually made sure I spoke to people involved to have a good idea of the plot and the characters before I'd start doing anything. I did do several sketches for Nikita without good results, but once I'd seen the film it was quite easy to find the right essence for the poster.
—————————–
To read the full interview with Renato Casaro click here. To see the other posters I've collected by the artist click here.