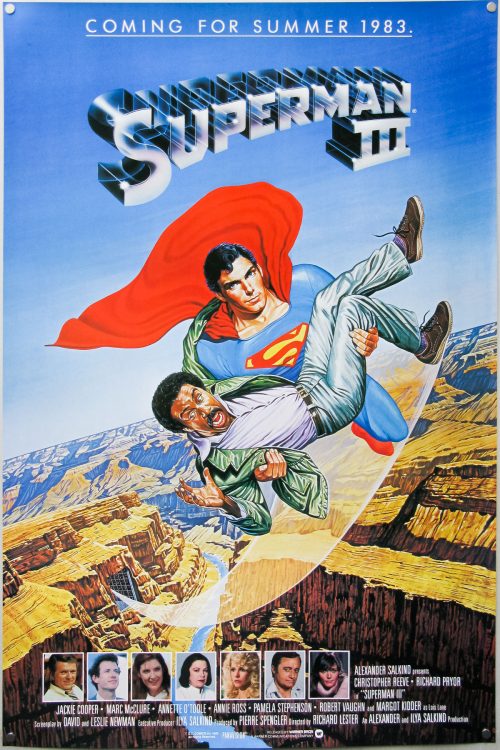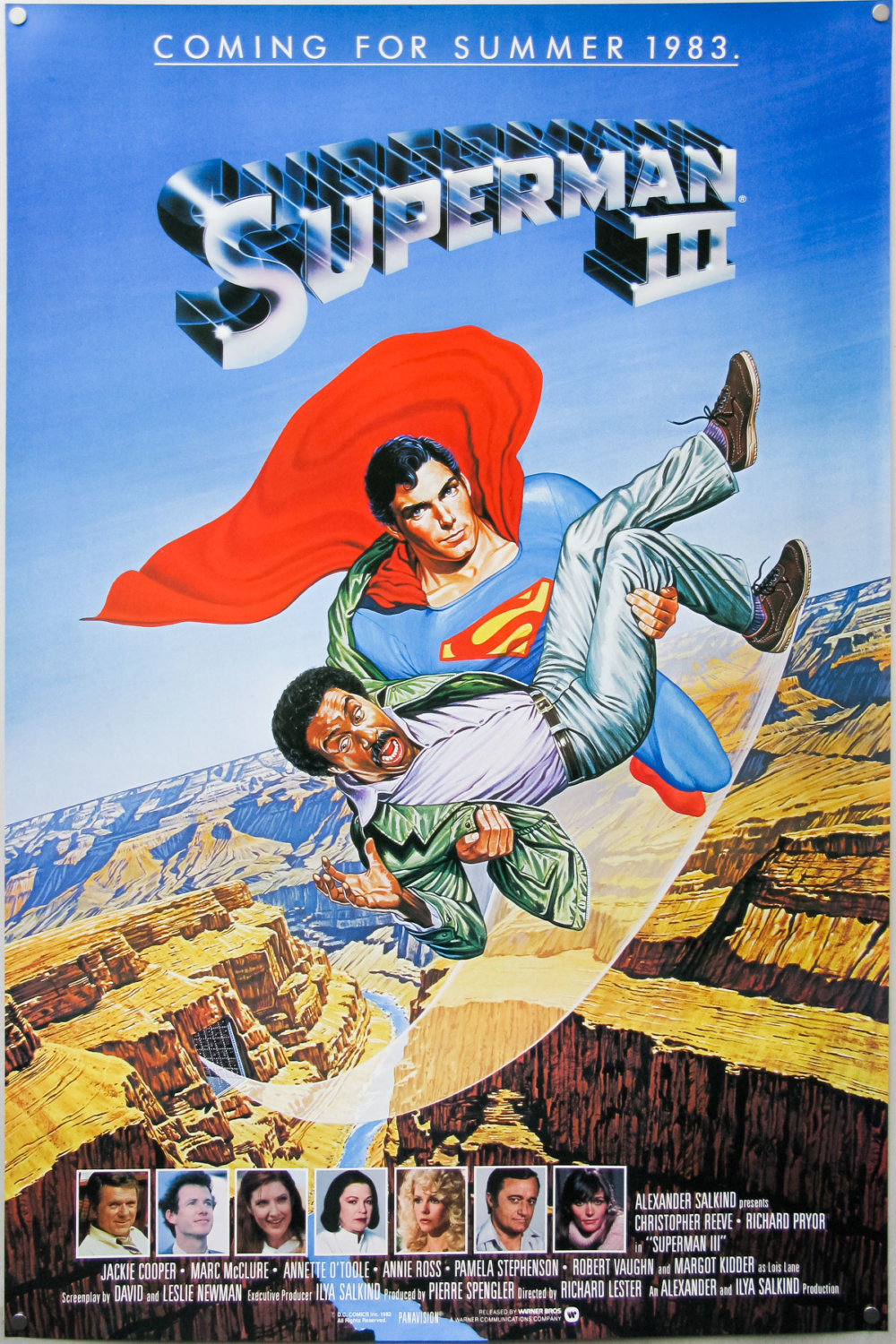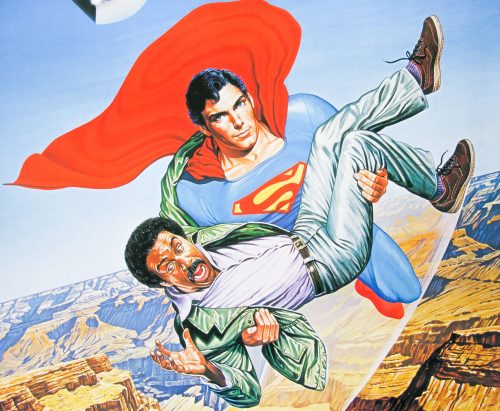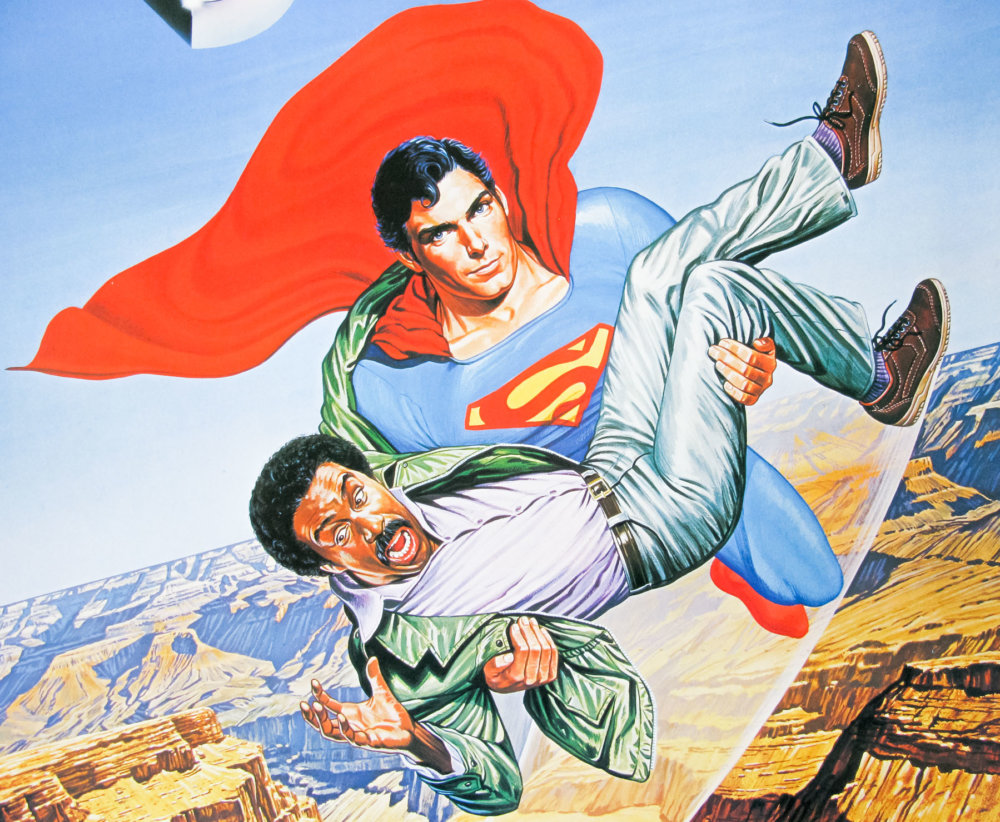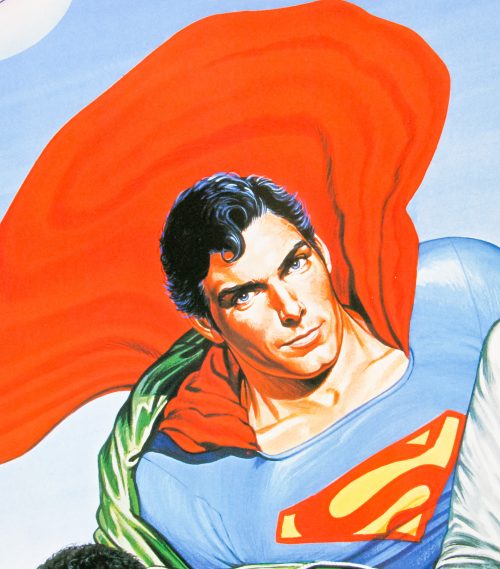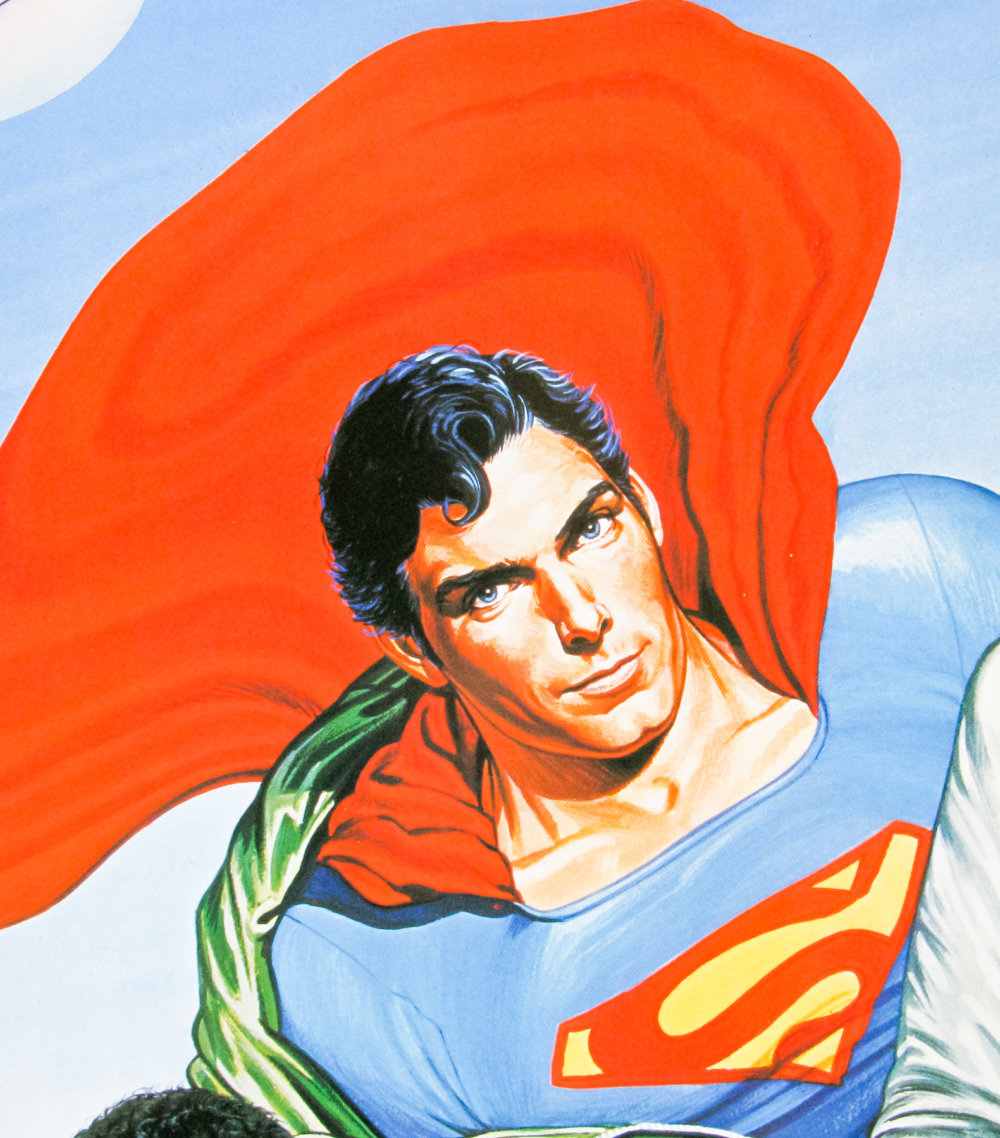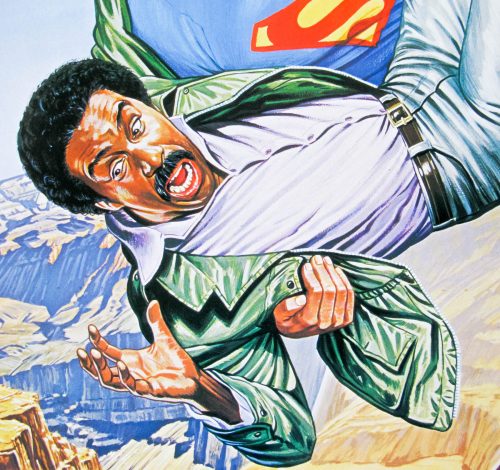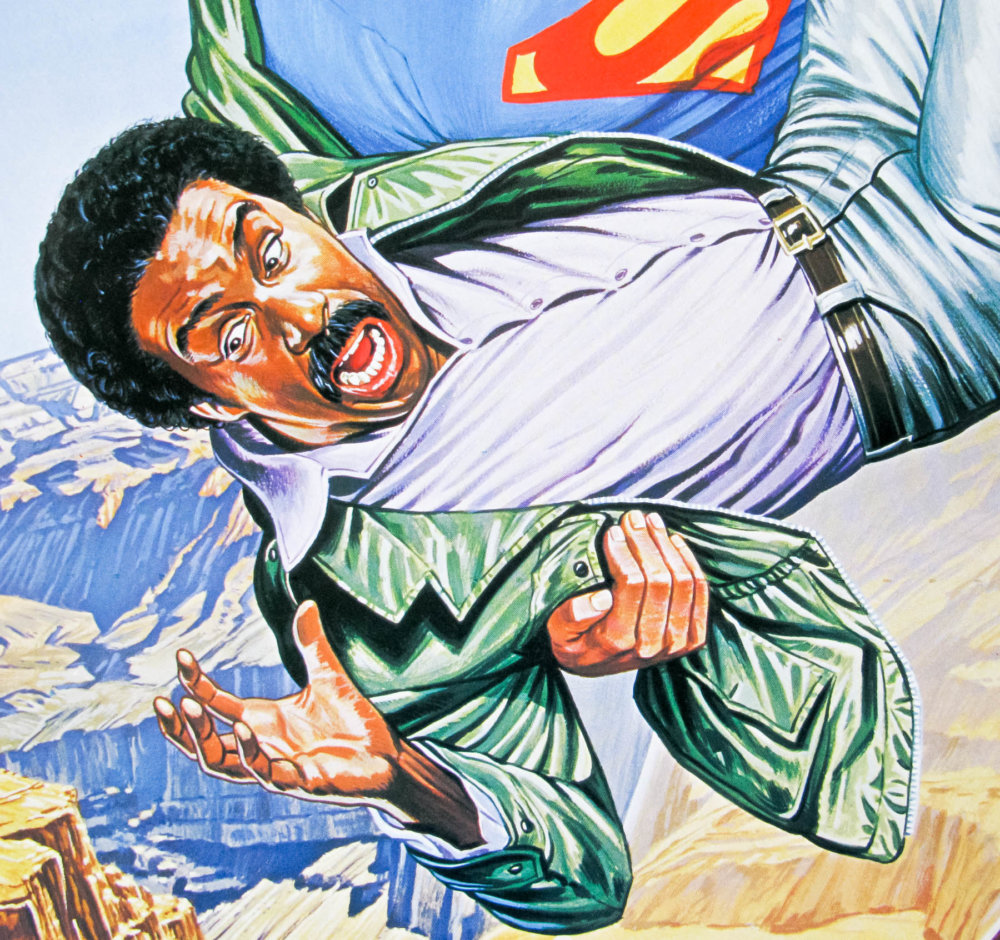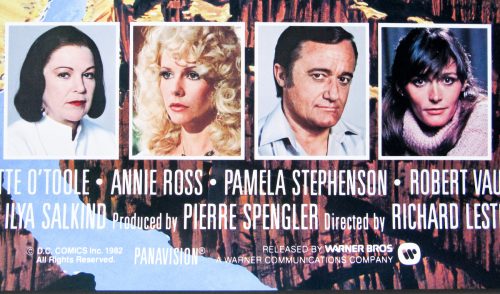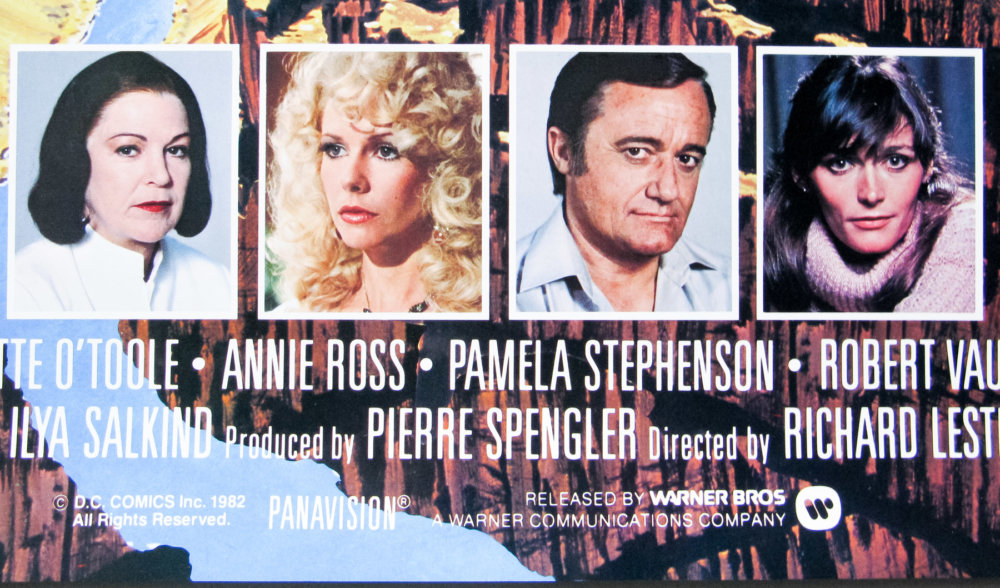 Title
AKA

Superman vs. Superman (USA - original script title)
Year of Film
Director
Starring
Origin of Film
Type of Poster
Style of Poster

Advance
Origin of Poster
Year of Poster
Designer
Artist
Size (inches)

27 1/16" x 40 15/16"
SS or DS

SS
NSS #

--
Tagline

--
Richard Pryor was clearly seen as a major draw for audiences who were contemplating going to watch the third entry in the Christopher Reeve series of Superman films, and the artwork on this US advance one sheet was reused for the final design. In the end, the inclusion of the infamous comedian proved one of the films biggest flaws since most of his scenes involved slapstick comedy, and his character's daft antics serve to almost completely eradicate any of the gravitas the previous films had manage to establish. Pryor had appeared in a string of successful comedies during the early 1980s, including Stir Crazy (1980), but his casting in this film apparently came about after he mentioned on a US talk show how much he'd like to appear in a Superman film.
Richard Lester, the director who had completed work on the troubled Superman II after Richard Donner had been fired, took on directing duties for the sequel. The story sees Pryor's computer 'genius' Gus Gorman blackmailed into using his skills for wealthy megalomaniac Ross Webster (Robert Vaughn), whose various plans for world domination are foiled by Superman. After attempting to cripple the superhero with synthesised kryptonite, the plan goes awry when a key ingredient is missed and, rather than stopping him, the material causes Superman to turn into an evil incarnation of his former self. This ends in a battle between the righteous Clark Kent and the malicious Superman and after successfully defeating his alter-ego, the good Superman heads to Webster's lair in the grand canyon where a giant supercomputer built by Gorman almost succeeds in defeating the hero.
The film features a sequence that terrified me when I watched it as a child, which sees the supercomputer turning self-aware and forcefully changing Webster's sister into a bizarre cyborg creature.
The poster art is credited to an American artist called Larry Salk about whom I've been able to discover very little. A now defunct gallery site described him as a freelance illustrator who worked on around 165 film posters, as well as painting for advertisements, video game covers, record sleeves and more. IMPAwards features a few of his posters (I have his one sheet for the 3D re-release of House of Wax) and he was the artist who painted the famous portrait of Cosmo Kramer from Seinfeld. He apparently passed away in 2004.
The late artist John Berkey painted a scene from the finale on the international one sheet.