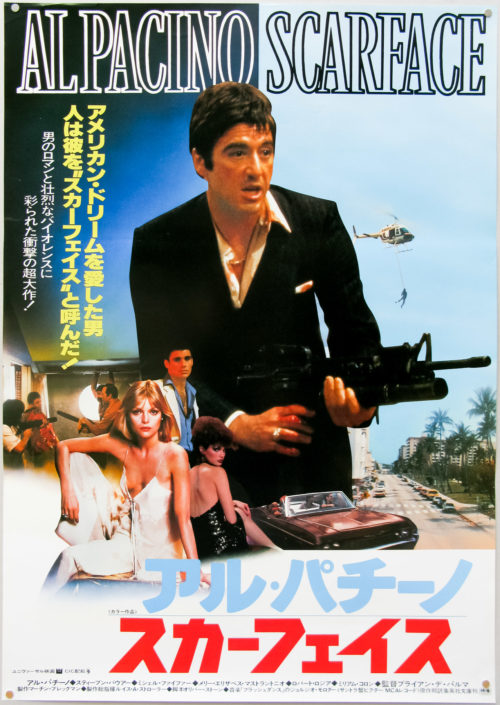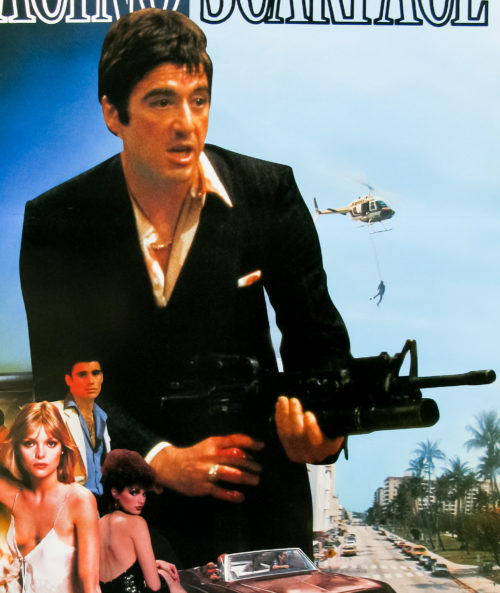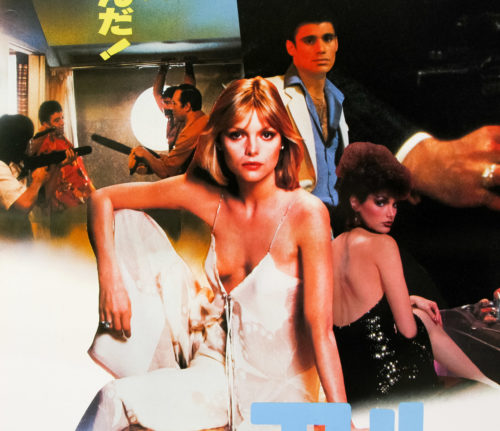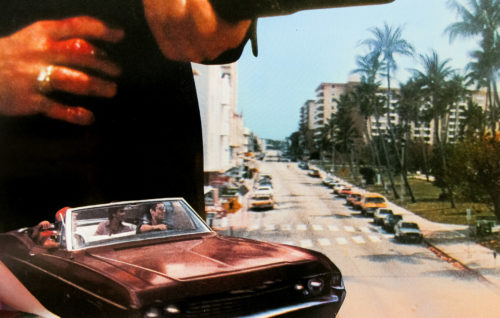 Title
AKA

--
Year of Film
Director
Starring
Origin of Film
Type of Poster
Style of Poster

Blue style
Origin of Poster
Year of Poster
Designer
Artist
Size (inches)

20 6/16" x 28 13/16"
SS or DS

SS
Tagline

--
This is one of three B2 posters printed for the Japanese release of Brian De Palma's unforgettable 1983 crime epicScarface. Unquestionably one of the all-time great gangster films, it's hard to believe now but the film was originally released to mixed critical reception and audience ambivalence, much to De Palma and screenwriter Oliver Stone's dismay. Over the course of the following three decades the story of Cuban refugee Tony Montana's rise to the top of the Miami drug world has been embraced by fans worldwide, including a multitude of African American rappers who cite his story as an inspiration and frequently reference the film in their music.
In one of his most memorable film performances, Al Pacino portrays Montana who arrives in Miami following the (real-life) Mariel boatlift, which saw thousands of Cubans leave the island in a bid to escape internal tensions and grinding poverty that had caused months of strife in the country. Hundreds of small boats made the journey across shark-infested waters to the Miami coast in an attempt to seek asylum in the Peruvian embassy. Fidel Castro also ordered the release of criminals from Cuban jails and joined the exodus and Montana and his friend Manny Ribera (Steven Bauer) are two such exiles who start their new life in America stuck in a refugee camp. After agreeing to murder a former Cuban government official, who is also in the camp, the pair are released with the help of a Miami drug kingpin Frank Lopez (played byRobert Loggia).
Tony and Manny get involved in a drug deal arranged by one of Lopez's henchmen called Omar (F. Murray Abraham) that quickly goes horribly wrong and almost sees Tony being butchered with a chainsaw until Manny comes to his rescue and the pair turn the tables on the murderous gang. Suspecting that they may have been set up by Omar, Tony insists on delivering the recovered drugs and money to Frank who is impressed and offers them a job. The rest of the film deals with Tony's violent rise to the top of the Miami drug trade, which sees him usurp and murder Frank, steal his woman Elvira (an early performance by Michelle Pfeiffer) and mess with the wrong Bolivian drug crime lord. The finale sees a cocaine-crazed Tony defend his palatial mansion from machine-gun toting killers, resulting in bullet-spraying mayhem and one of the most famous lines in cinematic history: "Say hello to my little friend!"
One of the other Japanese B2s can be seen by clicking here.