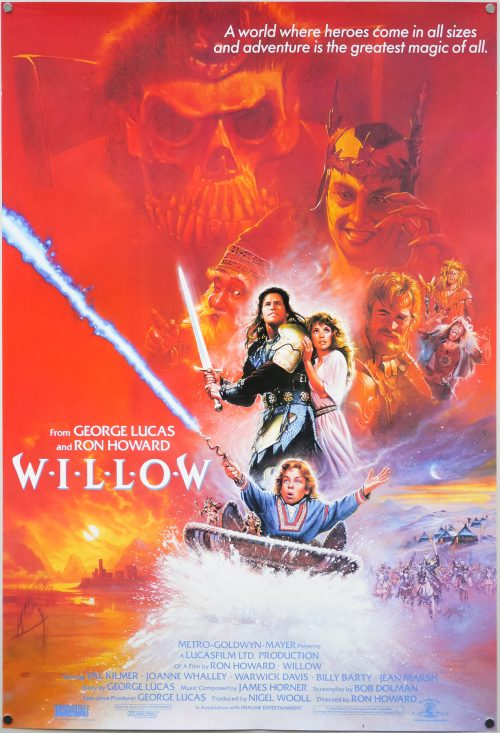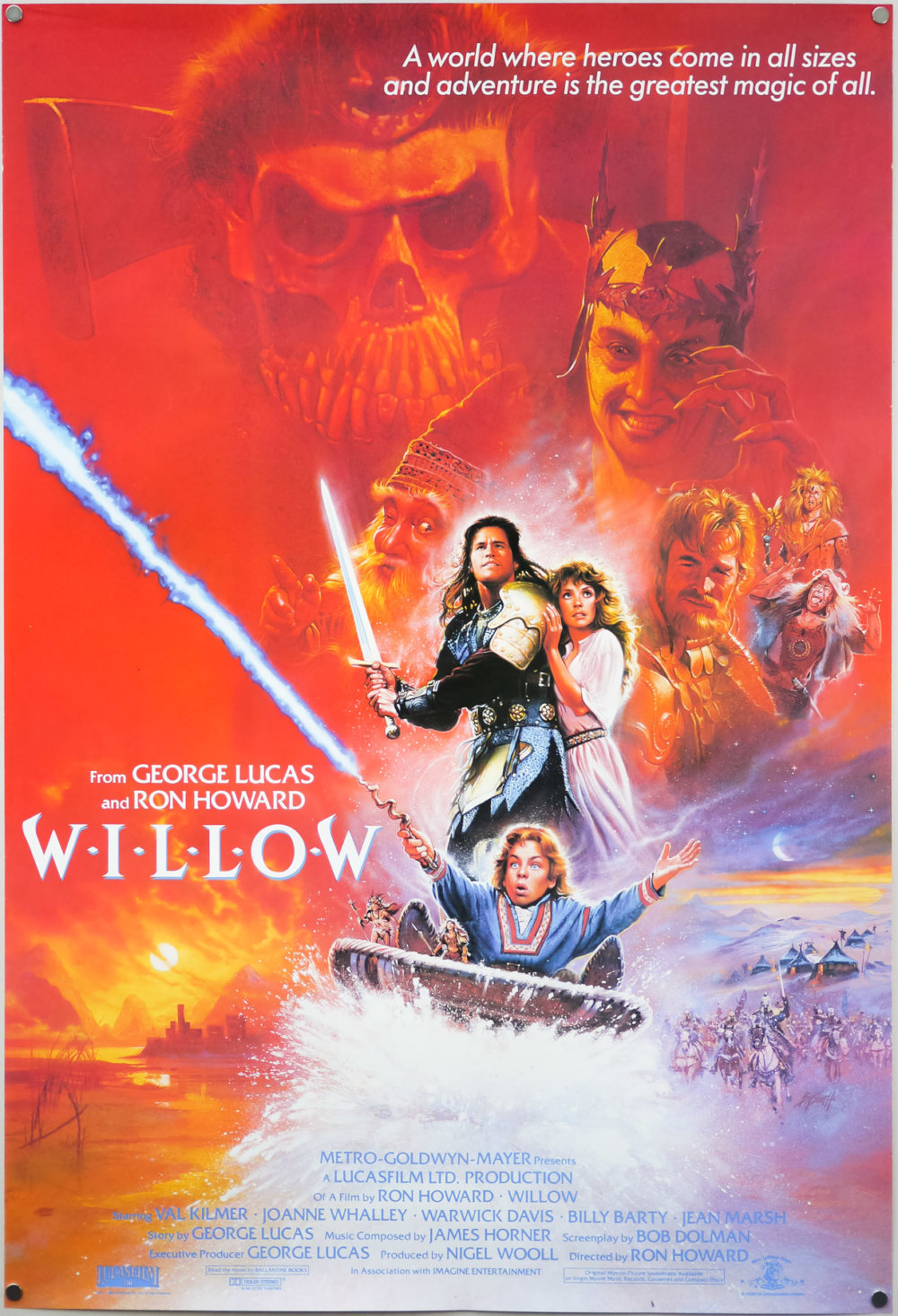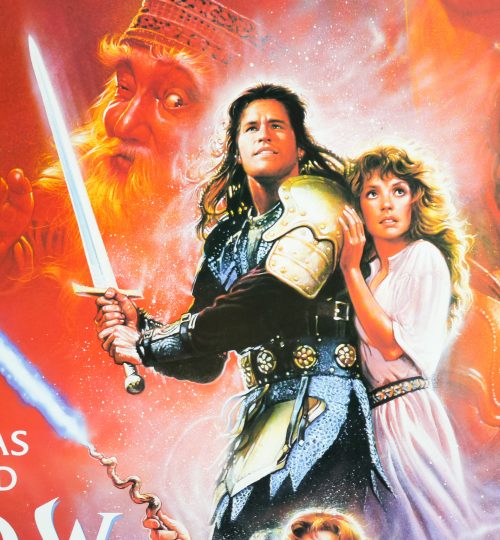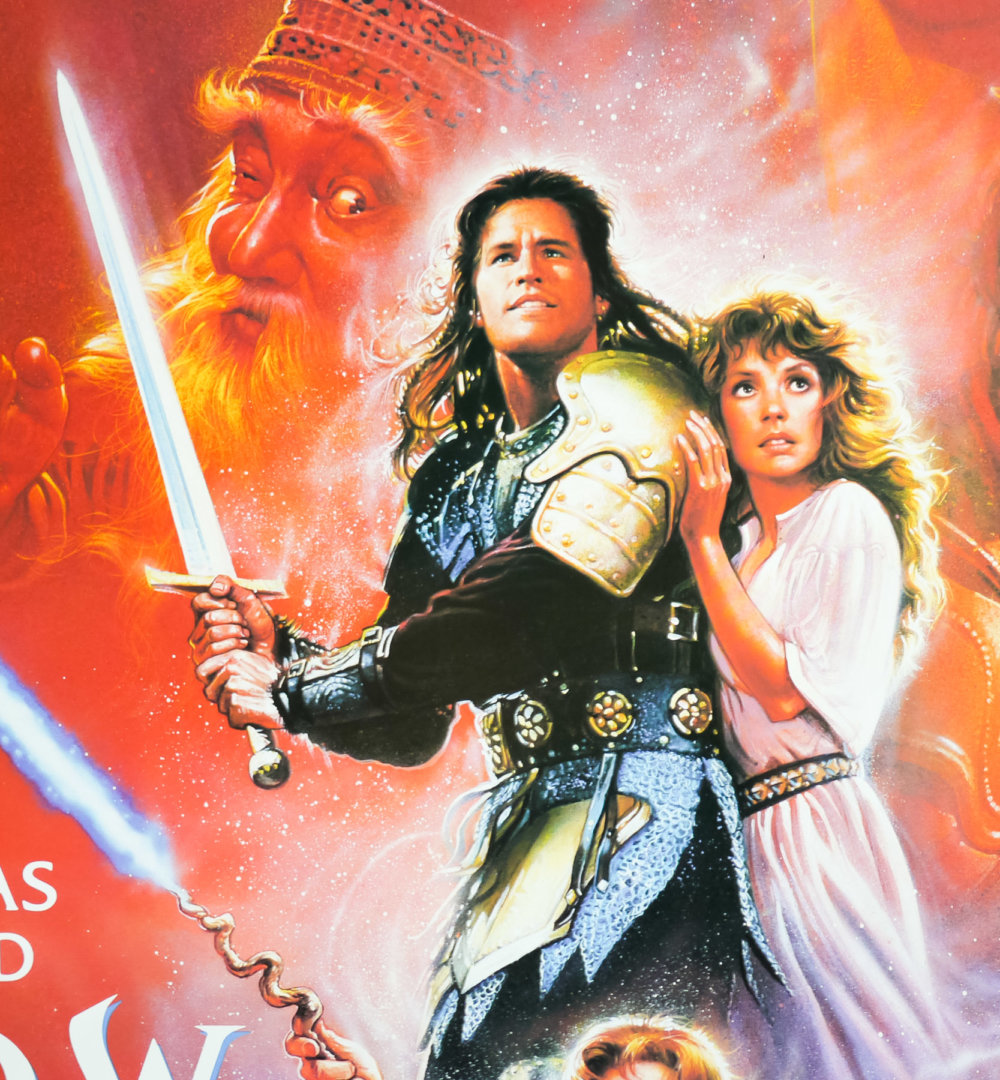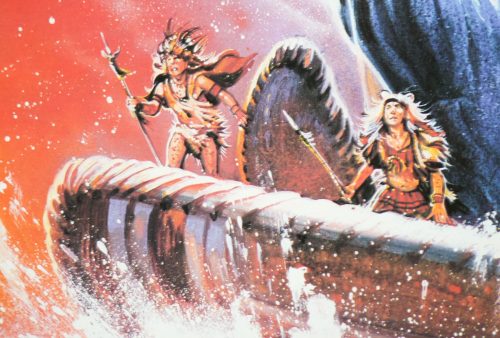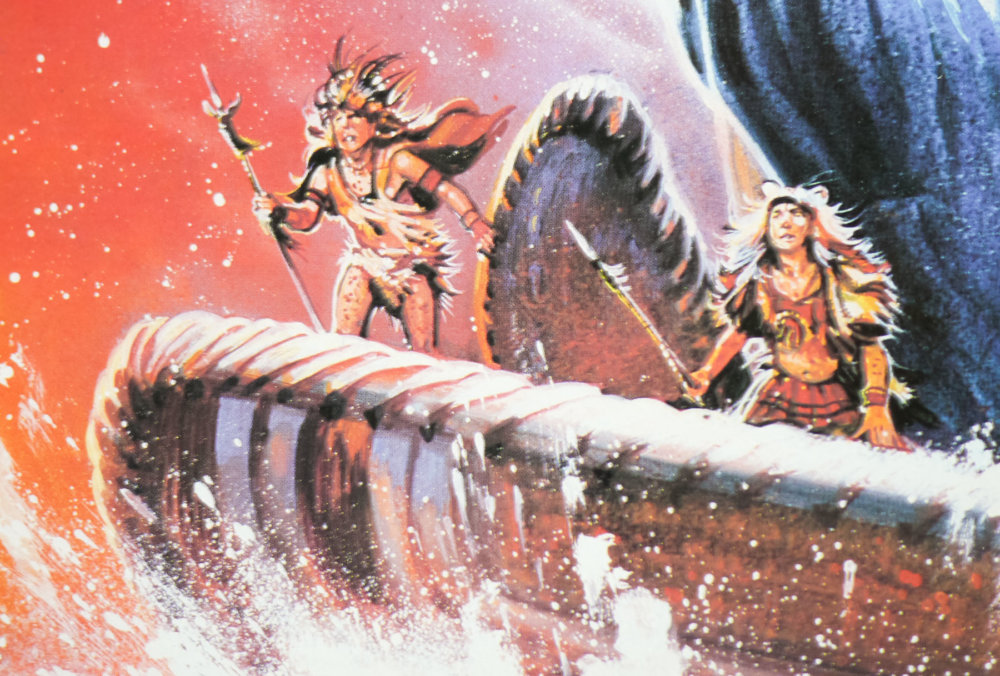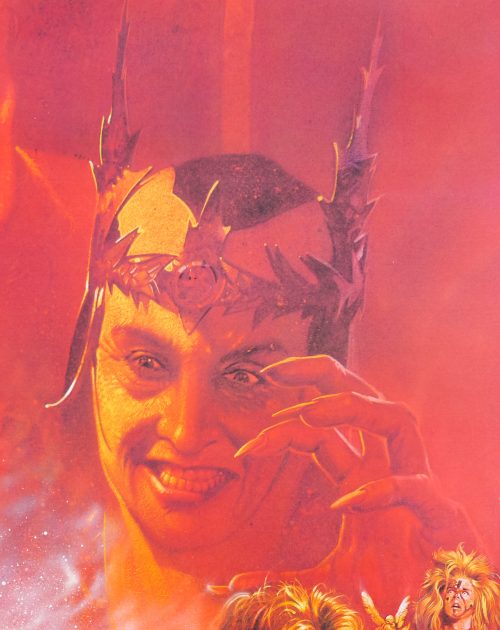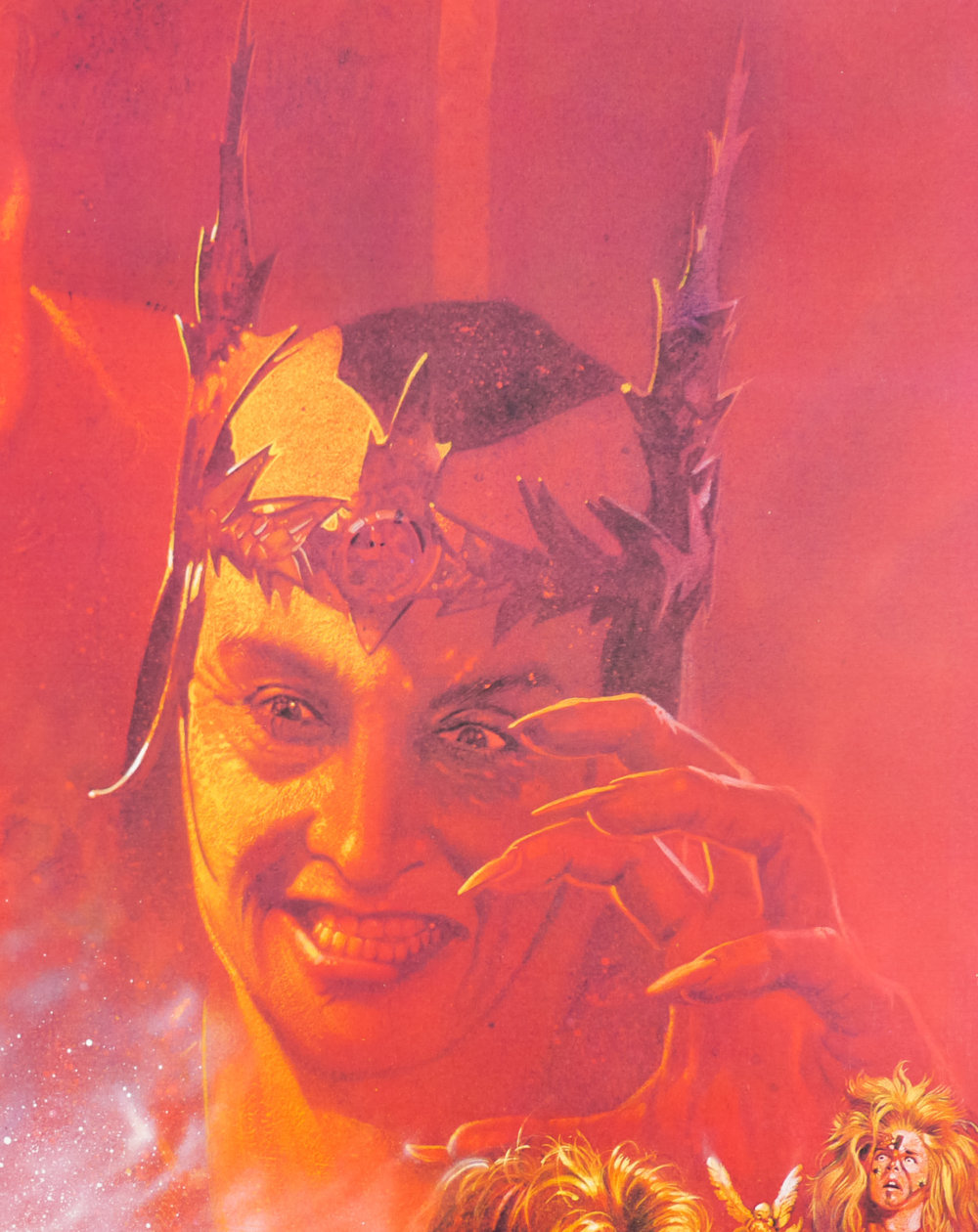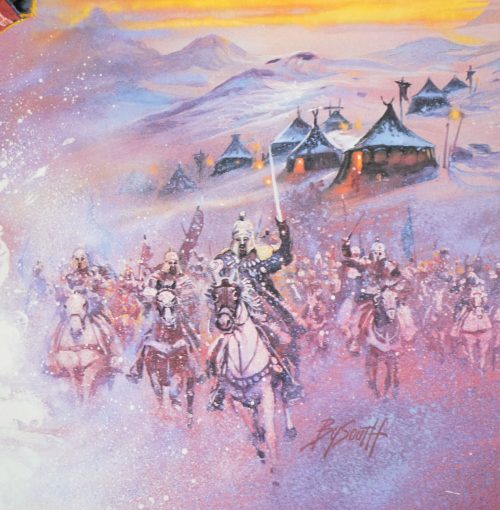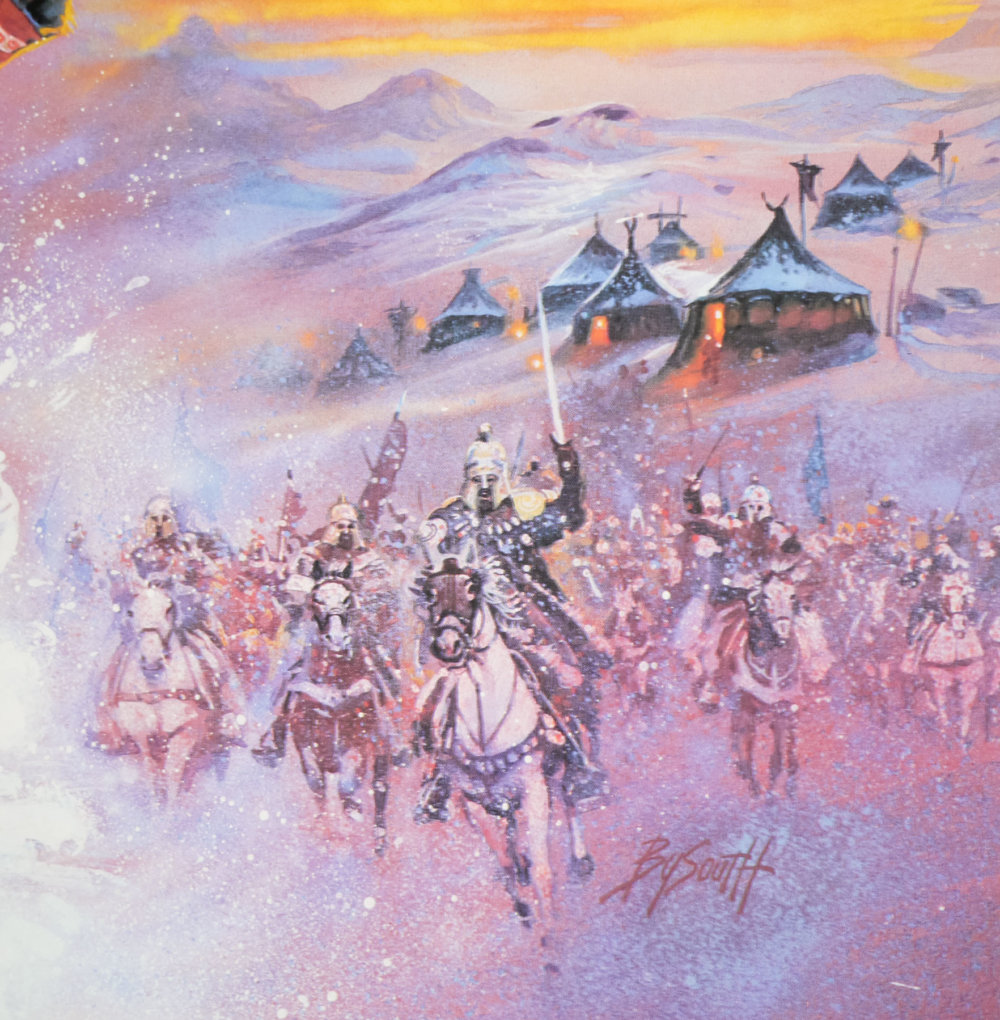 Title
AKA

--
Year of Film
Director
Starring
Origin of Film
Type of Poster
Style of Poster

--
Origin of Poster
Year of Poster
Designer
Artist
Size (inches)

27" x 39 12/16"
SS or DS

SS
NSS #

--
Tagline

A world where heroes come in all sizes and adventure is the greatest magic of all.
Excellent artwork on this UK one sheet for the release of Ron Howard's 1988 fantasy film Willow, which was conceived of by George Lucas. British actor Warwick Davis features as the eponymous hero and the part had been written specifically with him in mind after he appeared as an Ewok in Lucas' Return of the Jedi. The story begins as the evil Queen Bavmorda (Jean Marsh) hears of a prophecy that a newborn child will bring about her downfall and sets about imprisoning all pregnant women in her castle's dungeon.
When a child is born and identified as the one in the prophecy, the child's mother manages to convince the mid-wife to secret her daughter out of the castle. When Queen Bavmorda discovers what has happened she sends her daughter Sorsha (Joanne Whalley) and leader of her army General Kael in pursuit. Before being caught, the midwife manages to put the child on a raft on a river and the child ends up being found by Willow Ufgood (Davis) a a member of a race of hobbit-like people called the Nelwyns. Initially caring for the baby with his wife, Willow is persuaded to take it away from their village and back to the Daikinis (humans) when it becomes clear that there are people hunting for it. As the adventure begins, Willow and his companions soon realise they're in for more than they bargained for.
Featuring a great performance by Val Kilmer as a selfish, reluctant hero the film still stands up today as a fun and engaging fantasy adventure with several memorable sequences and a brilliant score by James Horner. Despite being critically derided on release and not fairing too well at the box- office it has nevertheless grown something of a cult following and is notable for its use of ground-breaking special effects by Industrial Light and Magic that were used for a sequence involving a morph between several animals and a human.
This one sheet was created by the British designer and artist Brian Bysouth who I interviewed for this site in 2012, There is also a quad for Willow featuring the same artwork. Brian is one of my favourite artists and worked on multiple classic posters from the 1960s to the 1980s, including the final painted poster for a James Bond film, The Living Daylights. The other posters I've collected by Brian can be seen by clicking here.